TOMRA boosts polymer purity at Viridor's Avonmouth and Skelmersdale plants
Viridor has chosen the very latest in sensor-based sorting technology from TOMRA Recycling for two of its polymer recycling plants.
15 TOMRA AUTOSORT™ units and six AUTOSORT™ FLAKE units have been installed at Viridor's flagship polymer recycling and reprocessing plant, part of Viridor's £317m Avonmouth Resource Recovery Centre near Bristol. Meanwhile, a new AUTOSORT™ FLAKE unit has been installed at Viridor's Skelmersdale polymer recycling and reprocessing facility in Lancashire, boosting throughput and elevating the purity of PET flakes.
Viridor's Avonmouth Resource Recovery Centre comprises a co-located energy recovery facility (ERF) and a polymer recycling and reprocessing plant which has an infeed capacity of 80,000tpa. The Avonmouth plant, which officially opens on 3rd March 2022, will be the UK's largest multi-polymer facility.

When designing the Avonmouth plant, Viridor approached TOMRA directly for an end-to-end solution, having previously successfully used TOMRA's technology in its other MRFs.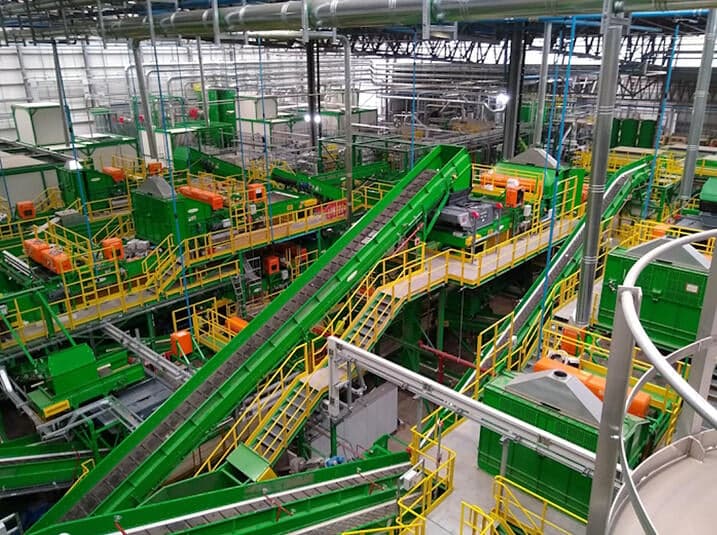 The infeed material at Avonmouth comprises UK-sourced post-consumer packaging. Following a standard mechanical pre-sorting process, the infeed material is split across three dedicated sorting lines, one for PET (polyethylene terephthalate), one for HDPE (high density polyethylene) and one for PP (polypropylene).

15 TOMRA AUTOSORT™ units pre-sort the material then six AUTOSORT™ FLAKE units are used for flake sorting. The AUTOSORT™ features sophisticated infrared sorting technology which combines near infrared (NIR) and visual spectrometers (VIS). This combination quickly and accurately identifies and separates different materials according to their material type and colour, extracting high-purity high-value end fractions that command higher market prices. Once the material has been pre-sorted by the AUTOSORT™ units, six AUTOSORT™ FLAKE units sort the material to the highest purity levels required by Viridor for onward sale as food-grade material. At Viridor Avonmouth, the four targeted end fractions are clear PET, natural HDPE, jazz HDPE and polypropylene (PP).

In total, Viridor Avonmouth will put 60,000 tonnes of recycled polymer from bottles, pots, tubs and trays back in the economy annually as a viable and quality alternative to virgin polymer, including 18,000 tonnes of food-grade PET.

With TOMRA's equipment in place, Viridor is achieving a constant purity level of >99% across all target fractions, resulting in Viridor securing new end customers in UK and Europe, including companies whose quality requirements for food-grade PET are particularly high.

Miguel Rosa, Viridor's Technical Manager for Polymers, comments: "When designing our new Avonmouth PRF we wanted a technology provider that could supply us with best-in-class equipment that optimises the plant's performance and futureproofs our business. Based on our previous experience of TOMRA's equipment and technology, we were entirely confident that TOMRA was the right technology partner for the plant. Now we're not only able to meet current demand for food-grade plastics, but, thanks to the flexibility of the technology, we're also able to adapt as new requirements for food-grade polymers are introduced."
Viridor has also chosen to invest in a new AUTOSORT™ FLAKE unit at its 10,000tpa Skelmersdale polymer recycling and reprocessing facility. The investment in the new flake sorting unit comes in response to rising market demand for higher quality PET as Miguel Rosa explains: "The new flake sorter is a fantastic addition which enhances our sorting capability at our Skelmersdale facility and increases the quality of our PET material to the standards required by our customers."