TOMRA Recycling invites to INTERPLASTICA
TOMRA Recycling will participate in the 24th International Trade Fair for Plastics and Rubber called Interplastica (stand no. 81B06). The exhibition will take place from 25 to 28 January 2022 in Moscow, Expocentre.
TOMRA Recycling, a recognised world leader in sensor-based sorting technology for waste and scrap metal recyclers will be present at this year's Interplastica event and give a presentation at the 29th international exhibition for packaging technology upakovka 2022. On January 26, Gleb Trofimov, Area Sales Manager CIS at TOMRA Recycling will speak about the advantages of automated sorting in plastic sorting and recycling (Hall 8, Hall 3, Stand 83F01, 14:30). Further detailing the topic, the company will highlight its pre sorting solution AUTOSORT™ and flake sorting solutions AUTOSORT™ FLAKE and INNOSORT™ FLAKE.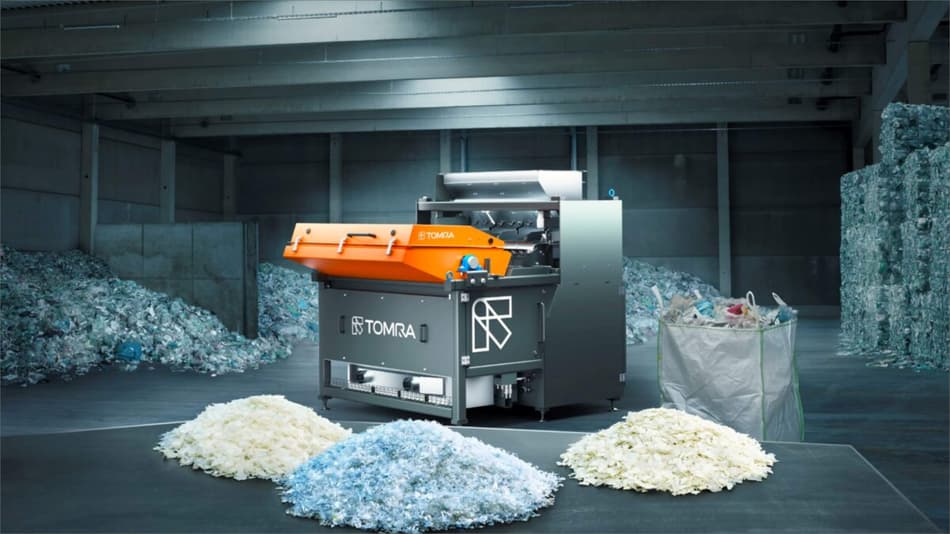 Russian polymer producers highly appreciate TOMRA Recycling as experienced and well-established supplier of sensor-based sorting solutions for the plastics recycling industry. Over the last year, TOMRA has become a technology partner for a large number of important polymer recycling projects (whether PET, HDPE, PP, or LDPE) in Russia and CIS countries.

The importance of recycled polymers
Plastics production is one of the most rapidly developing sectors in the Russian economy. At the same time, a significant portion of the basic polymers produced in the country is exported. For instance, in 2020 Russia produced 7.6 million tons of basic polymers, a quarter of which was sold abroad[1] .

Given this trend, Russian polymer producers are experiencing a permanent shortage of raw materials, which in turn is leading to an increase in demand for recycled polymers. In addition, worldwide price rises for virgin raw materials have boosted the profitability of recycled raw materials.

Thanks to this trend, the Russian polymer recycling industry, as well as the related waste management industry, has experienced a major boost. Today, the correct and environmentally friendly recycling of plastic waste is high on the agenda across the entire industry which is further promoted by diverse legislations asking for an increase in recycled content and recycling rates in general.
To increase the volume of recycled material, numerous factors and approaches have to work hand in hand. This includes the collection of plastic waste, its automated sorting into pure fractions and as well its subsequent recycling. If these steps are carried out in an effective way, the most advanced technology used and the stakeholders work closely together, the sorting and recycling results can reach the highest levels and more materials be brought back in the economy as high-quality recyclates. Thus, there is a clear need for high-performance technologies and systems.

Integrated solutions paving the way to higher qualities
To obtain the highest purity levels possible, sorting and recycling facility operators are advised to combine both pre-sorting and flake sorting solutions from the same supplier. The use of perfectly matching systems for both sorting stages makes it possible to increase the efficiency of the entire process, irrespective of the quality and degree of contamination of the incoming material. This plays a critical role in achieving a quality processed product, achieving a new level of purity and an increase in overall throughput and yields.
TOMRA offers both systems and thus a full optical sorting line for polymer sorting. Whereas its AUTOSORT™ plays a crucial role in pre-sorting, its specialized flake sorting units, namely AUTOSORT™ FLAKE or INNOSORT™ FLAKE, are used for subsequent flake purification. The choice of flake sorter depends on the customers' requirements.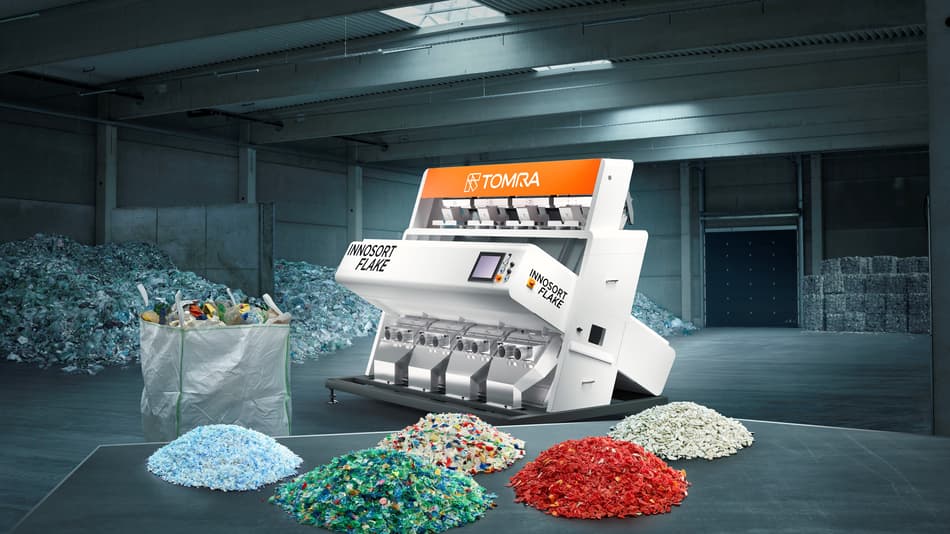 AUTOSORT™ is a well-established sorting unit and the company's core product. Its compact and flexible design enables easy integration into both existing and new lines. The machine provides optimum sorting efficiency in a wide range of applications, including but not limited to municipal solid waste, plastics packaging, or other materials.
Unlike AUTOSORT™, AUTOSORT™ FLAKE and INNOSORT™ FLAKE are only applicable for flake sorting tasks. Both machines are capable of sorting PET, PO, and PVC flakes as small as 2mm by color and material, thus purifying the polymer stream and generating clean end fractions which are further processed into recyclates. Whereas AUTOSORT™ FLAKE excels in high-end applications such as bottle-to-bottle recycling, where the level of contamination is low but quality requirements are high, INNOSORT™ FLAKE is used for the purification of more contaminated waste streams. In addition, the AUTOSORT™ FLAKE is able to effectively remove metal impurities from the material stream for a finished product of high purity.
TOMRA Recycling's solutions have already been integrated into the production lines of many Russian companies, some for more than 10 years.
"Last year was marked by the rapid growth of the plastics recycling industry, and it is obvious that it is expected to grow. Our solutions boost the profitability of sorting and recycling plants, deliver constant performance and high purity end fractions. We consider Interplastica trade a great platform to present our solutions and how we can contribute to a more sustainable resource management. I invite everyone to visit the TOMRA Recycling stand", commented Gleb Trofimov, Regional Sales Manager CIS at TOMRA Recycling.
[1] https://rg.ru/2021/07/13/reg-cfo/pochemu-v-rossii-slozhilos-polimernoe-neravenstvo.html