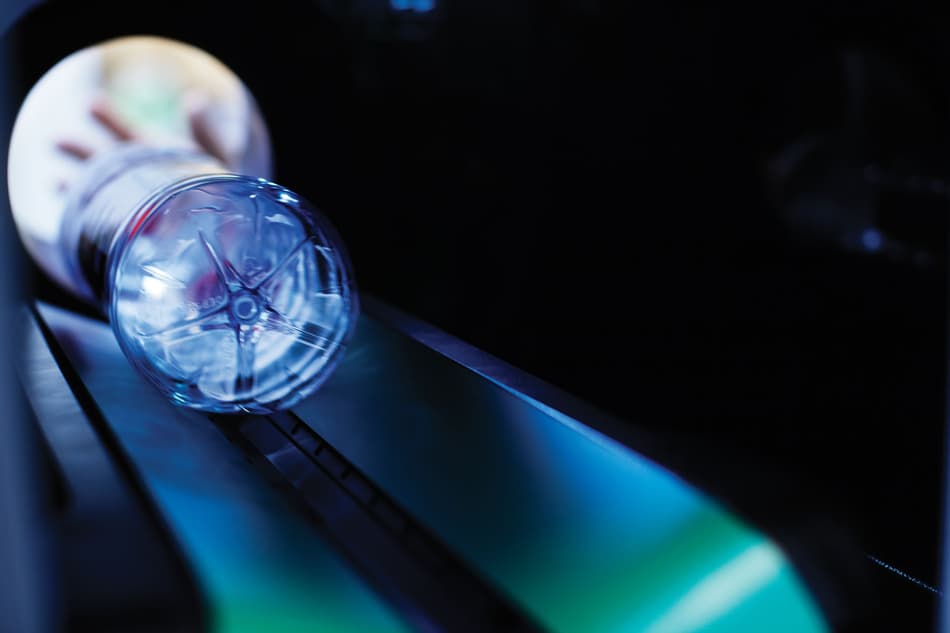 50 years of TOMRA's reverse vending innovation
"Better today than yesterday, but not as good as tomorrow."
With the climate emergency more urgent than ever, there is so much that technology can do to make a positive difference – for communities, businesses, wider society, and ultimately, the planet. That's what pushes TOMRA to constantly innovate.
The resource sustainability company's drive to problem-solve and revolutionize can be tracked back to the early 1970s, with the invention of the world's first fully-automated reverse vending technology, and has become part of TOMRA's ethos – its people, culture and future.
As TOMRA marks 50 years in business, we take a look back at how TOMRA spawned an industry and the company's legacy of innovation in the reverse vending space.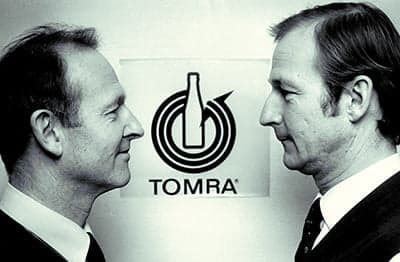 TOMRA founders Tore and Petter Planke
A problem to solve

The company's passion for innovation started with a problem to solve. In 1971, Norwegian grocer Aage Fremstad voiced his frustrations to colleague Petter Planke about his store being overwhelmed with consumers returning deposit beverage containers for recycling. At that time, containers had to be handled manually, with hand counting by store staff and long queues for their shoppers. Deposit return was deeply embedded in Norway, dating back as far as 1902, but the manual handling system was not working – at least in the eyes of stores whose premises and staff were drowning in bottles.
The bottling companies, breweries and retail industry had come together to try and solve the problem of handling manual returns, to no avail. So, Petter and his brother, Tore, pooled their engineering, design and business acumen to find a solution.
After speaking to store owners and meeting with the Empty Bottle Committee (comprised of breweries, bottlers, and grocers' trade associations) the brothers identified four key elements needed to help with the issue: control, convenience, reliability, and flexibility. Tore and Petter believed a completely automated return process was the answer. They set about creating a machine that could take the problem off retailers' hands, both literally and figuratively.
With a background in cybernetics and electronics, Tore's goal was to design the machine with the best available technology. He settled on photocells combined with conveyor and foam roller elements to ensure accuracy and convenience.
The first prototype (squeezed into the back of Petter's Renault 16, just hours after the birth of Tore's daughter) was installed in Aage Fremstad's store on January 2nd, 1972. It was an instant hit, with almost 2,000 bottles per day passing through the machine over the next two weeks.
Demand for this fully-automated reverse vending machine (RVM) quickly grew, prompting the Planke brothers to focus their attentions on reverse vending technology full time, with the launch of TOMRA as a company in spring of 1972. As well as solving a fundamental problem for retailers, the Planke brothers were driven by a meaningful idea: helping the world recycle.

To install that machine and to learn that the customers loved it, and to hear the supermarket owner say 'This is my best investment' – then we understood, TOMRA had a future."
Petter Planke
TOMRA co-founder
An innovation hub

In TOMRA's first two decades the business became a true hub of innovation, with developments and discoveries made in areas such as photocell, laser, ultrasound and camera technology. Key innovations in TOMRA's early development of reverse vending technology include:

1977 – First self-programmable reverse vending machine

The Planke brothers' prototype and early RVMs handled glass bottles only and were manually programmed for specific bottle recognition; however, the number of different bottle sizes and shapes across markets soon made this untenable. The solution was the self-programmable (SP) machine, which could recognize and adapt to new bottles, so the same machine could be used in all markets.

The SP machine required technical solutions involving laser, fiber optic and microprocessor elements that had never been used before, working together in harmony. SP machines offered reduced costs, production time and service needs; retailer satisfaction soared, making self-programming technology the future of reverse vending. TOMRA is believed to have been the first company in Norway to mass produce a product containing a microprocessor, and among the first to use a mini-computer to develop machine software.
1981 – First fully-automated crate machines
The need for reverse vending innovation did not slow down. Europe saw demand for a machine that could accept whole crates of bottles, accurately identifying the containers and reliably registering the refund. The TOMRA team developed the first fully-automated crate machine, using an advanced ultrasound scanner to register what kind of bottles, and how many, were in each crate.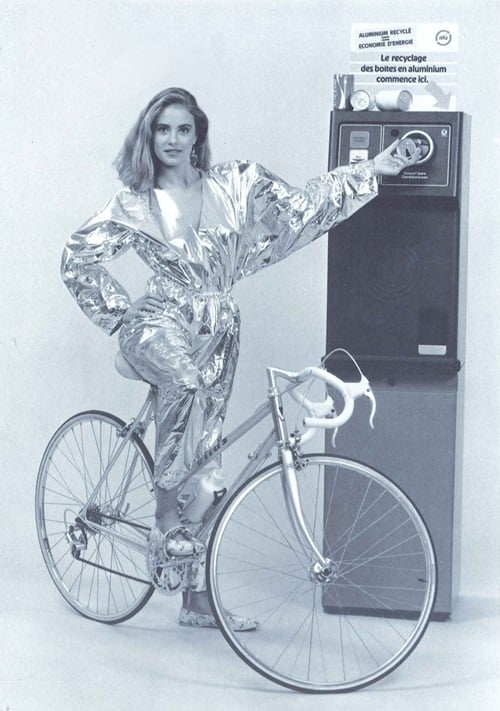 1983 – The first RVM for cans
In 1982, Sweden announced it would introduce cans to its deposit return system. TOMRA had just six months to create a machine that could handle cans before a government-mandated trial took place. Tore and his team introduced several new RVM elements: the ability to read specific information in a can barcode; a scale to determine whether a can was full or empty; a crusher to flatten the cans; and a metal detector to ascertain if the can was made of aluminum. TOMRA secured the major contract in Sweden with its "Can Can" model (see image).
1990 – Laser-based crate recognition
The time for RVMs that could only recognize glass bottles was long over; now the market demanded machines that could do it all. At the start of the 1990s, TOMRA was the only manufacturer in the world to offer machines that accepted all types of beverage packaging. TOMRA's flagship 400 Multi RVM was designed to handle crates in addition to all kinds of bottles and cans, using laser-based recognition. This method can still be found today in TOMRA's "True Vision" RVMs.
1997 – Bottles lying down and unique shape recognition technology
As new, lightweight plastic bottles became the norm, so too did the issue of the containers toppling over in RVMs. Spotting another problem to solve, the TOMRA team created a machine that could accept bottles lying down instead of standing up. The simple but effective solution became the TOMRA T600, which launched TOMRA's 25th anniversary on 1 April. T600 also incorporated several innovations including a new container shape recognition system, built-in modem and an advanced graphics display. It introduced a more versatile and user-friendly platform that could easily be configured to meet the needs of a store.
Throughout these two first decades of the company, there was a continual focus on refining the technology to reduce cost and increase accuracy and flexibility. "Backroom" solutions (typically housed behind a wall, in retailers' storage rooms) were also important in terms of improving compaction, accumulation and sorting. Establishing a single in-feed on machines where cans, plastic bottles and glass bottles could all be inserted was also ground-breaking.
Ideas keep flowing
Since the 1980s and 90s, TOMRA has brought RVM technology into a new era, with a host of breakthroughs that have continued to lead the industry. Hugely significant was the 2013 launch of "Flow" technology (debuting in the TOMRA T9 reverse vending machine), which is still used in TOMRA's machines today.

Flow was the world's first 360-degree instant recognition system for RVMs, quickly becoming an industry standard. Cameras on all sides, in a ring formation, means containers do not need to be rotated for the RVM to find and scan the barcode, instead offering instant recognition. This makes the process faster, with no pausing for the RVM to reposition containers. It keeps the machine cleaner due to less residual liquid getting spilled, and ensures the machines can accept all types of deposit return container, from square cartons to traditional bottle shapes.
The technology means RVM users have a better recycling experience and can quickly insert containers in a continuous flow. Flow's ability to handle all types of containers also leaves the door open for future innovation, with the potential to introduce new materials and container shapes in future recycling schemes.
Bringing reverse vending into the digital age

The TOMRA team was early to recognize the potential of the internet. By 1994, TOMRA reverse vending machines whose data could be read remotely via a modem were installed in Sweden. Once machines were connected to the internet, TOMRA could troubleshoot, reprogram, and read data remotely, even enabling remote monitoring by service technicians.
In 2017, the full potential of the Internet of Things and big data for reverse vending machines was realized with the launch of TOMRA Connect. This portfolio of digital products extended the value of using and owning an RVM, making them smarter as well as more insightful and engaging.
For retailers, the Notify Assist app-based technology transforms the operation of RVMs, with a suite of facilities to make life easier for store staff. It allows remote monitoring of many aspects of the machine, and can alert staff through in-app notifications even before a machine needs attention. It can also provide insightful analytics on customer habits to maximize efficiency, offer in-store marketing opportunities to encourage customer engagement, and combat fraud through real-time validation and devaluation of refund receipts.
An app-based experience for consumers also joined in 2017, with the debut of myTOMRA. myTOMRA launched with the ability to offer instant electronic payout of container deposit refunds, the option to donate those digital refunds to charity, and a map functionality for recyclers to find their nearest reverse vending machine and check its status. The technology has expanded to personalize the recycling experience to individual consumers, giving them the opportunity to track their achievements and gamify the recycling experience. The newest digital innovations launched in 2022 include a developer portal to support TOMRA Collection's suite of APIs, and Digital Payout API for customers to connect their reverse vending offering with their store's loyalty programs.
Innovating into the future
Today, TOMRA continues to push boundaries when it comes to developing machines. In 2019, it took another leap forward in RVM development with the launch of the
TOMRA R1
(with the R standing for Revolution), a multi-feed solution that allows over 100 containers to be emptied into the machine at once, rather than a recycler inserting them one by one. There was huge interest in TOMRA R1, even before its launch: the test phase saw recyclers arrive with trailers full of containers, drive 20 kilometers past other stores in order to use TOMRA R1, and a demonstration video uploaded to social media by one of the test stores reached 425,000 views.
TOMRA R1 takes TOMRA innovation back to a key principle set in the couple's early days: helping the world recycle. By transforming people's recycling experience, they are motivated to recycle more, and to help save the planet, one bottle at a time. Or, in this case, more than 100 bottles at a time.
TOMRA's digital innovations also expanded the user experience for TOMRA R1, just a few months after TOMRA R1's launch. Users could now also step away from their TOMRA R1 recycling session and start shopping before their containers are even finished counting; this
Express mode
with TOMRA R1 is the first completely automated container recycling experience.
TOMRA R1 revolutionized and transformed the consumer recycling experience. Further innovating in this space, TOMRA R1 with Express returns is like the self-driving car of container recycling.
Harald Henriksen
SVP and Head of TOMRA Collection
Designs on success

There has been plenty of external recognition of TOMRA's achievements, including the prestigious "Export Product Prize", which was bestowed by the Norwegian Export Council in 1981 and presented by then Crown Prince Harald of Norway. This catapulted the Planke brothers to national fame.
In 1990, the business was awarded an environmental award for technology, presented by Norway's Prime Minister, Gro Harlem Brundtland. She was also Norway's first Minister of the Environment and later became the leader of the United Nations Commission on Environment and Development (the Brundtland Commission) and one of the UN's three Special Envoys for Climate Change.
In 1992, the Planke brothers were also awarded the Royal Norwegian Council for Scientific and Industrial Research (NTNF) Honorary Prize, recognizing "the implementation of the best available technology in the development of systems for the collection and recycling of used beverage containers, resulting in the successful company TOMRA". This prize was presented to the founders by HRH King Harald of Norway, in front of a packed Oslo Concert House.
In 2012, TOMRA Collection won the Red Dot design award for the MultiPac backroom solution for its reverse vending machines. It is one of the most internationally recognized awards within product design, described as "the distinctive quality seal for aesthetic forms, moving trends and designers with a strong sense of responsibility". Focusing on functionality, new usability principles and intuitive operation, MultiPac sought to revolutionize the automated handling of empty beverage containers for the store personnel.
The company's history of innovation is still being recognized today, with the Planke brothers given Norway's most prominent technical award, the Award of Honor, as part of the annual technical achievement awards in late 2021. In March 2022, TOMRA made the top-10 list of Norway's most innovative companies, as voted by Innovation Magazine and Computerworld Norway.
A culture of curiosity

Leading the way in innovation isn't just benchmarked with awards, technological advances and "firsts". TOMRA's culture of curiosity and collaboration has been fostered since the 1970s. The Planke brothers instilled in their employees that constant improvement in the workplace, and not just in product development, fuelled a spirit of innovation.
TOMRA became a forward-thinking employer, creating an environment conducive to progress through measures such as longer lunch breaks, exercise during the workday, and an open-door policy. A collective sense of humor was encouraged, an element of anarchy was welcomed, and - most importantly - close communication between departments was celebrated.

In the 1990s, long before it was commonplace in business, TOMRA consulted its entire workforce to develop the mission and vision of the company, landing on five core values: personal initiative, innovation, integrity, fighting spirit and enthusiasm.
Today, the spirit of these values very much remains in the business' current pillars: innovation, passion and responsibility. The TOMRA culture continues to inspire innovation in its team, encouraging them to dare to challenge the status quo, explore and share new ideas, and continuously advance improvement.

Today's TOMRA team are proud to be the keepers of this innovative spirit, upon which the brothers established the business way back in 1972.
In the recent words of TOMRA's founders:
"I just love what I see in TOMRA today, and the way TOMRA is flourishing within this field. Better today than yesterday, but not as good as tomorrow."
Meet TOMRA founders, brothers Tore and Petter Planke

Learn more about the early years of TOMRA, including the development of the prototype of the first fully-automated reverse vending machine and other early recycling innovations.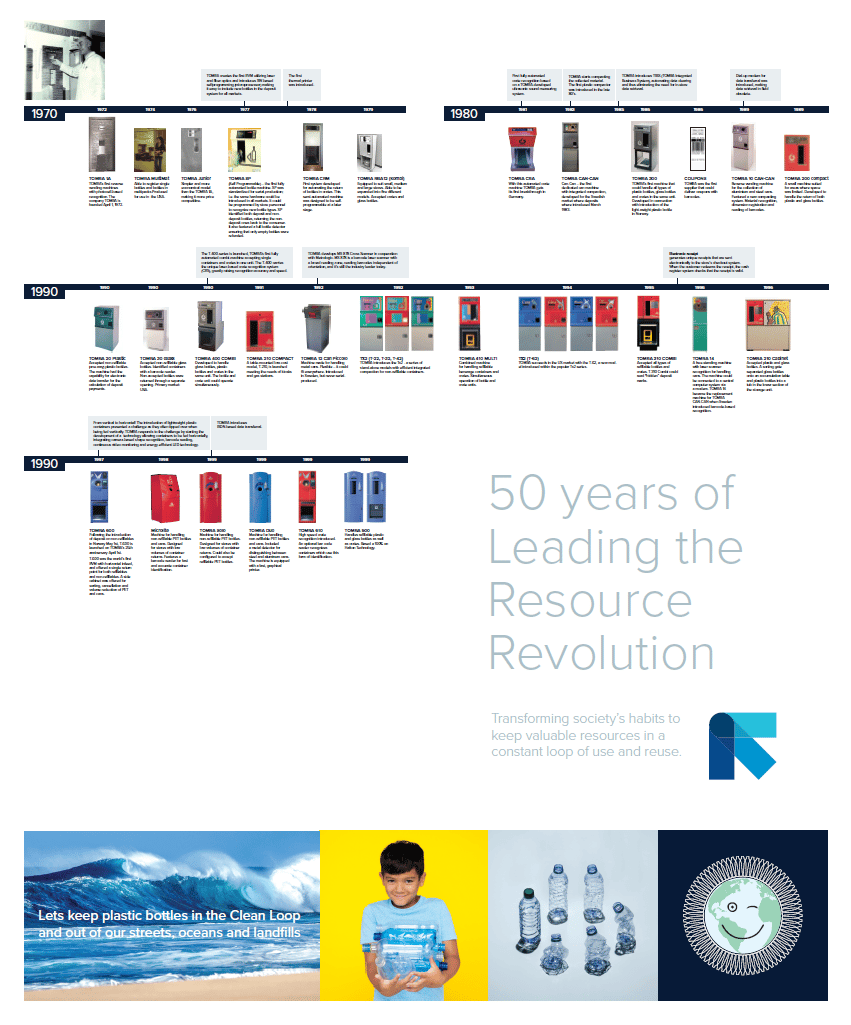 50 years of reverse vending machines
Five decades of TOMRA reverse vending at a glance