18 APRIL 2023
#WeAreTOMRA: Meet Johanne Borhaug, Data Engineer in the Data Solution team  
Johanne hasn't taken the traditional way to become a Data Engineer, but with a teacher education, a master's degree in statistics, and an analytical mindset, she is now thriving in the data solution team at TOMRA Collection in the Solution Hub in Asker, Norway.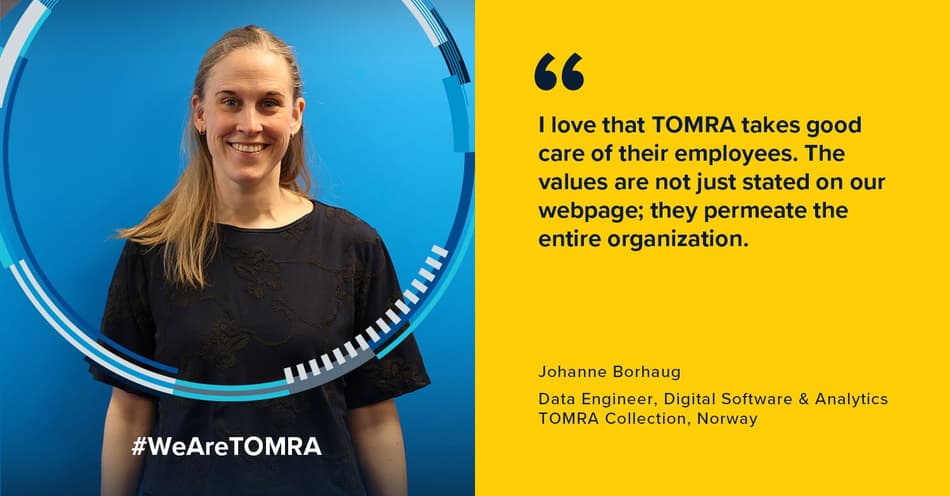 What does a typical workday look like for you?
My perfect work calendar is not overbooked with meetings. I love to have the time to dig into details and solve problems to create solutions that can be trusted and used. But in my role, I also depend on understanding the end user and their needs to facilitate the best solutions. So, a typical day for me is usually a good mix of focused work by myself and talking to and learning from colleagues who are experts in different fields. 
What motivated you to apply for a job at TOMRA?
I can analyze numbers anywhere, but I wanted to find a place where I also felt sincerely proud to work. In TOMRA, I get to do the work I love while contributing to a brighter, more sustainable future. With two toddlers at home, it was also important for me to find an employer that values a great work-life balance for their employees. Then, of course, it doesn't hurt that I would be able to walk or take a small ski trip into the office, either!
What surprised you about TOMRA?
I am from Asker, so I knew about TOMRA, but I had no idea of the complexity of what we do. The use of new technology and our innovation mindset surprised me the most.  
What do you love most about TOMRA?
How much time do you have? I love that TOMRA is great at knowledge sharing. Since I joined TOMRA one year ago, there has been a lot of new technology and many new things to learn, but thanks to my colleagues, it's been an exciting and steep learning journey. I also love that TOMRA takes good care of their employees. The values are not just stated on our webpage; they permeate the entire organization. In TOMRA, we are also good at cheering each other on; we make sure to celebrate small and large victories.
What kind of things do you like doing outside of work?
I love doing yoga and all types of ball sports. My dream is to create a family volleyball team, but since my kids are still toddlers, we will stick to family time outdoors, skiing and hiking in the woods, for now!