TOMRA's commitment to human rights
In 2020, TOMRA updated its sustainability strategy to strengthen its commitment to managing social and environmental risks and opportunities in its operations and along the company value chain. Respecting human rights is a business imperative for TOMRA.
As a member of the United Nations Global Compact (UNGC), TOMRA is committed to implementing the principles of the UNGC through responsible business conduct. TOMRA is also committed to realizing the UN Sustainable Development Goals. In addition to delivering positive environmental impact through its products and services, TOMRA actively supports and promotes decent work through its operations and supply chains.
TOMRA respects internationally recognized human rights principles, including the International Bill of Human Rights and the International Labour Organization (ILO) Core Conventions on Labour Standards. In addition, TOMRA complies with applicable laws and regulations on human rights through its operations. In accordance with the Norwegian Transparency Act, TOMRA is committed to engaging with its suppliers, contractors, and business partners to promote human rights and positive social impact by contributing to the well-being of the committees in which it operates.
To ensure that TOMRA is not complicit in human rights abuses, TOMRA bases its human rights due diligence processes on the Organisation for Economic Co-operation and Development's (OECD) Guidelines for Responsible Business Conduct.
TOMRA has identified the following potential human rights risks as relevant to its operations, supply chains, and business partners:
Child labor;
Conditions of employment, including work hours, wages and benefits, and the right to organize;
Diversity and inclusion;
Forced labor;
Harassment and discrimination;
Health and safety; and,
Human trafficking.


TOMRA is currently working to map out its human rights risks across the countries covered in its direct operations and supply chain. TOMRA is in the process of analyzing these risks in detail and is aware that they will be affected by sector and location.
Human rights due diligence
TOMRA acknowledges that human rights due diligence is a continuous process, and TOMRA is constantly working to better understand and map its risks to fully integrate and implement required improvements.
TOMRA's human rights management is based on the OECD Due Diligence Guidance for Responsible Business Conduct, which is illustrated in the figure below.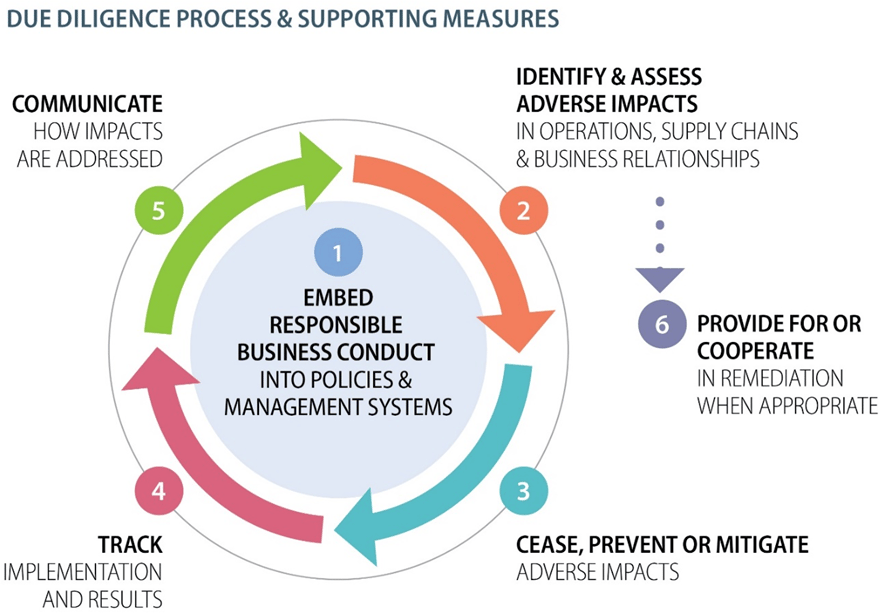 TOMRA Human and Labor Rights Policy and Reporting
Step 1: Embed responsible business conduct
Human rights management
TOMRA's responsibilities and approach for human rights can be found in the Code of Conduct, Business Principles for Suppliers & Partners, and the Annual Report. In addition to these processes, TOMRA is continuously mapping and managing its human rights impact, and is recognizing that this is an ongoing and iterative process.
TOMRA consists of different business units with diverse operating contexts and supply chains. As a result, the units have their own approaches to human rights due diligence to meet their specific needs. However, all business units adhere to a TOMRA Group minimum level of commitment as described in its Code of Conduct.
Policy commitment and governance
As an international company with direct operations in more than forty countries, TOMRA recognizes that it may impact a variety of stakeholders, including shareholders, employees, suppliers, customers, and society at large. To manage any impact, TOMRA has made it clear in its Corporate Responsibility Statement that it respects internationally recognized human rights principles, including the Universal Declaration of Human Rights and the ILO Core Conventions on Labor Standards, and it strives to ensure that it is not complicit in human rights abuses.
To act in accordance with the internationally recognized human rights principles, human rights is part of TOMRA's Code of Conduct. It is expected that all employees, contractors, and external partners understand and adhere to the Code.
TOMRA has outlined five strategic pillars for its sustainability work, one of which is Supply Chain Sustainability. The ambition set for this strategic pillar is that TOMRA will only collaborate with suppliers that can document efforts to safeguard fair and safe working conditions, human rights, and environmental protection.
TOMRA's human rights approach and KPIs are communicated in its Annual Report. TOMRA is now working to further develop its management system for human rights and basing this on OECD's guidelines on due diligence for responsible business conduct. TOMRA has put in place a dedicated team for the job, which are in the process of assessing the human rights risks of its business, as well as developing the necessary management documents.
Step 2: Identifying and assessing human rights impacts
TOMRA sets clear expectations on human rights towards suppliers, including fair and safe working conditions. TOMRA includes a certain level of sustainability criteria in all supplier evaluation and qualification processes, as well as in ongoing supplier engagements. TOMRA is now focusing on harmonizing the human rights work across the various divisions and setting clear goals for supplier screening and engagement.
To capture important human rights considerations and to engage with suppliers, TOMRA's suppliers are conducting self-assessment questionnaires. Additionally, it conducts due diligence on the supplier entity, perform annual supplier audit plans, and assess the suppliers prior to entering a supplier agreement.
Step 3: Ceasing, preventing and mitigating human rights impacts
Conducting its activities in a way that respects human rights is an area of priority for TOMRA. TOMRA's guidelines promotes a fair workplace and a positive work environment. Its Code of Conduct sets clear responsibilities regarding human rights. Employees are encouraged to speak up and report any potential human rights violations, and whistleblowing channels are in place to facilitate this. If you wish to report a concern, you can register a case on TOMRA's Notification Portal.
Step 4: Tracking implementation and results
For oversight, TOMRA has a Corporate Sustainability Board Committee, which assists the Board by monitoring and reviewing its practices and policies in this area, including regular reviews of progress. TOMRA is in the process of further establishing mechanisms for reviewing its impacts on human rights in addition to the impacts of its actions to mitigate potential and actual adverse impacts on human rights.
Step 5: Communicating how impacts are addressed
TOMRA communicates its human rights impact focus in the Annual Report and on its webpage. TOMRA plans to issue a separate report on human rights impacts to fulfil its reporting obligations under the Norwegian Transparency Act.
Step 6: Grievance mechanisms and remediation
TOMRA promotes openness and transparency in all its activities and all employees and business partners are encouraged to report any violations of TOMRA's Code of Conduct or other policies in its whistleblowing system. Reporting a concern also gives TOMRA the opportunity to detect potential and/or actual violation of its Code.
If you wish to report a concern, you can register a case on our Notification Portal. All cases will be directed to the Head of Compliance at TOMRA's corporate headquarters in Asker, Norway. Such concerns or complaints may be reported confidentially and anonymously.
Access to information requests
As per section 6 of the Transparency Act, any person has the right to information from an enterprise regarding how the enterprise addresses actual or potential adverse impacts in accordance with the Act. This includes both general information and information relating to a specific product or service offered by the enterprise.
Such requests may be presented to Mr. Arnstein Fjeld, VP Head of Compliance at [email protected].