16 MARCH 2023
#WeAreTOMRA: Meet Justs Blumbergs, Warehouse Specialist
For Justs, Warehouse Specialist at TOMRA Collection in Latvia, being able to collaborate with others to find solutions that make the world a better place makes his job exciting.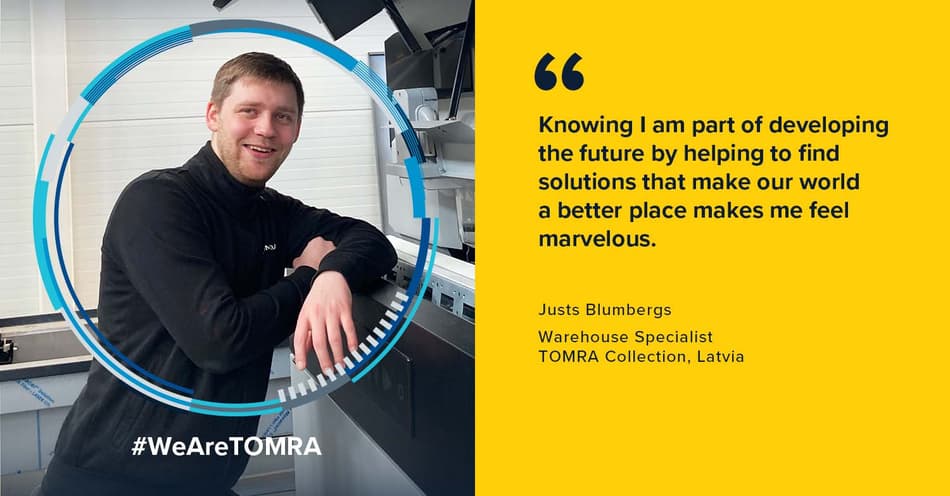 What do you do at TOMRA?
I am a Warehouse Specialist at TOMRA Collection, Latvia. Latvia's deposit return system was established February 1 of 2022, so, having worked here for 10 months, I feel lucky to have been part of the company from some of the very first steps.
My responsibilities as a Warehouse Specialist include making sure our people in the field have everything they need to keep our machines in working condition, ordering parts and new items to keep the warehouse clean and in order, getting our reverse vending machines (RVMs) ready to be installed or cleaning used ones to be ready to go back in the field, and collaborating with Product Experts and Field Service Managers to resolve any problems by finding the best solutions.
What do you like most about working at TOMRA?
I really like working at TOMRA because of the company mission and how TOMRA works to achieve its goals with honesty and respect for all. There is also a positive atmosphere within the company and, due to the effective communication between management and employees, working together is always easy and pleasant. As a result, my everyday workflows at TOMRA are without stress and I am learning something new and interesting all the time. Based on my experience, I am confident that TOMRA will continue to grow and achieve what it has planned.
What is the most exciting thing you have done in TOMRA?
I would say that the most exciting thing I have done in TOMRA, and something I will continue to do more and more, is learning a lot of new things about RVMs and the recycling system itself. I like understanding how every small part of the system works – it is so well thought through with constant evolution and improvement. Also, it is exciting that we get to develop new concepts and features to reach our common goals. Knowing I am part of developing the future by helping to find solutions that make our world a better place makes me feel marvelous.
What kind of things do you like doing outside of work?
It's quite hard to make a list of things I do after work because there are so many, but mostly I enjoy being active.

Snowboarding is a sport that has been with me for a long time. I have been snowboarding for around 14 years but, unfortunately, a setback with living in Latvia is that I can only snowboard for around a quarter of the year in the best-case scenario. Another sport I enjoy is riding mountain bikes. I used to ride mountain bikes competitively, but have since kept the sport as a hobby and have been entering races just for fun. Hiking is a more recent addition to my life. I began hiking in 2019 and have been trying to go on longer hikes every month. This activity is very calming as I tend to mostly walk through forests or near the sea, and connecting with nature gives me a lot of energy.

Overall, I like to be an active person, but, of course, there are also evenings when all I do is sit at home and relax!