21 November 2021
#WeAreTOMRA: Meet Elvis, Production Operator
For Elvis Nkurunziza, production operator at the TOMRA Material Recovery facility in Canada, the most important things in his job are teamwork, a cause, and a company that gives the opportunity to learn and grow.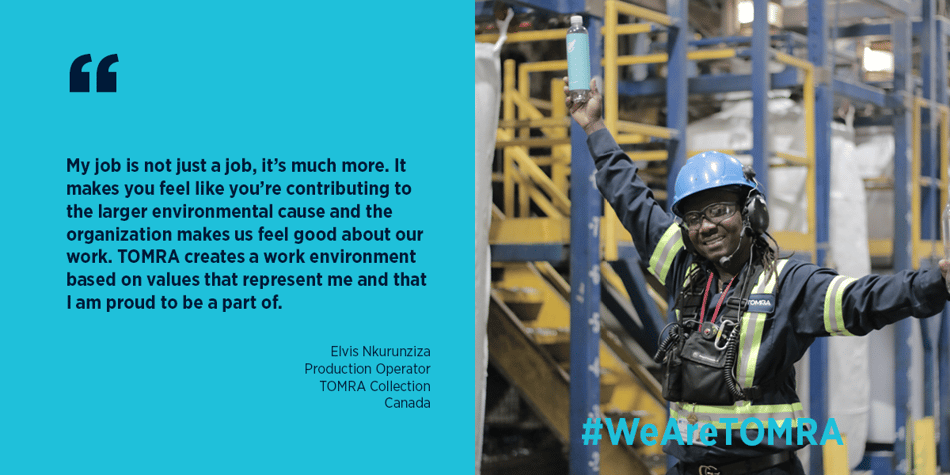 What do you do at TOMRA?
I work as a production operator at the Material Recovery facility of TOMRA Canada, processing material coming from the deposit return system here. Using TOMRA sorting systems, we separate PET bottles from aluminum cans; the bottles are transformed into flakes and cans are baled, so these operations fully integrate the container recycling value chain. My tasks include operating the production line and making sure everything is running smoothly. I carry out quality control of the material being processed before it is sent to the customer, and run health and safety inspections at the facility. I have been working in the position as a production operator since I started at TOMRA in March 2013.
What do you like most about working at TOMRA?
I'm very proud to be a part of the TOMRA Canada team. It feels like home. We have a great working atmosphere and communication between employees and the management team. I feel like TOMRA as a company is really taking care of their employees and gives us the opportunity to grow and learn. I see myself as being very dynamic and always in rhythm with my work, which might come from my background as a musician. The great thing about working at TOMRA is that it allows us to be ourselves. It's really a chance to be part of a company that allows us to show who we are and who listens to us. I enjoy using my knowledge and creativity for the good of the company.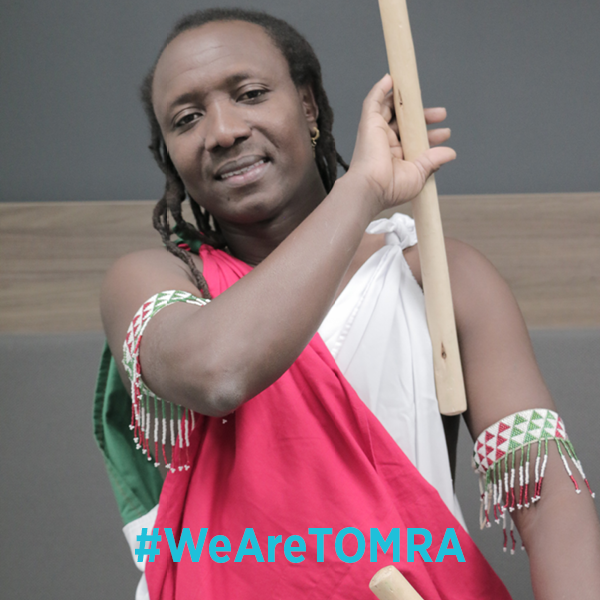 What about TOMRA that makes you proud?
I'm proud of the teamwork at the facility, we help each other out. I have been fortunate to be trained in and learned almost every position in the plant, which makes my job even more motivating. We are trained to be versatile. My job is not just a job. It's much more. It makes you feel like you're contributing to the larger environment cause and the organization makes us feel good about our work. TOMRA creates a work environment based on values that represent me and that I am proud to be part of.
What kind of things do you like doing outside of work?
In my spare time I am a musician and a dance enthusiast, and I enjoy sharing my passion with others. I play the royal drum, which is a traditional percussion instrument from my native country of Burundi. I usually perform ritual dance concerts with my friends, which is a type of performance that combines dance, heroic poetry, and traditional songs from Burundian culture.