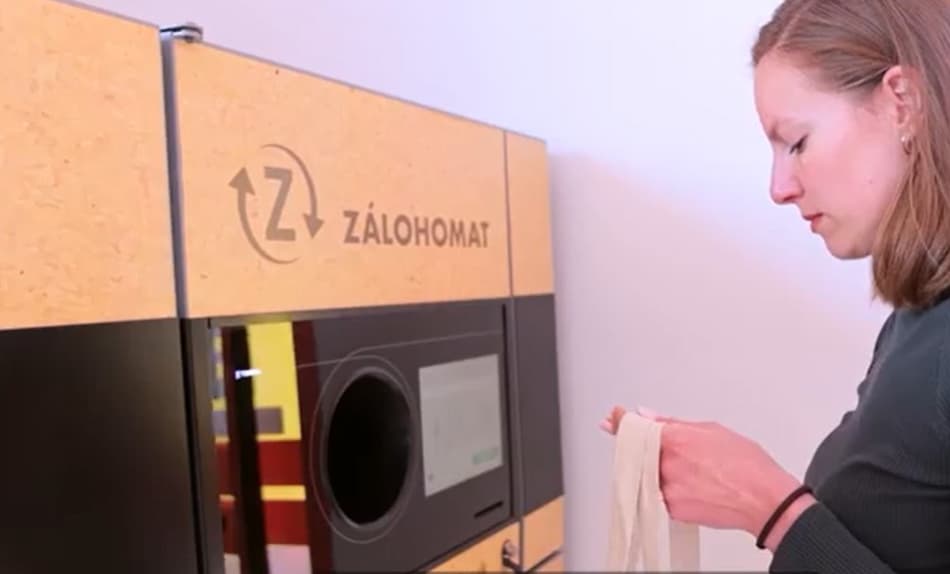 COOP Jednota Nove Zámky brings the benefits of recycling automation to the Slovak countryside
Andovce, SLOVAKIA: The local branch of COOP Jednota Nove Zámky automated the collection of beverage containers with TOMRA, as part of the newly established deposit return system. Their customers are now happy to contribute to a cleaner planet, and the store is satisfied with the quality of TOMRA products and service.
"I would definitely recommend TOMRA. Our cooperation has been nothing but positive. Even when we had small operational hiccups, everything was promptly and smoothly resolved."
Ladislav Macsadi, Operations Deputy, Coop Jednota Nove Zámky
At the end of 2021, as the launch of the deposit return system (DRS) in Slovakia was fast approaching, many stores in smaller municipalities faced an important decision – collect beverage containers by hand or install a reverse vending machine?
Andovce, a small village of 1,300 inhabitants in southwestern Slovakia, chose the latter. A TOMRA T70 Dual reverse vending machine (RVM) installed in the local branch of the supermarket chain COOP Jednota Nové Zámky handles all their collection needs. In fact, the whole regional chain currently operates 54 TOMRA reverse vending machines.
Cooperation wins
Relying on an RVM quickly turned out to be a smart decision for this regional store. "I recommend it to all other store managers, because it saves time and increases comfort," says Ladislav Macsadi, Deputy Operations Manager at Coop Jednota Nove Zámky.
He adds: "Customers have welcomed the deposit system; they are happy with it and so is our staff." The quick adoption of the DRS was possible thanks to Coop Jednota employees who helped customers get acquainted with the new system and guided them in depositing the right types of beverage containers.
A real crowd pleaser
Consumers, too, echo Mr. Macsadi's sentiments. "My experience is excellent. It's totally easy," says one of the supermarket's customers, Andrea. Her opinion is shared by more than 60 % of Slovaks, who, in an online survey conducted by TOMRA, expressed their clear satisfaction with the new deposit return system. "I think the deposit system is crucial for our nature and our planet. I believe that even people who never sorted materials for recycling before will now start returning their containers," adds Zuzana, another of the supermarket's customers.
Other interviewed customers believe that the inclusion of PET bottles and beverage cans in the new deposit return system will help remove waste from the cities and nature.
Customer adoption of the new system is also evident in the collection numbers that have been growing steadily since the beginning of the year. According to Ladislav Macssadi, their store collected on average 1,800 plastic bottles and cans per month in the first quarter of 2022. As of April, more than 8,700 beverage containers were deposited in Andovce, indicating a clearly growing popularity of the DRS.
Slovak deposit return system at a glance
The deposit return system is a modern means of extended producer responsibility, which, through the collection of disposable beverage containers, involves everyone in the fight for environmental protection and against free-flowing waste.
The Slovak deposit system was launched on 1 January 2022. All single-use plastic beverage bottles and cans with a capacity from 0.1 l up to and including 3 l can be deposited. Deposit bottles and cans are marked with a Z symbol in recycling arrows and the text "ZÁLOHOVANÉ". PET bottles and cans of beverages such as mineral water, sweetened drinks, fruit juices, iced teas, energy drinks, beer, wine, or mixed alcoholic beverages can be deposited. The deposit amount is 15 eurocents both for PET bottles and cans. Deposit containers must be returned to a collection point without residual liquids, not compressed, with the lid on and with a readable barcode. They can be returned at any marked collection point, regardless of where they have been purchased. Shops collect deposit containers via reverse vending machines and in smaller shops using a hand-held scanner, e.g. at the checkout. A map of collection points is available here.
Installed reverse vending systems

Standalone Line
TOMRA T70 TriSort
Good things come in threes
Designed for medium to large stores

Accept cans, plastic bottles or glass bottles

Footprint of 2m²

Up to 45 containers per minute