K-Market Perkkaa meets store and shopper recycling needs
Espoo, FINLAND: Marika Rekilä, Store Owner at K-Market Perkkaa, believes that many customers will do their grocery shopping where returning their empty beverage containers is guaranteed to work well.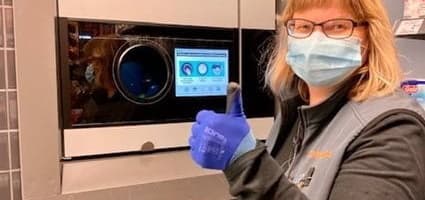 Since K-Market Perkkaa, supermarket in Espoo, Finland, integrated the T70 Dual reverse vending machine from TOMRA in the store six months ago, drink container recycling has been easier than ever before. Shopkeeper Marika Rekilä is very satisfied with the upgrade and is confident that the efficiency of the new machine is appealing to customers.

"We receive a large quantity of bottles returned relative to the size of the store, and our old bottle recycling machine was unreliable and could no longer keep up," says Rekilä.
Efficiency and reliability


Rekilä explains that the effectiveness and compact size of the T70 dual fits perfectly in the small space they have available in store, while at the same time covering their needs for reverse vending capacity. "Our new T70 system is both reliable and efficient; in the last six months it has received almost 300,000 beverage containers without a single hiccup." She also praises the T70 for its ease of use. "The machine guides you through every step on how to clean and replace the bins, it's super user friendly!" Rekilä also points out the T70's feature of compacting the empty beverage containers to a very small size. "It saves the staff a lot of time and effort, since the machine can hold a much bigger quantity of items, and we don't have to empty the bins as often as before."
Beneficial for both customers and employees

To have a recycling system that they can rely on brings great peace of mind, according to Rekilä, as drink container returns is one of the most important service elements of the store. That's why she also entered a service agreement with TOMRA to ensure that the machine is always in top condition and running smoothly, which also contributes to making the job easier for employees. "I have not regretted purchasing a new machine, it's a great relief and contributes to customer satisfaction, which is key to us here at K-Market Perkkaa." Rekilä believes that customers are attracted to a store with fast and reliable bottle return facilities. "I'm sure many customers will do their shopping and return their used containers where the reverse vending is quick and reliable."
Installed Reverse vending systems

standalone line
TOMRA T70 Dual
Make recycling easy for you
Designed for small and medium stores

Accept cans, plastic bottles or glass bottles

Footprint of 1.34m²

Up to 45 containers per minute