AMARSUL trust TOMRA to optimize production and achieve recycling targets
AMARSUL, a company based in Portugal and responsible for the treatment and recovery of recyclable materials from urban waste in the nine municipalities of the Setúbal Peninsula, has relied on TOMRA's advanced solutions for more than 14 years. With eight AUTOSORT® machines in operation and its recent renovation in 2020, it was the first company in the world to introduce SHARP EYE™ technology in a waste management plant. This technology, in combination with TOMRA's advanced NIR (near infrared) sensor, is the only technology capable of distinguishing materials whose composition is the same and which only differ in viscosity, as is the case with thermoformed PET trays vs. PET bottles.
Portugal is a very advanced country in terms of regulations governing waste management, although there is still a lot of work to be done in many plants. In the Lisbon region, we find an oasis: the company AMARSUL, which has 26 years of history and is today responsible for the treatment and recovery of recyclable materials from urban waste in the nine municipalities of the Setúbal Peninsula. In 2022, the company treated 461 thousand tonnes of waste, having recovered 45 thousand tonnes of recyclables.

TOMRA AUTOSORT™ at Amarsul
AMARSUL has been working side by side with the TOMRA team since 2009. As a result, the company has one of the most advanced processes in the country. Today, it operates eight
AUTOSORT®
machines, two of which feature SHARP EYE™ technology. The new equipment was installed in 2019 at the company's Palmela Urban Waste Mechanical Treatment Plant, which has a capacity of about 94,000 tonnes of waste/year, and in 2020 at its Seixal Automatic Packaging Sorting Plant, which has a treatment capacity of 12,000 tonnes/year.
The advantages of this latest development have been clear. At the
municipal waste
fraction plant in Palmela, all PET bottles, HDPE, liquid food and beverage cartons, as well as metal packaging are sorted into single fractions. The AUTOSORT® equipment featuring SHARP EYE™ technology allows the fraction to be created without contamination from thermoformed PET products, which facilitates its transport from Pamela to Seixal for its subsequent separation at the Seixal Packaging Sorting Plant. This facility also processes the lightweight packaging fraction (collected via separate collection). Thanks to the AUTOSORT® with SHARP EYE™ technology, PET bottles are automatically separated from thermoformed PET trays.
A relationship based on trust, continuous improvement, and the pursuit of results
The relationship between TOMRA and AMARSUL is well established, and their collaboration is excellent. "At AMARSUL, some of our units have been operating daily since 2009." The stability and durability provided by AUTOSORT® is a key factor in the company's success. "TOMRA's machines offer operational flexibility, as they allow you to modify your sorting task. Together, we have redesigned the plant layout and process, relocating older equipment and adding the most advanced technologies on the market.

AMARSUL has purchased new machines so they can adapt to new technical specifications at any given time," explains Pablo Barahona, Area Sales Manager for Spain and Portugal at TOMRA Recycling Sorting, who specializes in municipal waste management and plastic recycling lines.
Likewise, Ana Teresa Henriques (Production Manager) and Susana Silva (Communications Manager) at AMARSUL explain the latest plant renovation: "After many years of good relations, we had the opportunity to install in our Seixal Automatic Packaging Sorting Plant new TOMRA equipment. Their machines are very reliable and efficient, easy to operate and program, and the company has excellent local technical support. As we expected, TOMRA has responded to our needs and to the objectives we have to meet."
AMARSUL installed TOMRA's AUTOSORT® system with SHARP EYE™ technology, the perfect duo allowing for the highly efficient identification and sorting of materials that were previously difficult to separate, such as PET bottles and thermoformed single-layer PET trays.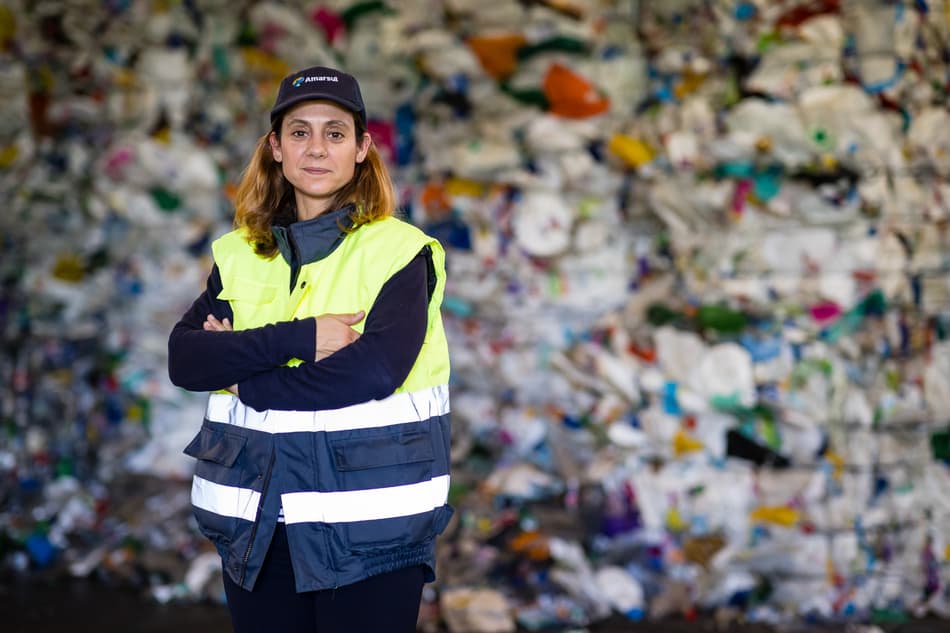 Ana Teresa Henriques, Production Manager at Amarsul
AUTOSORT® with SHARP EYE™: The most innovative technology that makes the impossible possible
The AUTOSORT® is a flexible and well-known machine. It can sort any thermoplastic polymer (PET, PP, PVC, PS, PEBD, LPEBD, HDPE, thermoformed, blow molding materials, etc.) and paper/cardboard from MSW, lightweight packaging, or organic waste fractions. It also offers a compact design and is easy to integrate into new plants or adapt to existing lines. Combined with TOMRA's SHARP EYE™ technology, launched in 2018, it features enhanced lighting and sharper imaging for higher precision sorting of various polymers, making it easier to separate fractions that are difficult to sort.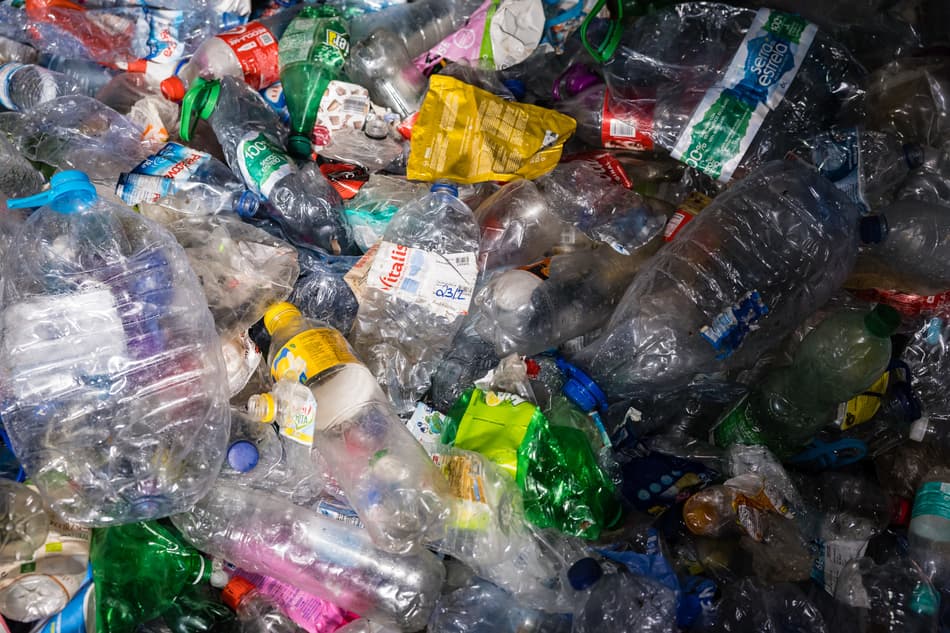 Products output PET bottles
"We at TOMRA believe this application, which was created specifically for PET recyclers, could improve purity levels and become a best practice for waste management plants in Portugal. We had two technologies available to us. Firstly, the best NIR sensor on the market. Secondly, our exclusive SHARP EYE™ technology. This one-of-a-kind technology is capable of distinguishing products manufactured by injection blow molding (bottles) and thermoformed materials (trays) that differ only in their viscosity. In fact, at this time, we are the only company able to perform this task without depending on artificial intelligence, which has the disadvantage of requiring constant updates," says Pablo Barahona.

There is no doubt that the technical service, in addition to the technology, is key to AMARSUL's success. "TOMRA has a local service team of eight trained technicians in Spain and Portugal, strategically located throughout the Iberian Peninsula, which allows us to resolve any incident quickly, at a low cost, and in the language of our customers. In Portugal, we have a technician based in Lisbon who can also provide assistance in western Spain if necessary," says Pablo Barahona.
A game changer
"Before the installation of the machines with SHARP EYE™ technology, all thermoformed PET material was sent to the PET bottle fraction. This made it very difficult to sort and recover the material. The change made in 2020 allowed us to process a greater amount of material, while also reducing contamination. In 2019, we processed some 8,120 tonnes of material, and in 2022 we achieved 11,976 tonnes.
TOMRA: A collaborative partner for meeting legislation and recycling targets
The current technical specifications for materials require the separation between PET bottles and thermoformed PET trays.
In a continuous effort to improve, Portugal's new technical specifications for materials that will come into force in June 2023 have recently been published and will be even more demanding, requiring plants to be able to separate mixed plastics into three fractions (PP /thermoformed PET /other plastic packaging). The good news is that TOMRA offers the technology to separate them all.
"The problem is that there are still many obsolete lines in terms of process automation in Portugal that are not ready to meet the specifications. This forces treatment plants to have one or two people dedicated to sorting to ensure the correct separation of the fractions. When used in the right places, new technologies make it possible to optimize the process, achieve high levels of efficiency and purity in material recovery, and reduce operating costs. Specifically, with SHARP EYE™ technology, more than 92% of all thermoformed PET trays can be eliminated from the PET bottle fraction so that a manual sorting station can be redeployed to another part of the line for other tasks," says Pablo Barahona.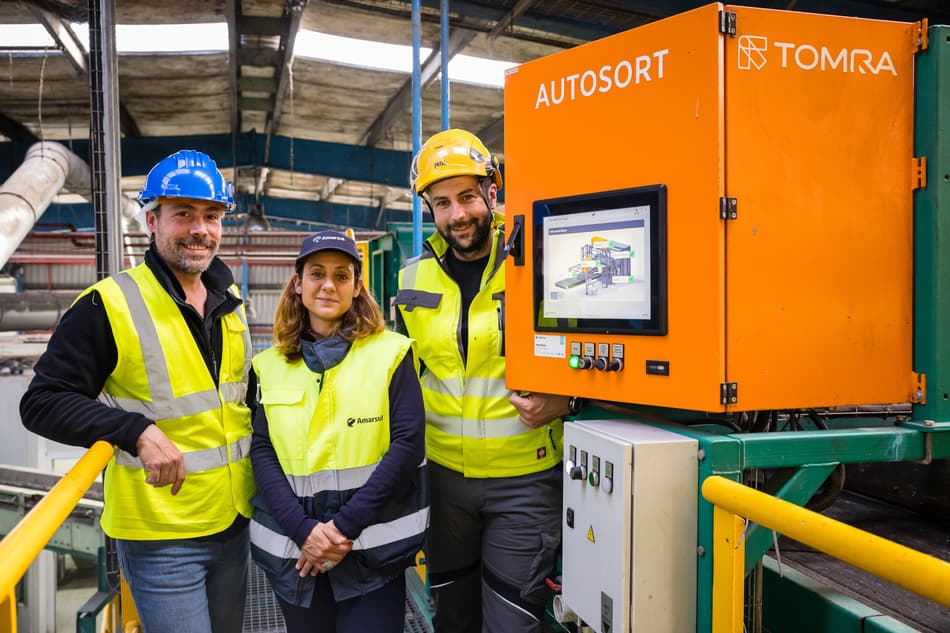 Pablo Barahona, Ana Teresa Henriques, David Rosa at Amarsul
The success of this solution is guaranteed. And as Ana Teresa Henriques concludes: "The addition of the latest TOMRA technology allows us to comply with legislation, optimize processes, increase efficiency and identify needs in real-time. Because even if we work hard and in the right way, the results may not be the leap forward we need. Hence, the improvement in procedures, technologies, and machines. With TOMRA, everything has been effortless. They have accompanied us throughout all the process stages, providing us with a professional local technical team available to answer our questions. In short, our relationship with TOMRA has always been a win-win because they have developed new solutions and presented alternatives, proving to be an exceptional and collaborative partner to achieve common goals."