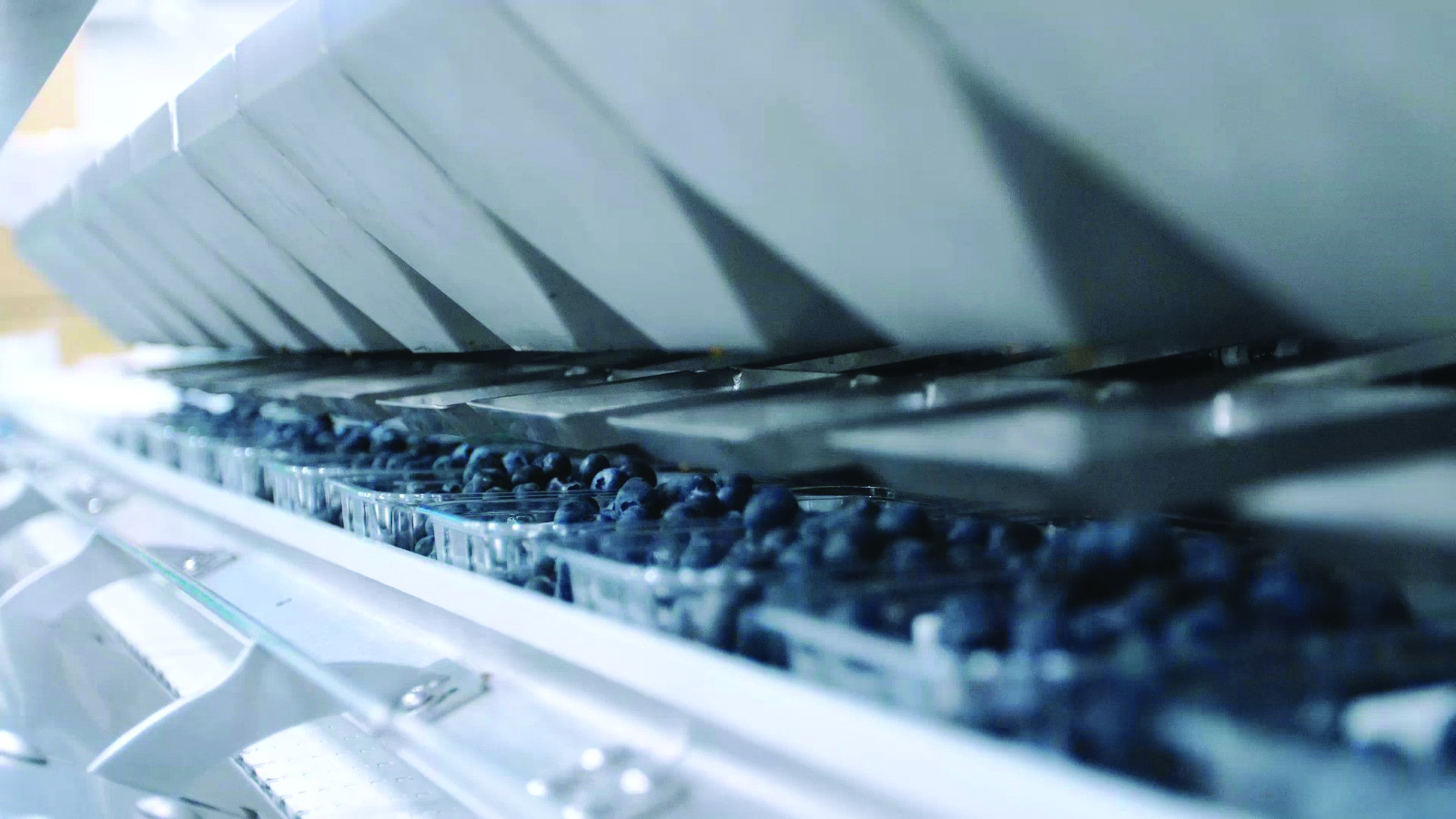 Integrated blueberry solutions: post harvest to pack

Our modular design means that future TOMRA products can be added to your solution at a later date and as you grow your operation. This allows us to best match solutions to your changing needs during different stages of your business development.
All components of an integrated solution are linked and effectively "talk" to each other. Using a touch screen monitor, the user can easily change settings while the blueberry line still continues operating.
Our intimate awareness of the delicate characteristics of the blueberry enables a design which emphasizes gentle handling. Fewer transitions equal better care of the berry. Anti-bruise surfaces ensure preservation of product surface and fruit bloom is kept intact.

The user experience is designed with simplicity in mind providing the ability to make sophisticated selections by merely adjusting sliders right or left.
CUSTOMER STORY


Agricola El Alamo, Chile


Integrated blueberry solution

Agricola El Alamo, located in Chile, discusses their experience with our integrated Blueberry solution.
Our blueberry infeed solutions
Gentle delivery of blueberries from the tray to the lift belt while communicating with the KATO260 to automatically adjust cycle times in order to optimise throughput.
Blower cleaner with stick remover
Removes sticks and leaves. Uses a tangential fan to provide consistent air flow to sort product across the full width of the belt.
Removes undersized and small rubbish material effectively and cleanly.
Our blueberry sorting and grading solutions
Optical sorting and sizing for refined sorting and robust classifications of premium quality fruit.
Our blueberry filling and packing solutions

The KETE16 delivers a versatile, high-capacity end of line system for packing punnets and clamshells. It's design is flexible to accommodate a range of punnet sizes, case sizes and orientations of pack. The solution allows for simple change over between configurations and pack types, providing speed and consistency through robotic precision. 
CURO delivers consistent, high-speed filling at precise weights and the flexibility to easily switch between a wide range of packing options. Available in varieties of 2, 8, 12 and 16 filling stations.
Accurate high volume box filling accommodating a variety of box sizes and weights and can be integrated into Line Control.

Accurate high volume box filling accommodating a variety of box sizes and weights.
TRACEABILITY
With the ability to compare and analyze yields, FreshTracker™ tracking system software ensures high-quality end product and efficient production management. Reporting provides important transparency for packers who are running another growers' fruit. By having all product characteristics prepared by a third party system and classified by lot and time, the grower can clearly see the results of their harvest activities.