26 may 2023
#WeAreTOMRA: Meet Jaclyn da Silva, People & Organization services
What motivates Jaclyn in her work is the opportunity to develop within the company, and with trust and support from her colleagues, she was able to work on various projects that led her to find her passion within human resources.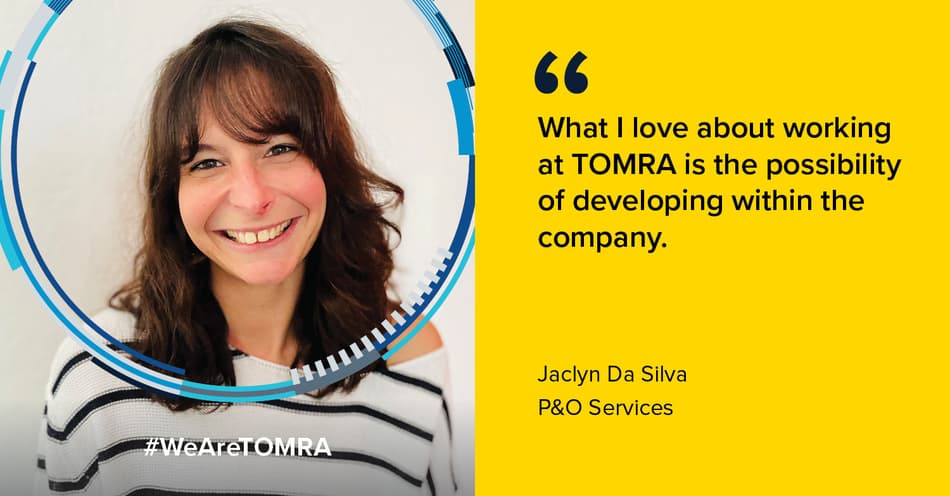 Jaclyn started her career at TOMRA Collection Germany in April 2021, working in reception at our office in Langenfeld. She was given a wide range of work tasks. She coordinated events and kick-offs and assisted the Head of TOMRA Collection Germany when needed. Soon, she was also included in several exciting projects within the People & Organization department. Little did she know that it would be the beginning of a new career path for her.
While working on these projects, she realized that she had a passion for human resources, and, a year into her job, an opportunity arose - and she decided to make the full-time switch and became a full-time member of the People & Organization team as an administrator.
What do you do at TOMRA?
My current tasks include setting up reporting and controlling, the continuous administration and optimization of all People & Organization systems, and the enterprise resource planning modules relevant to our work. Together with my team, I also get to be a part of developing people and the organization at TOMRA Collection Germany
What do you like the most about working at TOMRA?
What I love about working at TOMRA is the possibility to develop but also the appreciation within the company. I joined TOMRA with little previous knowledge in my field, utterly new to the industry and my tasks. Since I started, I have gone through a journey of self-development filled with trust and support from my colleagues in me as a person and my function.   
​
What is the most exciting thing you have done in TOMRA?

The most exciting thing I have done so far in TOMRA is being the key user for implementing our time registration and absence registration within the enterprise resource planning system. I also got to be a part of ensuring the use of one standard system, facilitating the process for our colleagues, and further saving resources that we had previously spent on two external systems outside of it.
What kind of things do you like doing outside work?
Outside of work, my main hobby is traveling – although it doesn't matter whether I travel to the other side of the globe or countries nearby – both have their benefits. Furthermore, I love to cook and create new recipes in the kitchen.