New South Wales prevents billions of drink containers from entering litter stream through Return and Earn deposit return scheme
TOMRA partnered with Cleanaway on New South Wales' new container deposit return systems, with the target of achieving a 40% litter reduction. Following the introduction of the deposit system on 1 December 2017, the total beverage container return rate in New South Wales rose from 32% in 2017 to 65% in just over two years, redirecting containers from landfill or litter to recycling. Today, five years since launch, we look at the design and roll-out of the deposit system in the state.
New South Wales deposit return scheme snapshot:
State population: 8.196 million
Container deposit: AU$0.10
Eligible containers: Non-refillable glass, plastic, liquid paperboard and metal beverage containers
Container return rates: 32% prior to deposit return system, 65% within two years of system launch
By offering a strong financial motive to participate, we turn something that could have been litter into a resource.

Danielle Smalley
CEO of Exchange for Change, Central System Administrator in New South Wales
Designing the Return and Earn deposit return scheme
In May 2016, the New South Wales (NSW) government announced plans for a new deposit return system (DRS, also known in Australia as a container deposit scheme) for the recycling of empty beverage containers, with the date for the launch later scheduled for 1 December 2017.
"The scheme we are announcing today is the single largest initiative ever undertaken to reduce litter in NSW. Giving people a financial incentive to do the right thing and recycle drink containers will help to significantly reduce the estimated 160 million drink containers littered every year," said NSW Premier, Mike Baird. The NSW target for litter reduction was 40% by 2020. NSW Environment Minister, Mark Speakman, added: "We're moving ahead with a container deposit scheme that will get bottles and cans off our streets and beaches and out of our waterways."
Later named "Return and Earn", under the deposit return systems consumers would pay a deposit amount of AU$0.10 when purchasing eligible drink containers, to be refunded when the empty container is returned for recycling. Eligible beverage containers would include non-refillable containers made from aluminum, glass, plastic, steel and liquid paperboard, between 150ml and 3L. The NSW DRS sought to target containers for drinks typically consumed outside the home, and which are more likely to end up in the litter stream.
The government issued calls for tender for two distinct organizations to take different roles in the new deposit return system. Return and Earn would employ a split-responsibility model to divide responsibilities for system administration into two levels. Where retailers are not included in deposit return legislation, strong governance is required to ensure industry system administrators balance convenience with cost effectiveness. This increases transparency and reduces potential conflicts of interest.
Exchange for Change (formed by five Australian beverage companies: Asahi, Carlton, United Breweries, Coca-Cola Amatil, Coopers and Lion) was appointed as the "scheme coordinator" of the NSW deposit system, providing financial management, auditing, community education and marketing services. A key part of the scheme coordinator's role would also be to manage producers and ensure producer funds are paid into the system. This scheme coordinator role would be complemented by a "network operator", who would design, implement and manage the network of collection points and ensure the collected containers are recycled. A key target for the network operator is to ensure that return points are as accessible and convenient as possible for consumers.
The initiative sought to install approximately 1000 reverse vending machines across the state, to ensure convenient return possibilities for consumers. The new deposit system aimed to offer consumers multiple payout options for their 10-cent refund, so that it could be donated to charity, used as credit in participating grocery stores, or redeemed for cash.
TOMRA supports New South Wales deposit return scheme roll-out with joint venture partner Cleanaway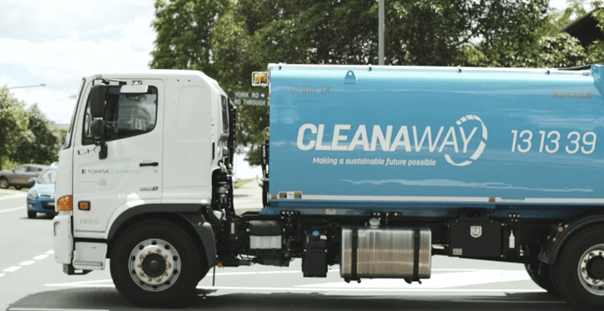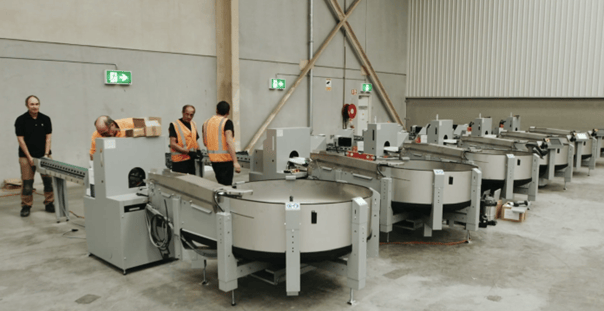 On July 29, 2017, global reverse vending leader TOMRA and Australian waste management company Cleanaway were appointed network operator for the new Return and Earn deposit return system. The joint venture was named TOMRA Cleanaway, and would be responsible for the collection infrastructure across NSW and for ensuring that collected containers are recycled. TOMRA provided the reverse vending machinery, overall IT system and software, and carried the investment for the technology, while Cleanaway delivered the logistics, sorting of collected material, and acted as a broker for sale of the collected materials.
Cleanaway is Australia's largest waste management company, for solid, liquid, and hydrocarbons waste collection. "We are very happy to enter into this partnership with Cleanaway. Our two companies are a great fit and together we are providing our core competencies into the role of the network operator," explained TOMRA's then president and CEO, Stefan Ranstrand.
Ahead of the rollout, TOMRA designed the recycling payout app, myTOMRA, which was launched simultaneously with the Return and Earn DRS. With myTOMRA, consumers could receive their deposit refunds digitally and instantly. The app also offers a map of all reverse vending machine locations and serves live-status updates for those machines (for example, showing whether the machine is currently full, needs technical assistance or has closed for the day), giving new recyclers insight into their nearest return point and the chance to plan their reverse vending trip, leading to a better recycling experience.
The rapid roll-out plans for Return and Earn meant that TOMRA Cleanaway had to ensure installation of reverse vending machines right across NSW - an area the size of Germany and France combined - in a short timeframe of four months. TOMRA deployed multiple teams with different focus areas to ensure that operations went smoothly. Some teams were dedicated to sites and partnerships, while others focused on the production and installation of the shipping containers that would house the outdoor reverse vending kiosks. From TOMRA's Australian head office in Sydney, the TOMRA portfolio of digital solutions would easily monitor every machine across the state.
New South Wales' total litter volume reduces, while beverage containers collected and recycled increases
On 1 December, 2017, the deposit return system went live. By July the following year, TOMRA Cleanaway had rolled out over 600 collection points, deployed over 1000 reverse vending machines, and collected more than 540 million containers. Today, this has increased to more than 1300 reverse vending machines and is complemented by over-the-counter retail return points and automated depots for hospitality and large volume customers.
Following the introduction of Return and Earn, the total beverage container return rate in New South Wales increased from 32% in 2017 to 65% by early 2020.
One year after the launch of Return and Earn, a milestone one billion containers had been returned through the deposit return network. In the first year:
Eligible drink containers collected and recycled: Up by 69% year on year
Eligible drink container litter volume: Down 44%
NSW total litter volume: Down 48% since 2013
The myTOMRA app also experienced success. The app became one of the top-10 most downloaded apps in New South Wales in just two months, with 242,000 downloads in its first year. In that period, 12% of all containers recycled with Return and Earn were refunded through myTOMRA, where Australians transferred over AU$9.9 million to their PayPal accounts.
Since the app's origins with electronic payout, map and reverse vending machine status, myTOMRA's development has included gamification of the recycling experience and more options for charity donation. In April 2022, it was re-launched as the Return and Earn app (adding all return points, including depots and over-the-counter returns), to help the government and scheme coordinator achieve the best outcomes for the state's DRS. The app is well liked among its users, in May 2022 achieving an average rating of 4.8 (out of 5) on the Apple App Store.
The Return and Earn DRS also proved to have an impact on communities and local charities. TOMRA reverse vending machines feature a powerful donation feature, giving recyclers a unique way to support local and national charities, by donating their container deposit refund direct from the reverse vending machines. The machines offer a list of charity options, and are changed out quarterly for greater involvement, visibility, and fundraising opportunities. For example, during the "Bottles For The Bush" appeal in 2019-2020, everyone could do a good deed to support those communities who experienced the devastating consequences of the bushfire and drought season. The campaign raised AU$512,258 for these communities and increased the normal donation rate by up to 500%. Similar fundraising campaigns or recycling appeals have also been launched to rehabilitate wildlife after the bushfires and support communities during the Covid-19 pandemic.
In May 2022, it was announced that the TOMRA Cleanaway joint venture's role as network operator would be extended for a further four years.
As of
December 2022
, over 8 billion containers have been returned in New South Wales, as a result of shifting attitudes to recycling. Over 755,000 tonnes of material have been recycled. Almost AU$800 million had been refunded to the New South Wales community and over AU$40 million has been raised for NSW charities and community groups, and drink container litter reduced by a huge 52%.
Consumer research
showed that 78% of New South Wales adults have participated in Return and Earn, and 89% support the DRS. 82% of people agree that it reduces the amount of litter, and 83% say it benefits the environment.

"By offering a strong financial motive to participate, we turn something that could have been litter into a resource. It encourages people and community groups to see the potential of the glass, plastic, and aluminum or steel cans that they drink from. This is all part of what helps change attitudes and drive action to increase recycling across NSW," said Danielle Smalley, CEO of Exchange for Change.