Office and showroom open in Ericeira
TOMRA, leading provider of reverse vending solutions, opens office in Portugal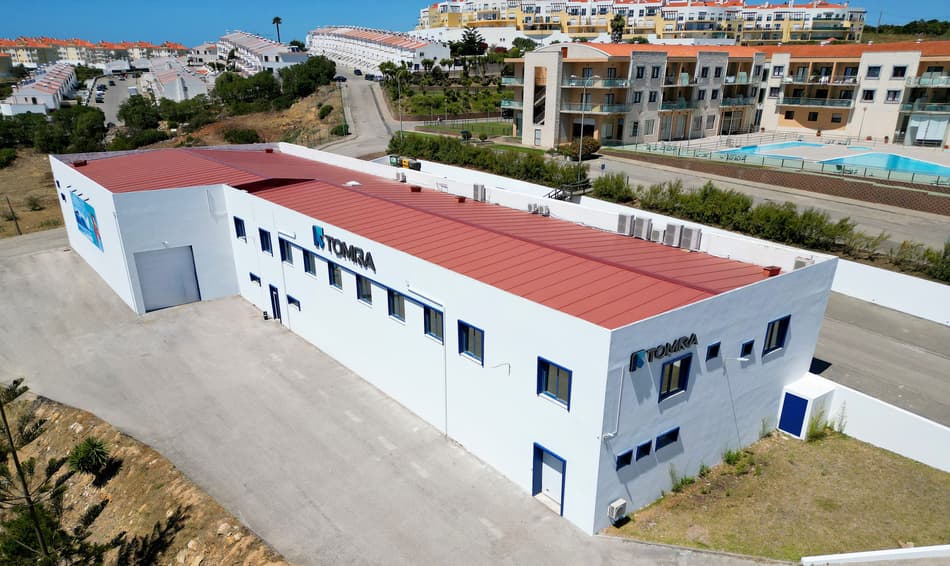 Today – on the closing day of the UN Ocean Conference – TOMRA Collection, global leader in reverse vending technology, officially opens a new office in Ericeira. The Government has agreed on the introduction of a deposit return system (DRS) for the recycling of beverage containers, and the DRS ordinance will be published soon. TOMRA's reverse vending machines automate the return of bottles and cans, to help make deposit return systems more efficient and convenient.
The new office will serve as a base for TOMRA's staff and also as a showroom for visitors. The showroom encourages visitors to gain a rewarding recycling experience by trying out TOMRA's state-of-the-art RVM technologies and the machines' seamless integration with digital services to boost convenience and engagement.
TOMRA was founded in Norway on April 1, 1972 by brothers Petter and Tore Planke. After seeing a local grocer struggle with the manual collection of empty bottles in their store – which consumers returned for reuse – the brothers developed the first fully-automated reverse vending machine in their family's garage.
Fifty years later, TOMRA has more than 80,000 installations in over 60 markets, with over 4600 employees across the company worldwide. TOMRA Collection captures over 40 billion drink containers each year. Its reverse vending machines enable 4.5 million tons in avoided carbon emissions each year.
TOMRA chose Ericeira as its base in Portugal. The new office is located in one of Europe's most popular surf spots and lies on top of a hill, overlooking the ocean. This unique location underlines TOMRA's ambition to keep used beverage containers out of our oceans, streets and landfills.
The Ellen MacArthur Foundation estimated that in 2050 there will be more plastic than fish in the ocean, and an effective way to reduce ocean plastic pollution is to prevent it reaching the sea in the first place. For that, the challenge is to reduce litter and increase recycling rates among consumers, which can be achieved using container deposit schemes and reverse vending machines. TOMRA believes that Clean Loop Recycling is the solution for keeping beverage containers out of the waste stream, moving valuable materials from single use to multiple use. In Norway – where TOMRA pioneered the first fully-automated reverse vending machines – collection rates for plastic bottles are 98%.
"With the opening of TOMRA's new office, we look forward to helping Portugal transform into being greener, more circular and more sustainable. TOMRA seeks to provide a great experience when consumers return their bottles and cans through our solutions and enable Clean Loop Recycling," said Tove Andersen, TOMRA's President and CEO.

About TOMRA Collection:
Founded in 1972, TOMRA provides reverse vending solutions for Clean Loop Recycling, collecting aluminium, plastic and glass beverage containers to be continually reused and recycled back into new bottles and cans. With approximately 80,000 reverse vending machines across more than 60 markets, TOMRA captures over 40 billion used beverage containers every year toward a closed loop. This reduces reliance on raw materials, and ensures fewer containers end up in our streets, oceans and landfills. TOMRA's reverse vending machines, digital solutions and service make recycling easy for the industry, system owners, retailers and consumers to contribute to a more sustainable planet. Visit our Reverse Vending pages on www.tomra.com, and follow us on Facebook, Twitter, Instagram and LinkedIn.
TOMRA Collection is part of the TOMRA Group, which creates sensor-based solutions for optimal resource productivity, and has a vision to lead the Resource Revolution. The Group employs approximately 4600 people globally and is publicly listed on the Oslo Stock Exchange (OSE: TOM).