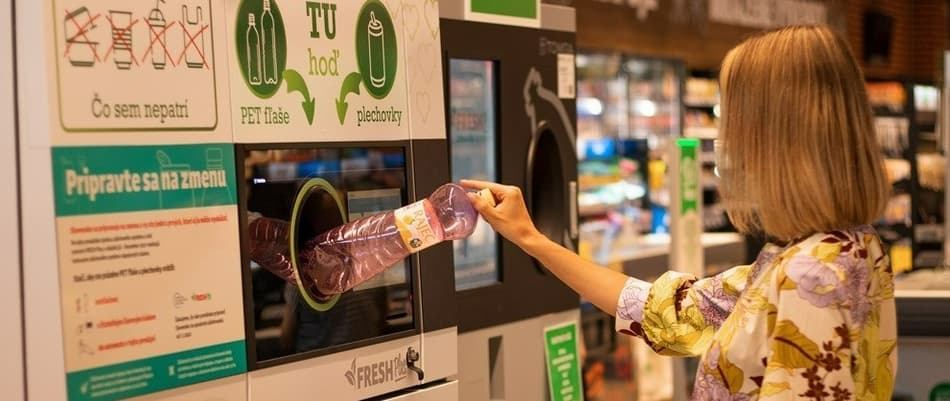 Everything to know about Slovakia's new program for recycling drink cans and bottles
New deposit return system for beverage containers launches in Slovakia
A new deposit return system to encourage recycling of empty drink containers kicked off in Slovakia on Saturday, January 1, 2022. What awaits consumers and the stores serving as container return points, and how will the entire system work? Read the detailed Q&A about Slovakia's brand new deposit system
Slovakia's deposit return system for cans and plastic bottles seeks to address beverage container litter and meet European Union targets for the collection of plastic beverage bottles. Approximately 1.3 billion drink containers are sold each year in Slovakia. The country is seeking to collect at least 60% of eligible containers for recycling by the end of 2022, and 90% by 2025. This would put Slovakia four years ahead of the targets in the European Union's Single-Use Plastics Directive, which requires member states to separately collect 90% of single-use plastic bottles by 2029.

Container deposit return systems work by adding a deposit on top of the price of a beverage – such as those in plastic and glass bottles and aluminum cans – which is refunded to the consumer when they return the empty bottle or can for recycling. As such, it is like buying the beverage, but borrowing the container. These programs are also known as container deposit systems or bottle bills, and are typically established through legislation passed by state or national governments.

The deposit return system in Slovakia will use a "return-to-retail" infrastructure, whereby containers are returned for recycling to the grocery stores typically selling beverages. Their deposit system will see the installation of around 1700 reverse vending machines – an automated way to collect, sort and handle the return of used drink containers – and both mandatory and voluntary collection points across approximately 2000 stores in Slovakia. A recent survey showed that almost 86% of people in Slovakia were positive to the local deposit return system legislation.
"It is exciting to see the deposit return system launch this week in Slovakia, to have in place the framework for our common goal to keep millions of bottles out of landfills and out of nature."

Roman Postl
Managing Director of TOMRA Collection Slovakia
TOMRA Collection
is the world's largest provider of reverse vending machines for recycling. "We would like to congratulate the Ministry of the Environment of the Slovak Republic on this important milestone, which will help prevent beverage container litter in Slovakia, and move Slovakia toward a true circular economy."
For almost 50 years, TOMRA has been providing a range of services and reverse vending technology to deposit return systems. Reverse vending machines provide an easy way for the public to return containers for recycling. TOMRA has approximately 80,000 reverse vending machines installed in 40 deposit regions, capturing over 40 billion used beverage containers for recycling worldwide each year. Learn more about
TOMRA Collection Slovakia.
Slovakia deposit return system FAQs
About beverage containers
Which beverage containers will be part of Slovakia's deposit return system?
Slovakia's deposit system applies to almost all beverages in plastic bottles or cans with a volume of 0.1 to 3 liters. Containers not covered by the deposit system include packaging for milk and milk drinks, syrups, and alcoholic beverages with an alcohol content of more than 15%. These containers can continue to be discarded into curbside recycling bins at home.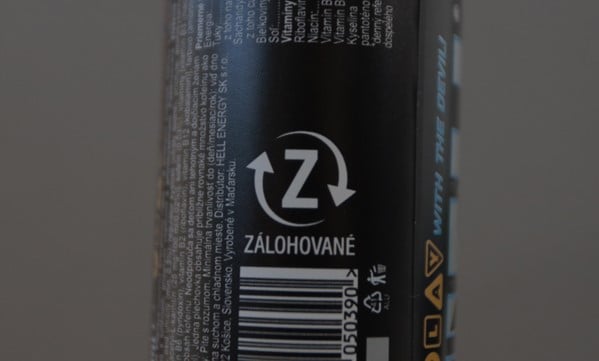 How can consumers recognize which containers are included in the deposit system?
Eligible containers are marked with the symbol of Slovakia's deposit system, a large Z symbol inside a recycling arrows icon. This symbol will be located near the container's barcode along with the text "ZALOHOVANE" (meaning "deposit").
What is the deposit/refund value for a bottle or can?
The amount of the deposit is the same for all types of disposable beverage packaging: 15 euro cents. This applies whether it is a plastic bottle or a can, and whether it is a small or large beverage container.

Can consumers return a damaged bottle?
Bottles and cans should be handed in uncrushed and with a legible barcode, as this is the way the return technology can verify them and refund the deposit.

What happens if a container is not returned?
Plastic bottles and cans that are not returned as part of the deposit system forfeit their 15 euro cents deposit. More importantly, that container loses the opportunity to become part of efficient waste collection toward bottle-to-bottle and can-to-can recycling and helping the environment.

What happens if an eligible plastic bottle or can is disposed of in the curbside recycling bin at home?
If a container is disposed of in the home recycling bin, the refund will be lost. Also, because of its contact with other kinds of household materials, the container will become more costly, complicated and energy intensive to recycle.

What happens to old containers without a "Z"?
It will be possible to return only (undamaged) beverage containers marked with the Z symbol and the text "ZALOHOVANE" at the collection point in the store. Containers without the Z symbol and the text "ZALOHOVANE" should be placed into a home recycling bin for collection.

Can consumers return the old containers without a "Z" directly to the seller in the store?
Old containers without a "Z" will not be accepted and a refund will not be paid. This is also the case for containers purchased abroad, containers with a damaged label, and containers not part of Slovakia's deposit system. These containers can be placed in the home recycling bin as before.
It is up to retailers to decide whether to collect and process old containers not part of the deposit system. The deposit system's Central System Administrator (Správca zálohového systému) will only take back from retailers the plastic bottles and cans which are part of the deposit system.
About return points and reverse vending machines
Where can empty containers be returned?
Empty plastic bottles or cans can typically be returned to grocery stores. Stores with an area of more than 300 m2 are obliged to take back containers, most often at an automated "reverse vending machine". For other stores, taking back containers in the deposit system is voluntary. In smaller shops, the containers can be returned at the cash register, where the employee will verify them using a hand-held scanner.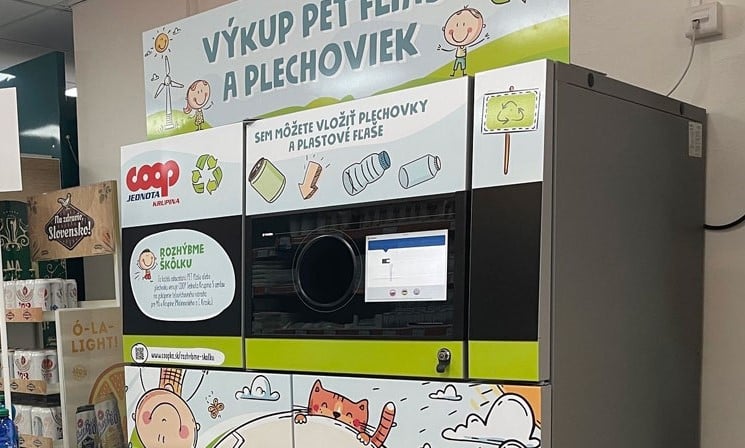 How do consumers get the deposit refund paid out?
For consumers, the entire system is set up practically and easily. Consumers can return empty beverage containers to the store, by putting it in the reverse vending machine or returning it at the cash register and waiting for confirmation of the refund amount. The deposit refund can be used as in-store credit toward purchases, or the amount can be paid out at the checkout.

How do reverse vending machines work?
Reverse vending machines are used for receiving, recognizing, sorting, and storing empty beverage containers. They will also print a coupon with the amount of the deposit refund. As such, they work in the same way as existing reverse vending machines in Slovakia for the return of glass bottles.

Can a deposit refund be spent at any store?
No. Although bottles and cans can be returned in any participating store in Slovakia, regardless of where the drinks were purchased, the refund can only be spent in the store where the containers were returned.

Is there a map of return points?
The map of participating return points will be published by the Slovak deposit system's Central System Administrator at www.slovenskozalohuje.sk and/or www.spravcazaloh.sk at the beginning of 2022. It will be continuously updated with additional participating stores.
About the Slovak deposit system
What happens to the empty containers after they are returned?
From the stores, the returned plastic bottles and cans will be transported to a sorting center and from there for recycling. Subsequently, new bottles or cans can be made from the recycled material. This advantage is one of the biggest benefits of a deposit return system, as this "closed-loop" recycling (turning the material into a similar or same product) can be achieved more efficiently.

What is the transitional period?
Beverage containers with the Z symbol and the text "ZALOHOVANE" will gradually roll out in stores from January 2022. All beverage packaging for the deposit return system must be updated by June 30, 2022.

Is the deposit system mandatory?
Deposit system of plastic bottles and cans is mandatory for all beverage producers who place eligible drinks/containers on the market in the Slovak Republic. Stores with a sales area of more than 300 m2 are also compulsorily involved, and must take back containers that are part of the deposit system, regardless of where the consumer bought the beverage. The amount of the deposit is always stated separately and then added to the price of the drink.

What are the benefits of a deposit return system?
Deposit return systems increase recycling rates and reducing litter. Deposit return schemes provide a financial incentive for consumers to return drink containers. This communicates that containers have a value, rather than being viewed as trash. Deposit return schemes have been shown to reduce beverage litter between 30-84%, depending on the deposit value. High-performing deposit return schemes routinely collect 90% or more of containers for recycling.
Also, by separating bottles and cans for recycling through a deposit system, beverage containers are collected without contamination from other types of waste in a household recycling bin. This ensures containers can be recycled into new bottles and cans, rather than lower-quality uses such as landfill cover. This reduces reliance on raw materials to produce new beverage containers.

How is the deposit system financed?
Slovakia's deposit return system is financed by producer fees, revenues from sales of collected bottles and cans, and uncollected refunds.

Who manages the deposit return system, and who regulates and controls the system?
The Central System Administrator of the deposit system, Správca zálohového systému, is a non-profit organization created by a consortium of four entities that represent beer, soft drink and mineral water producers, and representatives of wholesale and retail. The administrator creates, finances and coordinates the entire deposit system for disposable beverage packaging. The Ministry of the Environment of the Slovak Republic controls and regulates the deposit return system.