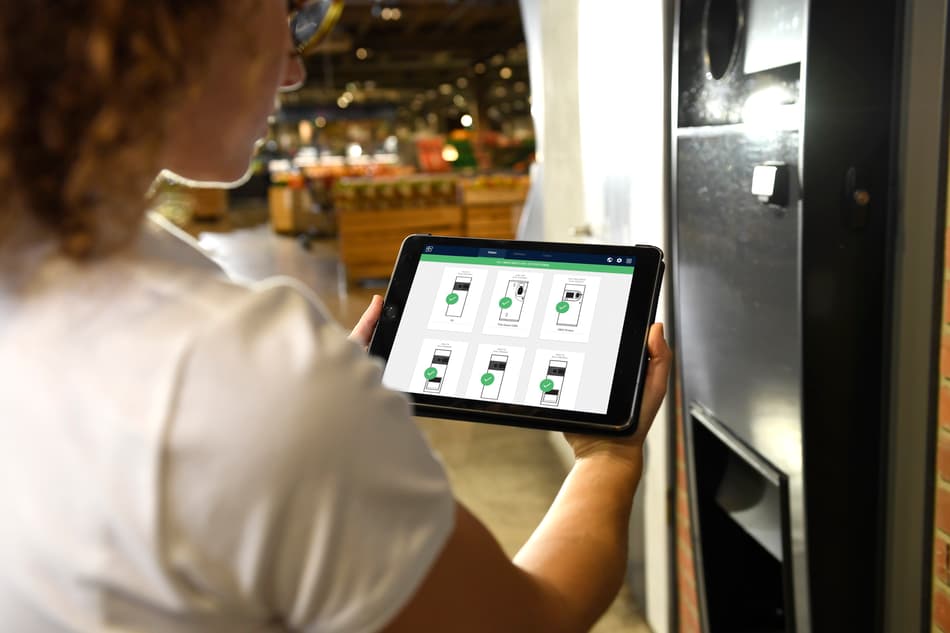 Meny gets maximum uptime and reporting insights
Sandefjord, NORWAY: Two stores in the Meny supermarket chain in Norway have become the first locations worldwide to implement TOMRA's new reverse vending notification and guidance app, Notify+Assist. The app gives owners of reverse vending machines (RVMs) greater control and insight into recycling activities at their site.
Meny Indre Havn in Sandefjord and Meny Tolvsrød in Tønsberg have been first to pilot Notify+Assist in their stores' RVMs, which are used to collect cans and bottles from consumers for reuse and recycling. Notify+Assist gives instant in-app notifications when an RVM needs attendance, such as a storage bin soon approaching full capacity, so that staff are informed before their users are inconvenienced. The app shows visually the RVMs in real time, and gives instructions on how to resolve any reverse vending situations.
Increasing store and staff efficiency


"It's important to be efficient in grocery retailing, and I've experienced that the app improves the efficiency of our work," said Jesper Øien, Assistant Store Manager at Meny Indre Havn. "With the new app, Notify+Assist, we experience that we're able to stay a step ahead of the RVM having any downtime. This creates great response time and our customers experience an RVM that is up and running at all times."
Notify+Assist ensures maximum uptime for RVM, and seeks to give staff peace of mind in order to focus on other, more important tasks in store – knowing that they will be notified when any reverse vending needs arise. Notify+Assist also puts at stores' fingertips daily usage statistics, the machine's cleaning status and other useful information for greater insights into reverse vending trends in their store.
"My recommendation to stores that do not yet have Notify+Assist is that it's something you should get. You get a much more responsive RVM, you're always notified before something needs to be done, and the consumer is never met by that loud alarm sound or an RVM that isn't working."
Notify+Assist is part of TOMRA Digital Solutions' portfolio, which seeks to extend the value of using and owning an RVM. Other Control products include Receipt Control for securing against deposit-refund fraud and Fleet View for closer monitoring a fleet of RVMs across an entire retail chain.
Installed reverse vending system

flexible line
TOMRA T9 with MultiPac
Say hello to high volume
Designed for medium to large stores

Accept cans, plastic bottles, glass bottles, and crates

Up to 60 containers / 21 crates per minute 

Modular system: choose from 2 to 7 cabinets