Alustar first to install TOMRA's new X-TRACT™ for aluminum recovery
Alustar chose TOMRA's new generation X-TRACT™ for high-purity aluminum sorting in its production facility in Türkiye to produce secondary aluminum billet from aluminum scrap. 
In late 2022, Alustar, a well-established smelter in the Karadeniz Ereğli Organized Industrial Zone in Zonguldak, Türkiye, invested in a new facility to produce aluminum billets with high-quality recycled content. The new plant is the first one to use TOMRA's new generation
X-TRACT™
machine in Türkiye and has the highest production capacity.
Zafer Çakır, Director of the Board, provided an outline of the company's goals and how they work towards them: "All our work is based on our knowledge and experience that has been passed on for generations. For 35 years, our family is active in the aluminum industry and is now taking the next steps to live up to our mission. Offering best-in-class products and services to the global industry has always been our main goal. Combined with our ambition to lower our carbon footprint with the production of low-carbon aluminum and green billets, we are on the right way to successfully build a sustainable and safe future for future generations and our planet alike."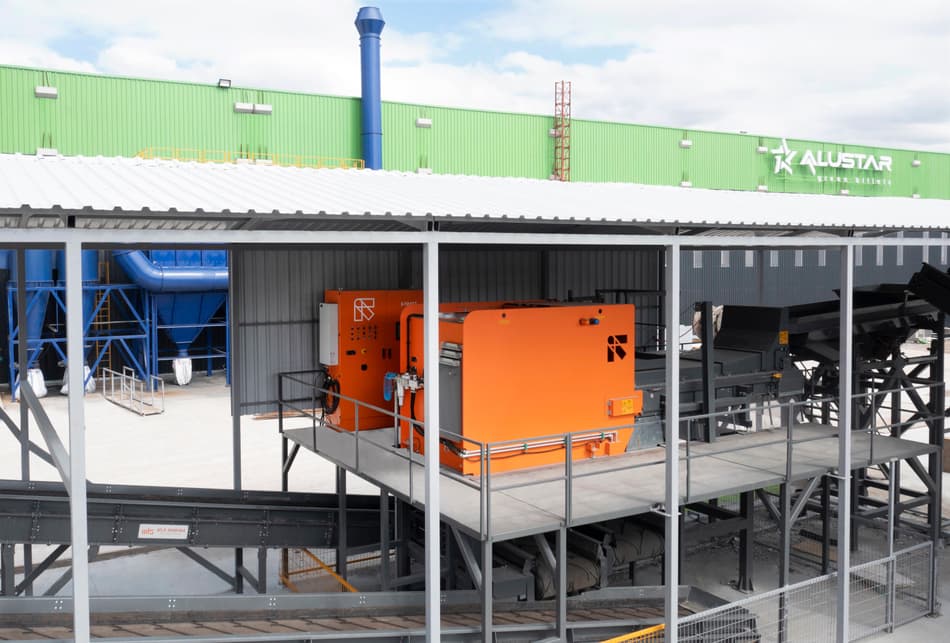 TOMRA's new generation X-TRACT™
On a total area of 50,000 m², Alustar produces recycled
aluminum
that meets the manufacturing standards of aluminum profile manufacturers. The company belongs to Çakır Holding and has only recently become the supplier of Obal Aluminum, an aluminum profile producer operating in the same company group. Emre Şahin, Obal Aluminum Factory Manager, stated that the collaboration with Alustar will enable the company to increase the use of recycled content in the production of aluminum billets.
Şahin explains: "In Türkiye, most aluminum profile manufacturers incorporate 30 percent recycled content in their products. To date, companies face the challenge of maintaining quaity levels when using recycled content instead of virgin material. Until recently, we have used 20% of recycled aluminum to meet our quality targets. Thanks to Alustar's recent investment in the new plant, we can now develop sufficient quantities of high-quality billets in-house and reduce the dependency on other external secondary raw material suppliers. In just 6 months after our facility started operations, we raised the use of secondary aluminum from 20 percent to over 50 percent without compromising product quality.
In the next four months, we aim to reach even 70 percent of recycled content and are very optimistic about reaching our goal. We have a good positioning and reliable partners, such as TOMRA. Their latest aluminum sorting machine X-TRACT™ is one of the most important equipment in our facility."
Initial investment of over $40 million
The investment made by Çakır Holding leads back to their goal to turn scrap into superior secondary aluminum billets and reduce the company's carbon footprint. In the initial phase, Alustar targets to process up to 4,000 tons/month. Of the total amount, 1,500 tons will be supplied to Obal's production and 2,500 tons will be exported. By the end of 2023, the company aims to reach a production volume of 15,000 tons/month, providing 5,000 tons to Obal's production and exporting the remaining volumes.
Emre Şahin states: "Aluminum profile producers are facing multiple challenges. There is strong competition in regard to costs and qualities. On the other hand, we must ensure efficient and environmentally friendly production. Turning to recycled feedstock and incorporating it in their products helps mitigate the challenges. Before we, Obal Aluminium, purchase secondary materials, we do a material quality analysis. Although the results have been good, we sometimes establish quality-related problems in the refining process. Bringing the qualities to the desired level is time intensive and led to an increase in waste generation during production."
Using recycled content in aluminum profile manufacture is difficult because the recyclates must have the right qualities. Even the smallest differences in material composition or contamination levels negatively affect the end product's quality. This is why many producers still prefer to use primary materials. "From the day we opened our plant that features the latest TOMRA sorting equipment, we are able to generate pure material fractions of aluminum. The quality is outstanding, we could reduce costs, operate more profitably and competitively. Every step in the production process is important but the role TOMRA's sorter plays in regard to quality is the most crucial for us", adds Emre Şahin.
Osman Aydın, Alustar Factory Manager on Alustar's export targets: "We aim to take on a leading role in the export of recycled aluminum billets and adhere to the strict CO2 emission regulations. As only the highest qualities of secondary materials can be used for the production of aluminum products with high recycled content, recycling took on a whole new meaning for us and will enable Alustar to become Türkiye's largest aluminum scrap recycling company. We are still in the first phase and our ambitions are high. To reach our targets, we rely on qualified employees and advanced equipment, such as TOMRA's X-TRACT™. Apart from the state-of-the-art technology, TOMRA delivers reliable and best-in-class after-sales service. Right from the start, we profit from TOMRA's high availability and get support in any situation."

X-TRACT™ sorts a wide range of grain sizes and offers numerous additional benefits as Osman Aydın explains: "Thanks to TOMRA's technology we can accurately recover recyclable aluminum from scrap and remove impurities with high efficiency.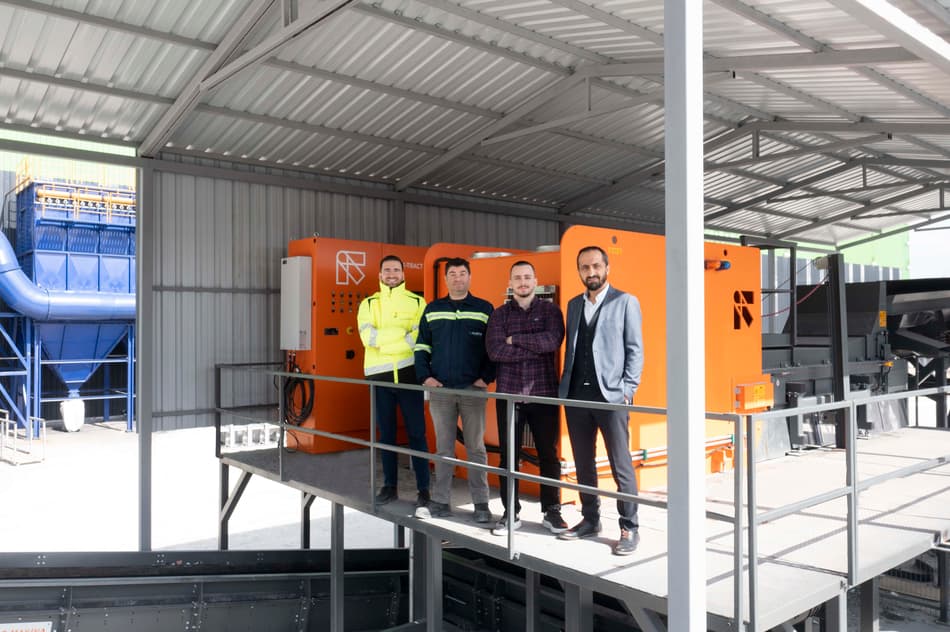 Alustar's and TOMRA team in front of X-TRACT™
Apart from separating heavy metal and very light magnesium from aluminum profile scrap, X TRACT™ can distinguish between high-alloy (hard alloy) and low-alloyed aluminum. Thus, we can directly feed the pure low-alloyed aluminum into our casting furnaces. Thanks to the high sorting performance of X-TRACT™, all can be accurately removed before entering the oven. This increases the melt quality, reduces the amount of pollution and helps to lower operating costs."
Aydın outlines the difficulties in scrap recycling: "To optimize our purchasing process and only buy the best qualities, we analyze the material recovered by X TRACT™ before the melting process. Based on this data we can evaluate the product quality, choose the supplier that best fulfills our needs and define the right prices.
Alustar sources scrap from domestic and foreign markets. In the first step, the input material is shredded by a single and a double-shaft shredder to less than 8cm. Afterward, dust and dirt are sieved and non-ferrous materials, plastics, inert materials and stainless materials are separated with magnetic and eddy current separators before the material is sorted by TOMRA's X-TRACT™ machine. The machine's powerful X-ray transmission technology removes impurities from the infeed stream to create pure aluminum fractions. If the materials pass the quality check, they are delivered to the foundry for smelting and undergo the refining process starts including homogenization and further crucial quality controls. Only afterward, the newly created secondary aluminum billets are produced and packed. To achieve the best results possible, it is crucial to reduce pollution and the level of contamination as much as possible. This is why TOMRA's X-TRACT™ is of great importance for our entire process."

Oral Çimsöken, TOMRA Recycling Sorting Regional Sales Manager states: "Alustar, has a very strong experience aluminum profile production. It is no surprise they invested in the production of secondary aluminum and cooperate with the best equipment providers in the world. Alustar couldn't have chosen a better moment to start their operation because recycled aluminum is high in demand worldwide."
"We value Alustar's trust in our expertise in metal recycling and that they consider our numerous projects around the world as best-practice. Thus, we are very delighted to be their sorting technology provider, supplying one of the first new generation X-TRACT™."
Reducing environment impact
With the use of secondary raw materials, a reduction in energy consumption and process optimizations, Alustar steps up in its commitment to mitigating environmental impact. Osman Aydın pointed out that Earth is gradually running out of resources:"We are well aware of the resource crisis we are in but luckily, we can contribute to change. Entering the aluminum recycling business enables us to maximize resource use and protect primary materials. If we further rely on virgin materials, carbon emissions won't decrease. This is why recycling aluminum is so important. It lowers the carbon footprint while generating the same qualities. To date, we haven't determined our carbon footprint yet because we need to gather data for about a year. However, according to our forecast we assume it is at least three to four times below the average."