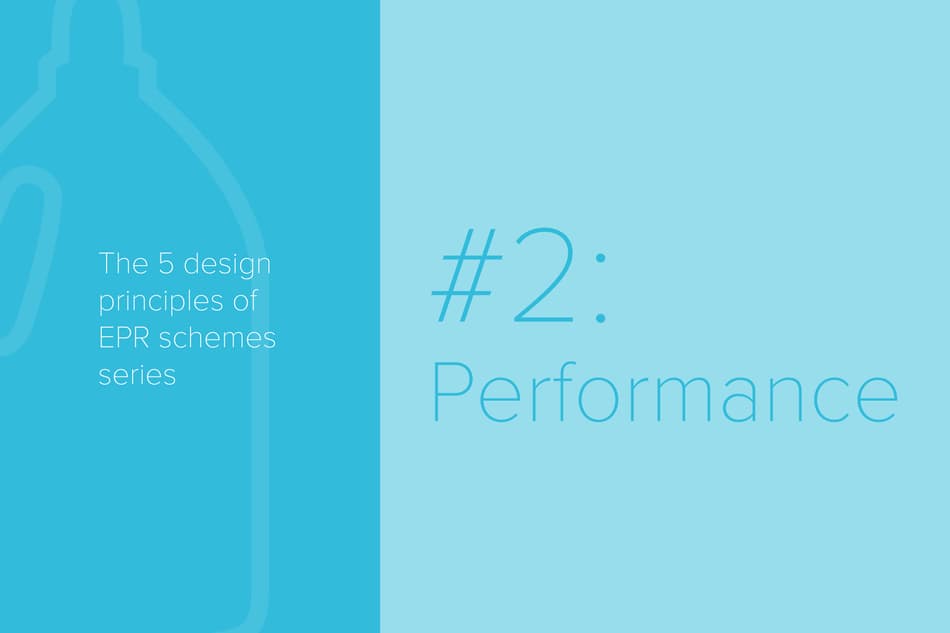 Driving resource efficiency with packaging targets
Analysis of EPR schemes shows that creating a trifecta of packaging targets drives resource efficiency. Read more about the second EPR design principle covered in this series: Performance.
Global consumer packaging waste is surging, even in the world's most remote areas. According to The Organization for Economic Co-operation and Development (OECD), nearly two-thirds of global plastic waste generation comes from plastics with lifetimes of under five years, with 40% coming from packaging.1
Worldwide, there has never been a greater need for waste prevention and systemic changes in the way packaging is designed, collected, sorted, and recycled. Environmental policy principles like Extended Producer Responsibility (EPR) make companies that place consumer packaging on the market responsible for those items over their entire lifecycle – from the initial design phase until they reach end-of-life and are prepared to be used in a new lifecycle.
This is the second in a series focusing on the five design principles necessary to support high-performing EPR systems for consumer packaging, covered in our recent white paper, EPR Unpacked – A Policy Framework for a Circular Economy.
Circularity depends on targets along the entire value chain

Recycling targets alone will never be enough to achieve circularity. High-performing EPR systems have comprehensive and binding targets that scale up over time, as they help provide market certainty and investments for green infrastructure. Legislation designed to support the circularity of packaging needs measurable, realistic, and ambitious targets set along the entire value chain.
Landfill and incineration targets in line with the resource hierarchy serve as a foundational basis to promote recycling and, ultimately, waste prevention. Since sending untreated waste (not pre-sorted for recycling) to incineration and landfill are still standard practice in many developed and developing nations, a combination of landfill reduction and material recycling targets is urgently needed to stop resource loss.
Recycling targets are the gold standard for measuring the performance of an EPR system. In setting numerical targets, the capabilities of the existing infrastructure should be considered, as well as the investments needed to meet future targets. It is essential to set an overall collective target in addition to various material targets (plastics, wood, glass, paper, metals) for packaging. Broad targets can drive change in the system but should become more nuanced over time as the system evolves.
Post-consumer recycled content (PCR) targets are a powerful tool in advancing circularity and reducing our dependency on virgin resources. Most commonly applied to recycled content targets for PET bottles, this type of detail-specific policy measure can be expanded to other materials the more they are circulated in the system. PCR targets strengthen and stimulate the demand for recycled materials, but they also enable investment and growth throughout the value chain.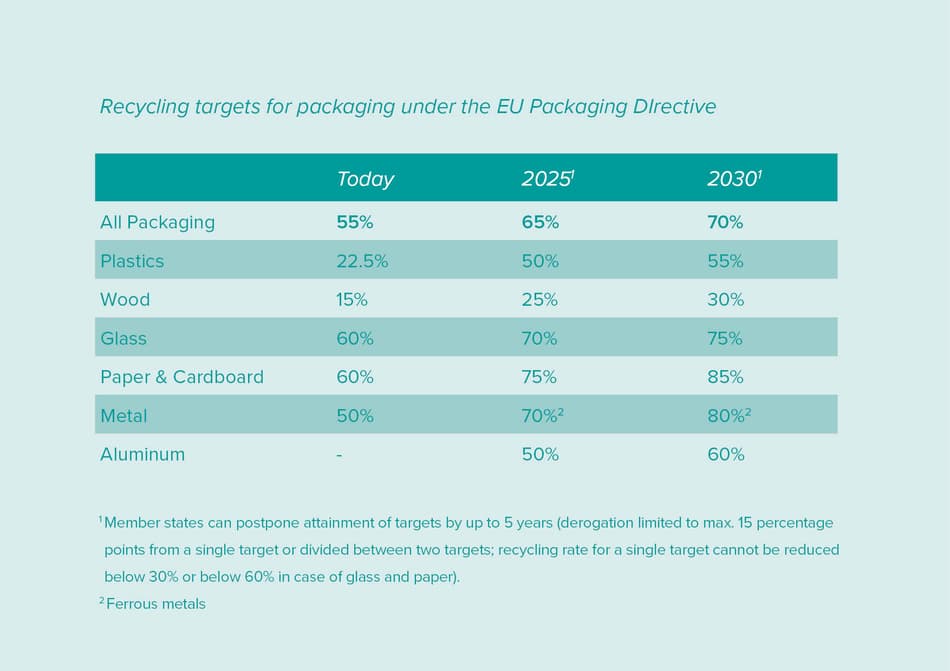 Scoping out the possibilities to maximize performance
EPR systems with a comprehensive approach set performance standards for consumer packaging, enable materials to be used for multiple cycles, and have the potential to adopt reuse models. Beyond setting binding targets, it is also vital to define system boundaries and establish clear roles and responsibilities.
High-performing EPR systems define the scope of packaging using the most precise language possible. It is important that legislation explicitly requires all packaging materials to be covered in an EPR system to ensure a level playing field. Categorizing packaging according to functionality and origin of waste also allows for more targeted approaches. Single-use beverage containers, for example, are a significant source of litter around the world. Deposit return systems (DRS) have proven to achieve higher collection and recycling rates for beverage containers than EPR with curbside and drop-off collection systems.2
The success of an EPR system never depends on a single actor alone – it takes collaboration throughout the entire lifecycle of packaging. From brand owners to producer responsibility organizations (PROs), consumers, and the waste sector, EPR systems must address the complexity of managing post-consumer packaging. Identifying and clearly defining the roles and responsibilities of all key stakeholders and affected parties is essential for a functioning system.
As a global impact leader with 50 years of experience in circular resource management, TOMRA offers decision-makers a unique perspective on well-designed policies that lead to high-performing EPR systems for packaging. Performance is just one of the five design principles: watch this space for more information, and download our complimentary white paper today.
CTA:
Download White Paper
https://www.oecd-ilibrary.org/environment/data/global-plastic-outlook_c0821f81-en
Rewarding Recycling: Learnings from the World's Highest-Performing Deposit Return Systems