TOMRA's advanced solutions for circular economy – with sensor technology at their core
Sensor technology: How tiny technology makes a big environmental impact 
At TOMRA we produce advanced collection, sorting and processing solutions that enable the circular economy – and at the heart of these solutions is sensor technology.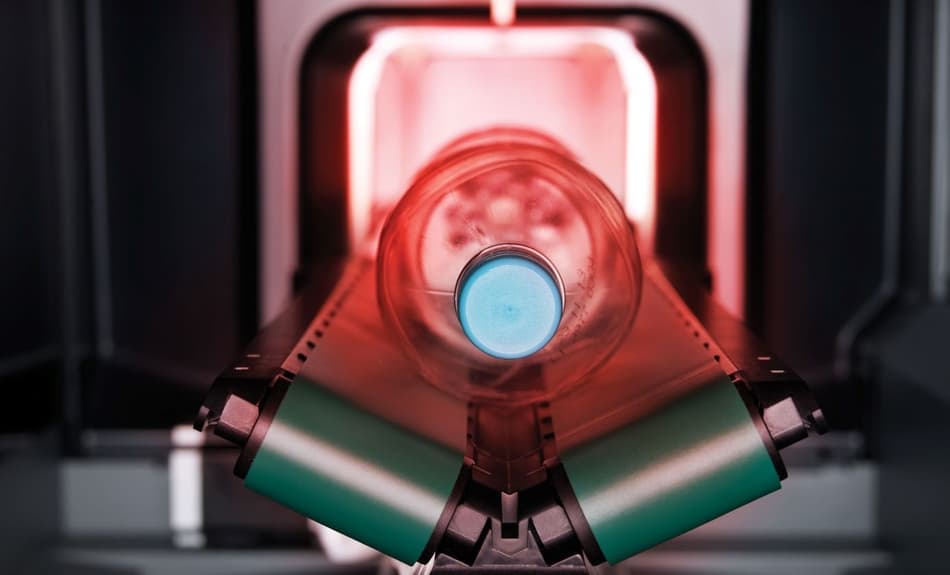 It underpins the sophisticated technology used across our three divisions – TOMRA Collection, TOMRA Recycling and TOMRA Food – which operate in the arenas of reverse vending, material recovery, recycling, mining, processed food and fresh food.
The technological solutions TOMRA's experts have engineered over the past 50 years, and the new technology they are developing for the future, are designed to transform the way we obtain, use and reuse the Earth's resources. And sensors are the key…
What are sensors?
A sensor is a device that produces an output signal for the purpose of sensing a physical phenomenon.
Most of us will encounter and use sensors every single day without giving it much thought. For example, our smart phones use touch sensors, our computer mice use optical sensors, our thermostats use temperature sensors, and our smoke alarms use ionization or photoelectric sensors.
They are used across a broad spectrum of industries and applications, and at TOMRA they are a vital part of our innovative technology.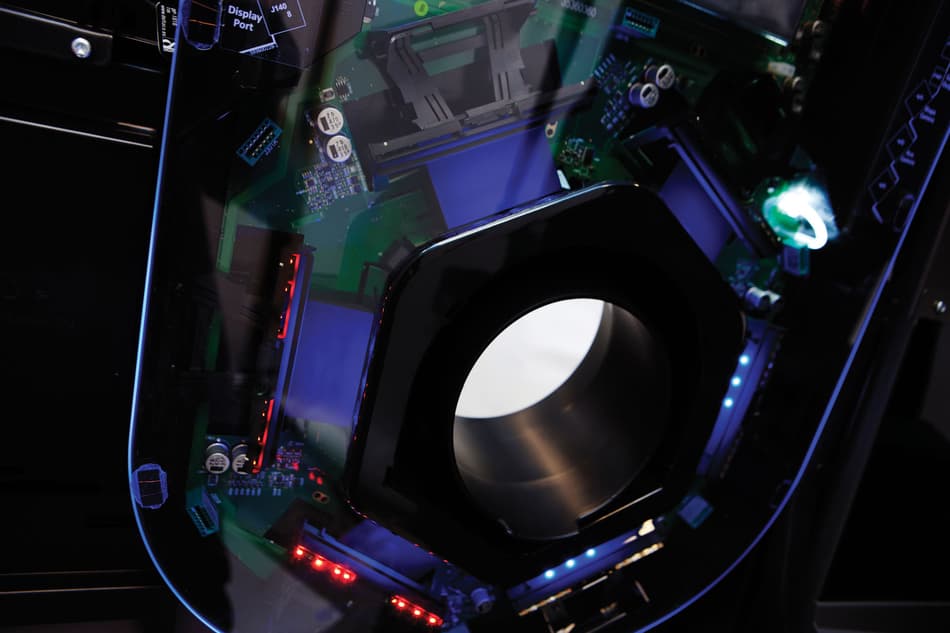 Sensing an opportunity
By the 1970s, early deposit return systems (DRSs) for beverage containers were already in existence. These systems encourage the return of empty containers through a small deposit added to the price of a beverage, which can be recouped when the consumer returns the container for recycling.
But as these deposit return systems grew in popularity, what didn't exist was a practical solution to the logistical challenge of collecting the growing numbers of empty bottles. Fortunately, sensor technology held the answer.
In 1971 in Asker, Norway, brothers Petter and Tore Planke combined their engineering, design and business acumen and came up with the perfect solution. By 1972 they had created a prototype machine that could automate collection – now recognized as the world's first fully-automated reverse vending machine (RVM).

"The RVM used a type of sensor called a photocell, which detects ambient light. By shining a light source through strategically placed mechanical holes, a receiver could detect the shape of the object being inserted into the reverse vending machine, with a conveyor and foam rollers helping to ensure accuracy," explains Mickaël Fontaine, Head of Technology in TOMRA Collection.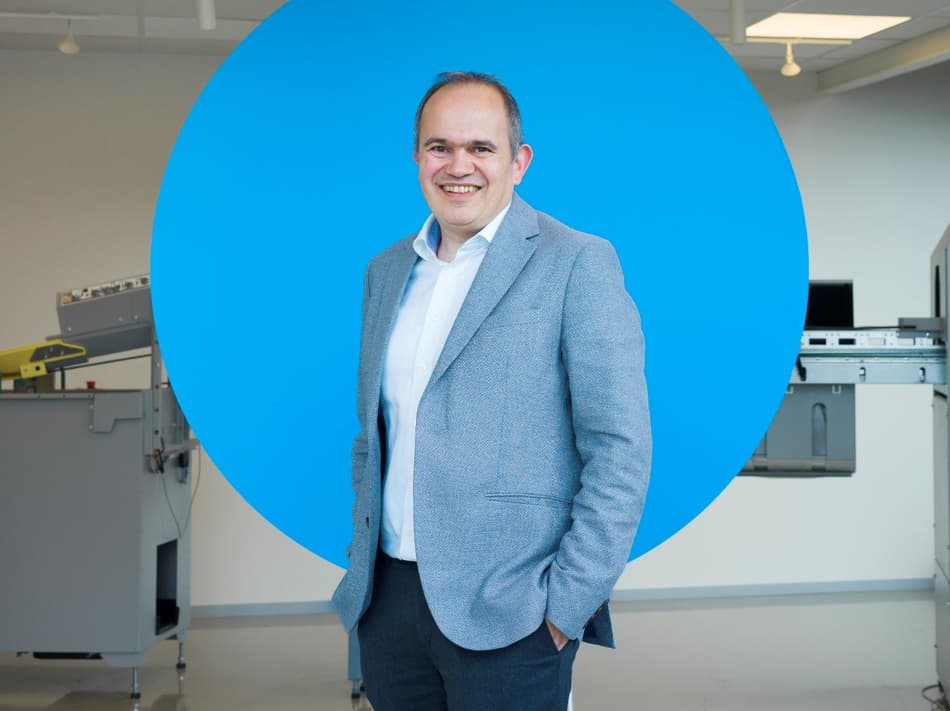 Mickaël Fontaine, Head of Technology in TOMRA Collection
This technology proved so effective that by the end of the year, the brothers' newly-founded company, TOMRA, had installed 29 machines across Norway. By 1973, TOMRA was agreeing distribution deals across Europe and the US – and that was just the beginning of their incredible story of market and revenue growth.
Five decades of sensor innovation

The success of the prototype machine ultimately sparked 50 years of sensor technology innovation at TOMRA. TOMRA's engineers knew that the quality of the sensor data was vital – so they have spent decades working on new developments and improvements, releasing cutting-edge new RVMs that have opened new opportunities in reverse vending.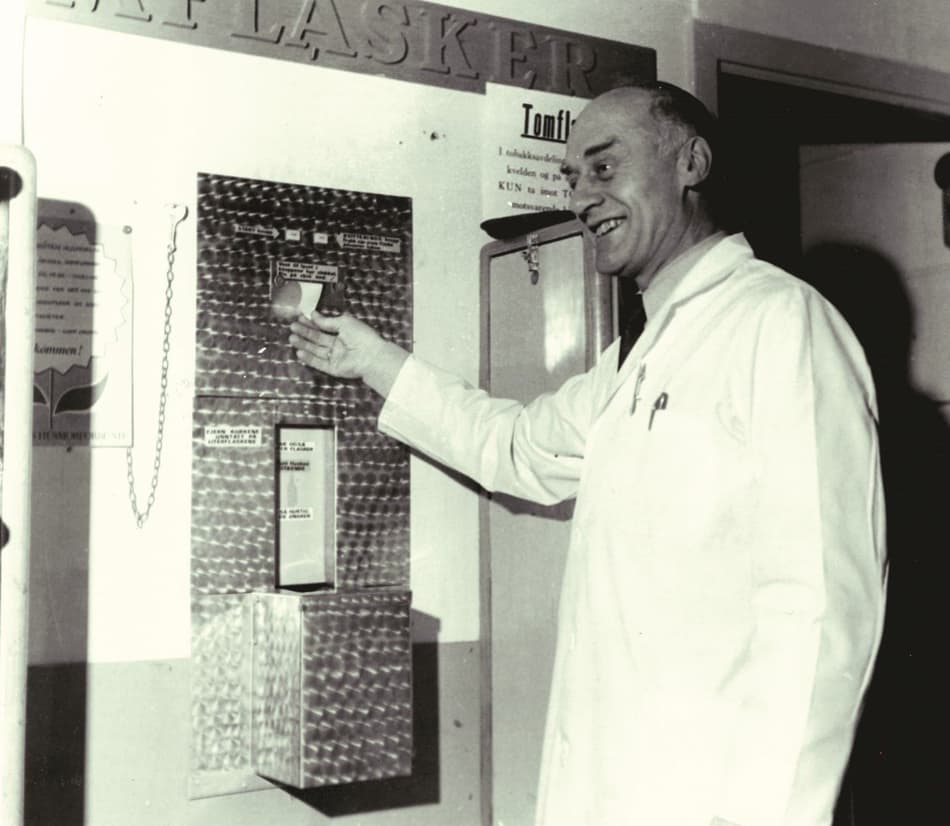 The first TOMRA prototype
TOMRA SP reverse vending machine
1977 - TOMRA SP: Creation of the first RVM to use software-based self-programming sensors. This was a game-changer as it meant the recognition could be changed without having to drill new holes in the light-plate.
1987 - TOMRA 300: This next-generation machine featured laser technology to improve its performance, leveraging a new technology to do the sensing. Semi-conductor lasers were used in the bottle scanner instead of helium-neon lasers, providing cost efficiencies, and the RVM featured the optional addition of crate recognition.
1997 - TOMRA 600: Marking a critical step in the evolution of RVMs, TOMRA 600 was designed with a horizontal feed, so that containers were inserted lying down rather than standing up. This solved the problem of lightweight plastic bottles falling over during the return process, though brought a new demand for the sensors. Robust pattern recognition technology became the solution, using video cameras to identify different bottle shapes and ensure consumers were given the correct refund for each bottle.
2001 - TOMRA Sure Return: With the introduction of continuous video surveillance of objects, TOMRA's patented Sure Return™ technology offered unique capabilities for ensuring fast and accurate container recognition and comprehensive fraud detection.
2006 - Security Mark Reader: TOMRA's development of a next-generation Security Mark Reader (SMR) set a new standard for fraud protection.
2009 - TOMRA True Vision™: Marking a significant improvement in RVM capabilities, True Vision's patented multi-camera stereo-vision technology meant it could detect bottles in crates.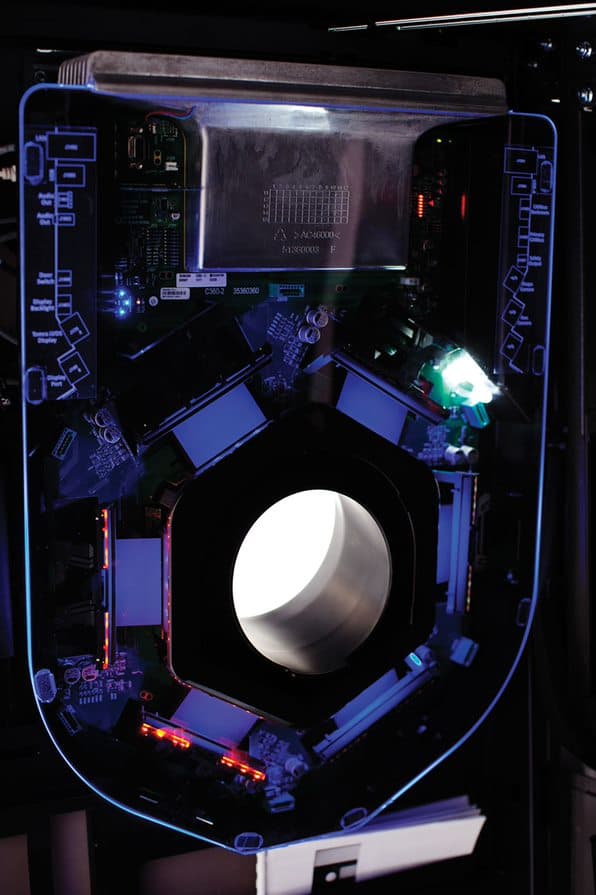 OneRing with TOMRA Flow Technology in TOMRA T9
2013 - TOMRA Flow Technology™: The new flagship model TOMRA T9 saw the introduction of industry-changing sensor technology innovations. It broke new ground with TOMRA Flow Technology, the world's first 360-degree recognition system (eliminating the need to rotate objects). Its connected system of advanced camera, optical and electronics technology brought a new level of operational efficiency and the possibility of handling a variety of container shapes.
2019 - TOMRA R1: TOMRA later expanded its TOMRA Flow Technology across its wider portfolio, and the rapid, continuous scanning capabilities it provided made it the perfect and most efficient solution for the TOMRA R1 multi-feed reverse vending machine. TOMRA R1 meant consumers could return over 100 containers at once instead of returning them one-by-one.
2021 - DRS security advances: Recognizing the importance of increasing system integrity, TOMRA was at the forefront of developing new sensor technology for the German market in the form of the patented Security Mark Reader 5.0.


Optimizing productivity in today's reverse vending machines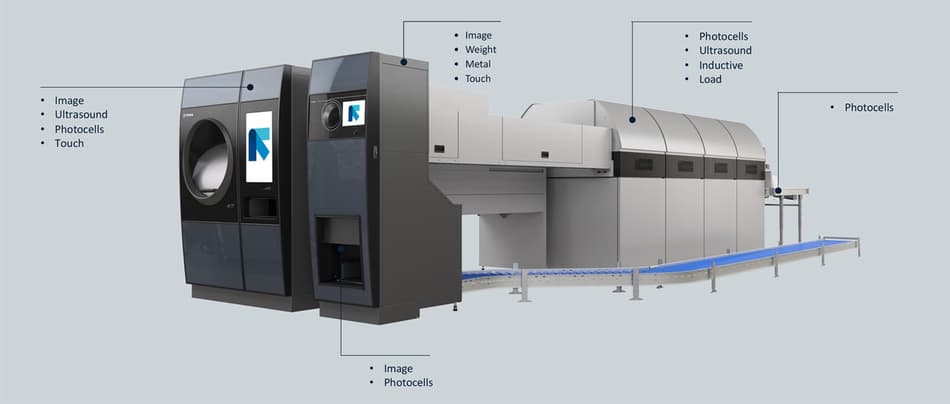 Sensors in TOMRA R1 and TOMRA T9 reverse vending machines
TOMRA now has approximately 82,000 reverse vending machines across the globe.
Different parts of the reverse vending machine incorporate multiple sensors for different phases of the drink containers journey from the front-end to the backroom storage cabins, as shown in the figure above.
Explaining how a typical modular reverse vending set-up works, Mickaël Fontaine said, "The consumer has access to front-end machine options such as single-feed, multi-feed or crate. The machine carries the container to a backroom system comprising modular cabinets for sorting and compaction and, in some cases, a table for refillable bottles and crate conveyors."
A system such as this is reliant on many different types of sensor technology in order to work effectively, ranging from off-the-shelf sensors to more complex self-developed sensors. They are key for efficiency and ensuring optimal resource productivity.
Sensor technology's impact across TOMRA
Since its humble beginnings in 1972, TOMRA has grown into a global company with approximately 5,000 employees, and generated 12.2 billion NOK in revenue in 2022 alone.
Today its work has extended far beyond the production of RVMs, with three main divisions, all still rooted in sensor technology:
TOMRA Collection: This division continues the work started by the Planke brothers, specializing in collecting bottles and cans for Clean Loop Recycling. TOMRA's reverse vending machine technology is playing a significant part in ensuring beverage containers stay in the loop of use and reuse, with over 45 billion drink containers collected every single year. This division also incorporates the company's Material Recovery business, which picks up, transports and processes used beverage containers and oversees the brokerage of the processed materials to recyclers.
TOMRA Recycling Sorting: The core objective of this division is to recover recyclable materials from waste and metal streams. Its sensor-based sorting technology helps to divert an array of materials from landfill with its ability to scan, recover and sort materials by type and (depending on the application) by color. Its smart sorting machines can sort solid waste, metals, electronic waste, paper materials and wood, and to date – around 9,000 sensor-based sorting machines for Recycling Sorting have been installed in over 100 countries across the globe.
TOMRA Mining: This division is working towards creating a more environmentally-friendly mining industry. Using sensor-based sorting technology, TOMRA Mining generates less waste and recovers more valuable minerals and ores, while at the same time reducing energy consumption and water use – improving both sustainability and productivity. In 2015 this sorting equipment even recovered the world's second-largest diamond in a century.
TOMRA Food: The leading provider of sorting and steam peeling technology and post-harvest solutions in the food industry, this division sorts and grades processed and fresh food (from fruit and vegetables to proteins and nuts – and many more) to ensure the highest quality and safe, sustainable food. Its cutting-edge technology is a prime example of the sophistication of TOMRA's sensors. These "super sensors" can detect impurities, toxins and contaminants, and can do everything from measuring the sugar content of apples (helping distinguish premium from low-cost apples) to peeling potatoes in a way that retains as much flesh as possible to reduce waste.
Revolutionizing our use of resources
Highlighting the invaluable role played by sensors in all areas of the TOMRA business, Mickaël Fontaine said: "Across all our divisions, our high-tech sensors can quickly identify objects in high volumes. In recycling and mining they help pick out materials of value. In food they allow us to remove impurities and contaminants. They make the process quick, efficient and effective.
"This technology has been instrumental in our incredible journey from manufacturing reverse vending machines to growing into a global company with an ambition to revolutionize the way we obtain, use and reuse our planet's precious resources."
TOMRA Collection is making a difference by collecting 1500 objects per second that might otherwise have ended up in nature, oceans or landfill. So too is TOMRA Recycling as it recovers valuable items that would take decades to decompose, and it is also reducing the need for manufacturers to produce new products from virgin raw materials. In Mining, the technology is helping to reduce the environmental impact of an industry that consumes the same amount of energy as the airline industry. Meanwhile, TOMRA Food is reducing food waste by ensuring it is of the best quality, while driving efficiency and saving energy.
Supporting a sustainable future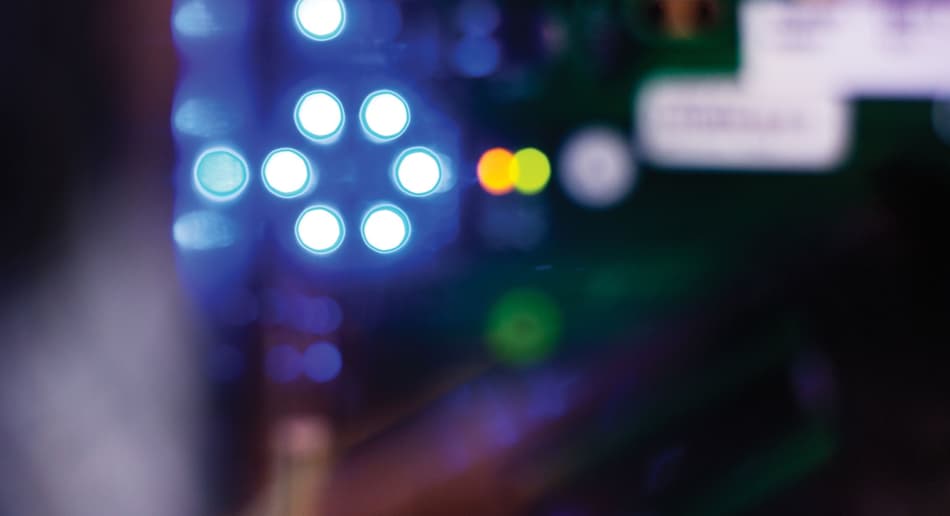 Mickaël Fontaine believes that sensor technology will continue to play a crucial role in making the world a better place to live.
"We have the vision to Lead the Resource Revolution and we are doing that by growing our impact. We have a significant growth ambition, and whenever we enter a new market segment our goal is to be a global technology leader in that segment. We believe there is an opportunity to leverage the knowledge we have gained around sensors in different industries and find out how they can create value in those industries," he concluded.
Finally, and most importantly, we need to continue attracting innovators who want to join us on this journey. Our engineers and technology experts are the backbone of our company and the reason we have continued to grow and make a tangible global impact. We are looking for talented people who share our passion and are motivated to help us solve future challenges and devise solutions.