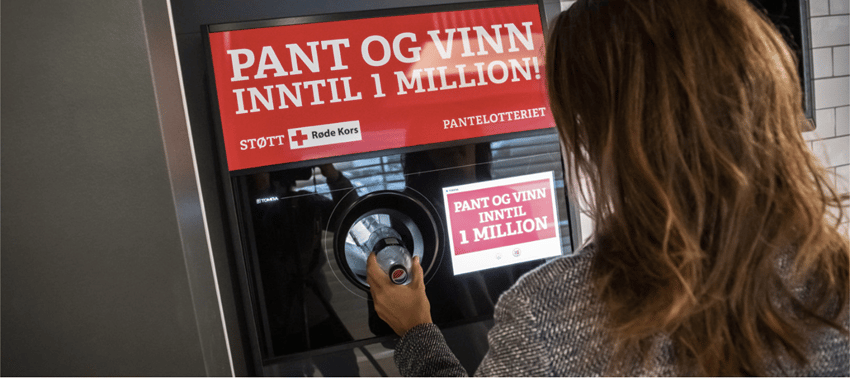 The Red Cross's recycling lottery becomes pillar of support for humanitarian work
The recycling lottery has become a major contributor to the Norwegian Red Cross, and a great success for owner Olav Thon Group and collaboration partner TOMRA. The lottery brings together the excitement of a game, protecting the environment, and supporting a charity making an impact.
Red Cross works to ensure safety and improve human life and health


The Red Cross is the world's largest humanitarian organization, represented worldwide in more than 191 countries, with almost 14 million volunteers. In Norway, the Norwegian Red Cross is the largest humanitarian organization, present in 380 local branches across the country, with almost 43,000 volunteers. They are constantly on the national and international front lines to improve and protect human life and health. In 2019, the Norwegian Red Cross in its international outreach improved access to healthcare for over 2.7 million people. 314,000 people were provided with access to clean water and 766,000 people were assisted during emergency operations That same year, their domestic search and rescue team responded to more than 1400 operations.
Red Cross also works for closeness, inclusion, and participation. Through their activities, they meet senior citizens that are living without necessary care, young people struggling with mental challenges and loneliness, and migrants living in unresolved life situations. As a result, in 2019 more than 10,000 volunteers from the Norwegian Red Cross visited those in need of human contact, which even included visits from dogs.
The recycling lottery supports humanitarian activities
Known locally as Pantelotteriet, the environmentally-friendly lottery was first launched in Norway in 2008 in cooperation between Olav Thon Group, Red Cross and TOMRA. As Norway has a deposit return system, consumers receive a refund when they return their empty beverage containers for recycling. The recycling lottery builds on this, enabling recyclers to use their deposit refunds to enter the lottery draw when they take back their containers to a TOMRA reverse vending machine. A winner can receive up to 1 million NOK (100,000 euro), and the refund value from non-winning tickets goes back into the lottery jackpot and as revenue for the Norwegian Red Cross.
The recycling lottery was first developed by Olav Thon Group to support Red Cross's operations and humanitarian activities. "Norway's deposit return system already incentivizes returning empty beverage containers for recycling, by giving bottles and cans a financial value," explains Ingrid Solberg, Managing Director for TOMRA Butikksystemer in Norway. "The recycling lottery makes it even more attractive to stop containers going to landfill and litter, by adding the possibility of an even greater reward and giving support to a vital charity."

Here is how the lottery process works for the end user, when they return their empty beverage containers to a TOMRA reverse vending machine:

Insert your beverage containers into the machine
Press the button with the Red Cross logo twice to process your entry: first to enter and second to confirm your entry
Wait for your printed ticket, which displays if you have won or lost
The financial revenue from the refunds entered into the lottery is split between the involved stakeholders. 35% of the revenue goes direct to the Norwegian Red Cross, raising 394 million NOK (39 million euro) for it between 2008 and 2020 – already more than double the 150 million NOK mark reached back in 2016. In 2020 alone this income was 91.5 million NOK, and increase of 42% from 2019. Another 35% of the recycling lottery revenue goes to the prize money and lottery winnings, and 30% goes to grocery stores as a handling fee, operations and marketing.

The recycling lottery has proven to be an important asset to fund good causes and humanitarian work. Olav Thon Group founder, Olav Thon, explained, "It is important to me that Olav Thon Group will be administrated the best possible way in the future so that we can ... also award funds to the causes I wish to support and to society." Ann Christin Håland, Project Manager at Norwegian Red Cross, added, "I'm so proud that a collaboration between the private sector and the humanitarian sector can have this impact on society. The collaboration enables us in the Red Cross to help thousands of people in vulnerable life situations, both internationally, nationally and in the local community."
More than 4000 people were treated in the Al-Hol (Syria) field hospital between May and November in 2019 as part of a collaboration between the Norwegian Red Cross, the Syrian Red Cross and International Committee of the Red Cross (ICRC). According to the Red Cross, 200 million people worldwide will require humanitarian aid every year due to climate change by 2050. That is twice as many as in need of humanitarian aid due to climate change today. Funding for this vital work is why the recycling lottery plays such a significant role and has become such an important income stream for the Norwegian Red Cross's humanitarian work.
If you are interested in establishing the Recycling Lottery in your market, please contact Atle Bie-Johansen, CEO.