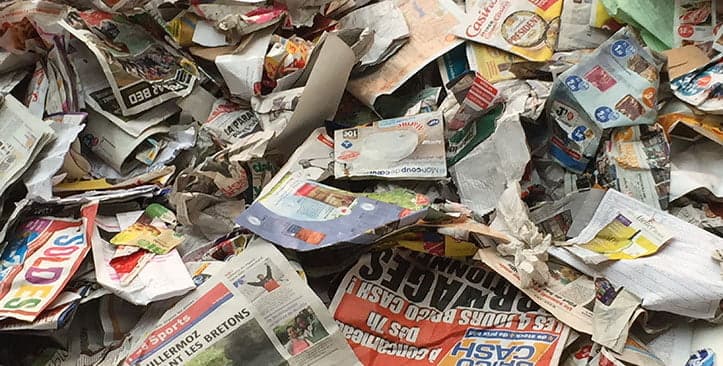 Atelier Fouesnantais, France
TOMRA demonstrated viability of sorting graphic paper - A French case.

TOMRA's unique application for sorting graphic paper within the recovery of fibrous or flat material fractions for selective collections has now become a hot topic in France.

At trade fairs, such as Pollutec 2014 - the international exhibition of equipment, technology and environmental services, held in Lyon - the company's testing of sorting graphic paper in flat material fractions were widely discussed.

Economically viable with fundings

One reason for this is Ecofolio, the state-accredited non-profit organization, responsible for paper collection and recycling under the French Extended Producer Responsibility Scheme. Ecofolio is making the application economically viable by financing the recycling of papers on behalf of paper producers and providing funding to sorting plants to help them reach their paper recycling goals.

First developments date back to 2008

TOMRA first considered developing an application for sorting graphic paper when it worked with a British company in 2008 over de-inking manuals, containing mixed printed material.

A team of TOMRA engineers, headed by Michael Mayer, developed a machine based on near-infrared technology, which was tested with a collector who supplied the British manufacturer. However, the limited level of graphic paper in the collected material, and its low price at the time, meant the investment needed to commercialise the application could not be justified.

Sensor-based sorting adds value

Now, however, as Ecofolio has made clear, the difference in value between sorted 2.05 (office paper) and Cepac A11 (de-inked manuals paper) is around €40 per ton. The maximum proportion of 2.05 in the paper fraction of selective collected material is an estimated 10 per cent. An optical sorting machine, such as TOMRA's, working at a throughput rate of five tons per hour and producing about eight per cent office paper - 400kg - will therefore generate added value of €48,000 a year.

Return on investment

The annualised cost of owning an optical sorting machine is hard to calculate, but an average sum of €34,000 is probably not unrealistic. This includes purchase, depreciation over seven years, peripheral equipment - such as conveyors, boilers and bridges - power supplies and maintenance.

The economic equation for the system can be expressed as:

Production graphic paper = added value – technical cost – labor + Ecofolio support

For a potential production of 1,000 tons of graphic paper a year, the cost, excluding financial assistance, would be around €50 per ton. Only Ecofolio's support will therefore justify purchase by a materials recovery facility, through allowing it to break even or secure a return on its investment.

Full-scale tests were carried out to demonstrate the ability

To demonstrate the ability of TOMRA machines to respond best to Ecofolio's recommended sorting requirements, full-scale tests were carried out earlier this year at an operational sorting center owned by Ateliers Fouesnantais. This is a society employing only disabled people, including in waste recycling, which owns a single stream sorting plant producing 20 tons per hour, a very large capacity in France.

TOMRA's AUTOSORT 4 machines, which had not undergone any technical modifications, were used for the tests. These are multi-functional sorting systems which recover a wide range of material from different or single waste streams, such as packaging, paper and household waste.

The machines' near-infrared technology allows information to be retrieved which is helpful in determining the chemical characteristics of the cellulose used to produce the paper being analyzed. This makes separating chemical pulps (graphic paper) from the mechanical sort (magazines and newspapers) relatively easy.

Sorting of multi-material selective collections

The line at Ateliers Fouesnantais is configured to sort multi-material selective collections. Newspapers and magazines are processed negatively, with an initial optical sort intended to recover plastics and cardboard being followed by intense manual sorting.

The tests were conducted on a representative sample of 25 tons of newspapers and magazines, which were subsequently returned to the line, with the machines being reprogrammed only to eject graphic papers without manual sorting.

The results corroborate those already obtained in recent years in Spain and England, which confirm the application's efficacy.