Customer story
DFS Gıda, Türkiye
This market leader has found that TOMRA's Blizzard delivers the consistent, dependable product quality its customers demand 
DFS Gıda was founded in 2011 in Manisa, Türkiye's Aegean Region, by Hami Özer and Irfan Ertekin. The company's name comes from the abbreviation for 'Dried Food Solutions', reflecting that it specializes in processing dried tomatoes and semi-dried frozen tomatoes.
DFS Gıda exports its products to 13 countries around the globe, including the USA, some Asian countries and Australia, with some 60 percent of its output going to Europe. To meet the high product standards demanded by these markets, the company uses TOMRA Food's sorting solutions.
Türkiye is the leader in exporting dried and frozen semi-dried tomatoes, with some 15 companies here selling to export markets. DFS Gıda is one of the biggest companies, with a 10,000 square-meter indoor facility dedicated solely to the production of semi-dried frozen tomatoes. These are grown locally, as are the tomatoes the company sources for dried products. DFS Gıda began using TOMRA's Blizzard sorting machine in November 2021, investing in this technology to maintain and strengthen its competitiveness.
DFS co-founder Hami Özer explains: "Depending on the harvest, we produce about 3,000 tons of semi-dried frozen tomatoes annually, and between 500 and 700 tons of sun-dried tomatoes. The Turkish domestic market seldom buys dried tomatoes and never buys semi-dried frozen tomatoes dried in ovens. Therefore, we export all of our production. All the countries we export to expect the highest food safety and quality standards. This is why we rely on TOMRA's sorting technology, to achieve standards not possible with hand-sorting."
Türkiye leads the way
Sun-dried tomato production began in Türkiye 30 years ago and semi-dried frozen tomato production dates back to 2000.
DFS co-founder Irfan Ertekin says: "For example, in 2021, Türkiye's total exports of dried processed tomatoes is around 40,000 tons. Some 17,000-18,000 tons are semi-dried frozen, and some 22,000-23,000 tons are dried and processed tomatoes. No country other than Türkiye exports these products. This is because producers in other nations sell exclusively to their domestic markets.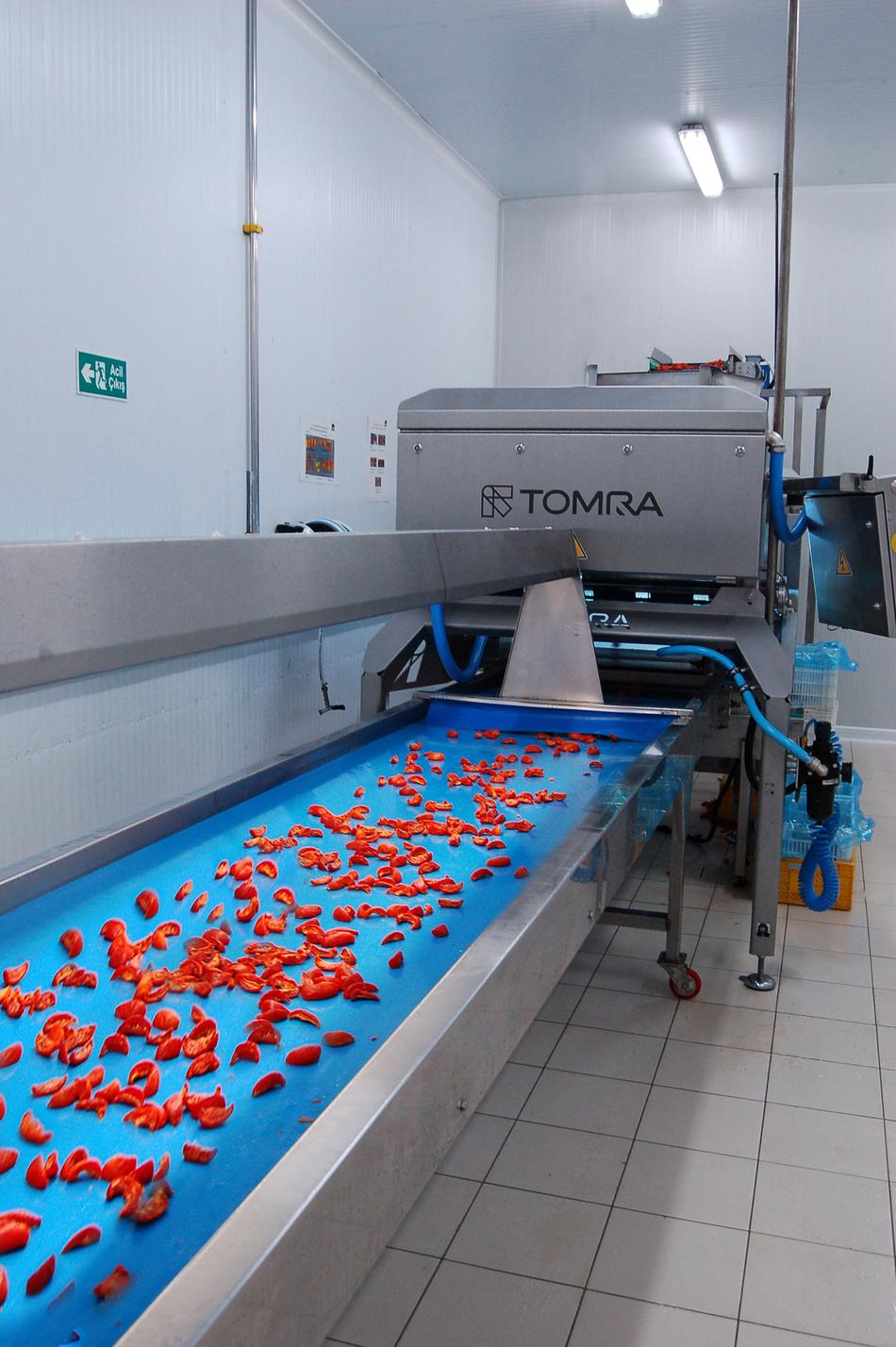 TOMRA dried tomatoes sorting
"Although export volumes are not so big, our country needs to maintain its leadership position for quality. This is why it is crucial for us to use high technology in production, and why DFS is exceptional in this industry for its commitment to investing in technology."
This technology helps achieve high standards despite the time pressures imposed by the harvesting season. "We are completely tied to the land and its cycles," says Hami Özer . "Harvesting starts in July and, depending on the weather, continues only until the end of September or beginning of October. We have to process these products with no margin for error and in high volumes in such a short time. We know that the Blizzard optical sorting machine will offer high performance in a busy season, even during long shifts.
"What we process, though it is 100% natural and comes directly from the fields, is a zero-error product. Thanks to TOMRA's Blizzard sorting machine, we can achieve this. The Blizzard ensures that plant-based foreign materials are eliminated during the sorting phase. The Blizzard also detects and ejects color defects in the tomatoes. All of our product goes through this machine to ensure high quality and food safety for our customers."
Irfan Ertekin concludes: "DFS's investments in automation, including TOMRA's sorting solutions, indicate the importance we place on food safety. We are leaders in growing and monitoring products, and we need to ensure they contain no foreign materials or defects. We purchased TOMRA's machine because it offers benefits in operating costs and eliminates defects that cannot be seen while sorting by hand. This is how we provide high quality and food safety while also improving productivity."