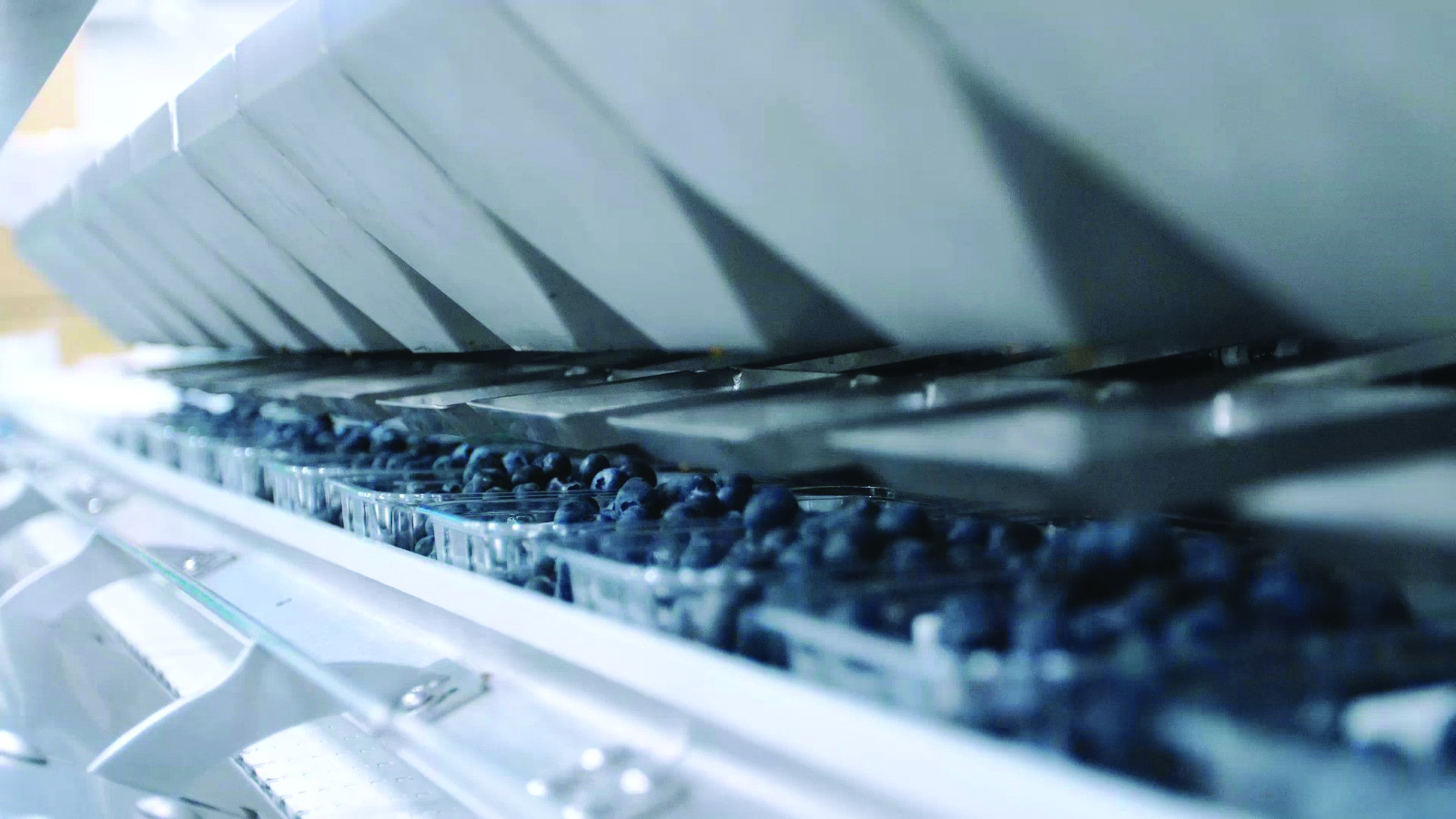 Integrated blueberry solutions: post harvest to pack
Integrated turnkey line
Click the touchpoints on the render for more information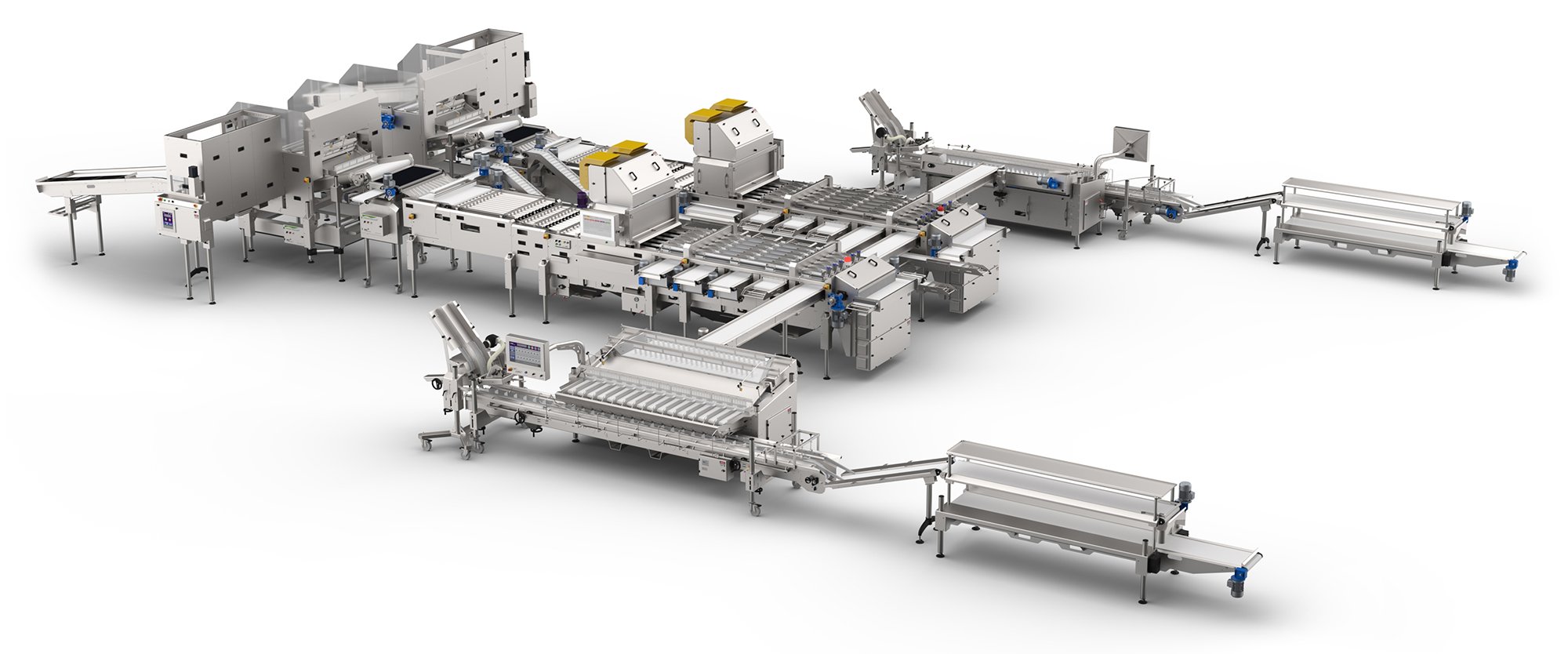 Click on a touchpoint for more information
Infeed
Our infeed front of line loading systems include automated tipping and dumping solutions as well as debris and small fruit removal components that optimise the capacity of the processing line while maintaining gentle handling of delicate blueberries.

Sorting and grading
Our sorting and grading solutions are highly suited to blueberry packers eager to meet ever changing market demands. Our grading options are easily integrated with all of our other solutions enabling growers and packers to increase business through superior selection and better guarantee of shelf life.
Filling and packing
Our filling and packing solutions are highly suited to blueberry packers with demanding filling requirements. Our solutions are easily integrated with all of our other solutions and accommodate versatile packaging types from punnets, clamshells, bags and boxes.
Our blueberry sorting machines

Blizzard
The Blizzard is ideal for sorting products after the IQF (Individually Quick Frozen) tunnel. Despite its small footprint, this cost-effective sorter packs a big punch, minimizing product loss.

TOMRA 5C
Capable of unrivaled foreign material removal, this highly efficient machine is powerful and robust, easy to use and maintain, reduces storage needs, is easily movable, and saves on labor. 
Our vision is to be the innovative, world leader in sorting, packing, and optimization of blueberries. We work closely and in partnership with you, our customers, to understand your business and develop technology for your needs.

Our post-harvest solutions are scalable, modular and designed to grow with you as you grow your business. Our industry expertise allows us to design solutions to maximize your ability to meet the demands of the fast-changing global fruit industry.

Worldwide as well as local

With TOMRA you can have technology from a worldwide company with Localized Service and Post-Sales Support.

Future of the fruit industry

We believe that reducing waste and costs, improving efficiencies, and eliminating daily operational concerns is key to the future of the fruit industry.

TOMRA Food has an internal, Fruit Science Program which was established in 2013. The program now holds an extensive library collection that includes samples, data and findings from a comprehensive spread of varieties, maturities, growing conditions, seasons and weather conditions. By continually validating this research and expanding its scope, we remain at the forefront of our field.
Customer story
Logofruits, Portugal
Logofruits started off about 4 years ago in Alcácer do Sol with 15 hectares of farmland. Since then, they expanded to include the Odemira region with an eye on a wider production and harvest season. Logofruits' state-of-the-art plant allows them to provide their customer base with quality products fitting every customer's specifications. Additionally, they also provide their services to third parties from Chile, Peru, and South Africa. Thanks to machines such as the KATO 360, LUCAi™, and CURO, their new integrated TOMRA Food sorting and grading line allows them to boost the automatization process of their sorting and packing.
Customer story
Ambrosia Citrus Estate, South Africa
Ambrosia Citrus Estate reached out to TOMRA Food wanting to find an integrated packing solution for their blueberry line.
Thanks to our wide array of solutions, we were able to help Ambrosia with:
- Sizing and grading their product to answer their customer's needs.
- Steering away from the need to grade the product by hand.
- Providing feedback on the blueberries' softness, for which they previously had to rely on the pickers.
- Meet the request for increased processing speed as fresh product is supplied more rapidly.
Get in touch
Operational costs continue to increase, and every little saving makes a difference.
Our automation works smarter, wastes less, and optimizes your lines to ensure quality is consistent and potential recalls are thing of the past.
Speak with us to learn how you can make Every Resource Count!™
In the spotlight: blueberries

How modern grading and packing solutions enable blueberry packhouses to gain and retain competitiveness
For blueberry businesses, this is a time of change. Global demand is climbing. Production is increasing. New growing regions are gaining market strength. And consumers' quality expectations are rising. All these changes mean that growers and packhouses must now be more productive and efficient than ever before.

Service and support
With service centers and support located across the globe, TOMRA Food provides a comprehensive service offering to our customers, ensuring you have the proper support at the right time, empowering your business to succeed.
More about service and support