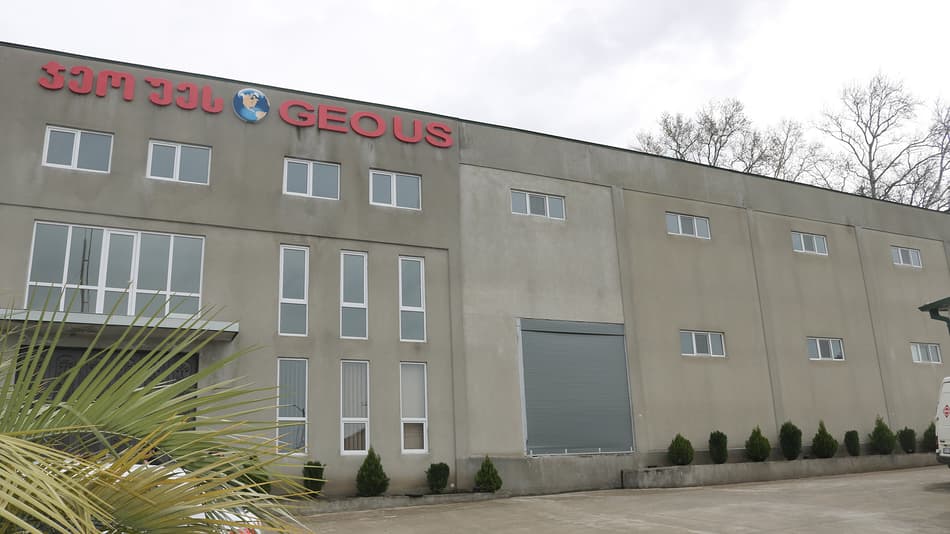 customer story
GEO-US World Export, Georgia
GEO-US WORLD EXPORT is a fast-growing, Georgia-based hazelnut processing company whose business model is built around exporting to Europe. Thanks to high-tech TOMRA Food sorting equipment, this business has been able to increase output and ensure the high quality of its products, critical factors in creating stable demand from European customers.
GEO-US WORLD EXPORT was founded in Tsaishi, Georgia, in 2015. It offers shelled hazelnuts, hazelnut kernels, roasted and blanched hazelnuts, and hazelnut flour. The company's key priority is supplying products that meet rigorous international quality and safety standards. To prove this commitment, GEO-US WORLD EXPORT is currently being certified according to the BRC Global Standard.

Employing about 40 people, the company processes up to 40 tonnes of raw hazelnuts daily and produces about 12 tonnes of hazelnut kernels per shift. Up to 95% of this is exported to Europe.

In November 2019, GEO-US WORLD EXPORT installed a modern Nimbus BSI+ optical sorting platform from TOMRA Food.
CONSISTENTLY HIGH PRODUCT QUALITY
Automated sorting was implemented to mitigate the risk of human errors, increase the product output, make quality consistent, and reduce food waste. When choosing new sorting equipment, GEO-US WORLD EXPORT managers and technical experts studied several manufacturers' solutions. They found that none came close to matching the sorting quality and process flexibility of the TOMRA Nimbus BSI+.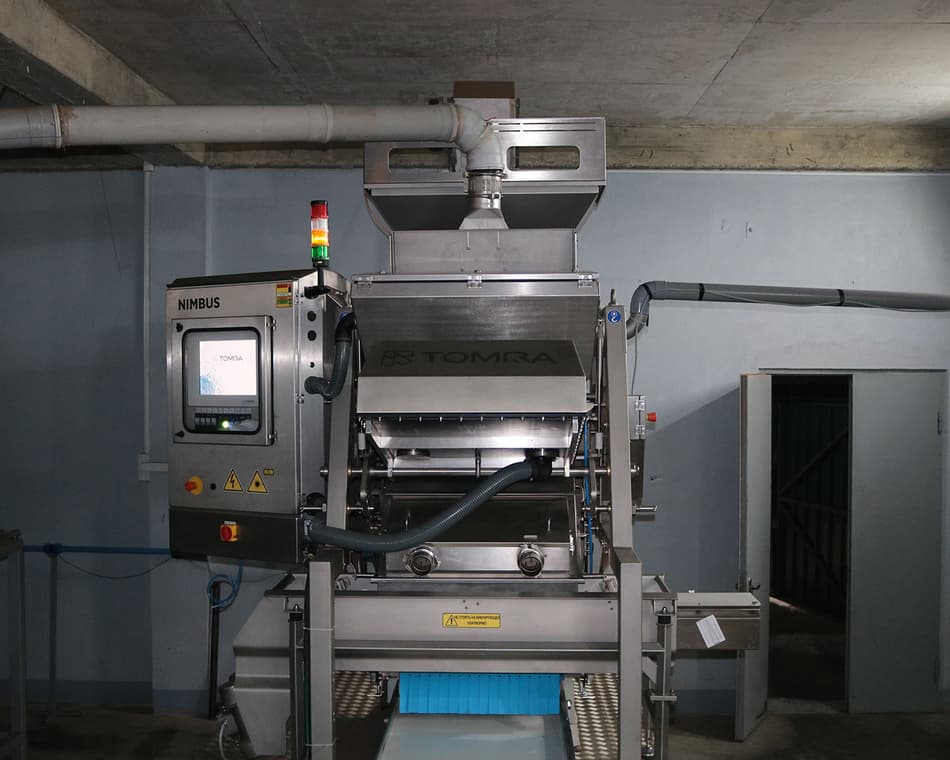 Merab Chitanava, CEO and co-founder of GEO-US WORLD EXPORT, explains:
"Several years ago, the Georgian hazelnut industry had to deal with a brown marmorated stink bug invasion, which affected the quality of the hazelnuts. Therefore, we needed new equipment to remove foreign materials such as shell fragments, stones and rotten or shriveled kernels, and to detect kernels damaged by insects. Moreover, many kernels only look rotten, so that low-quality sorting can lead to a considerable increase in waste. In close cooperation with TOMRA Food engineers, we configured the Nimbus BSI+ to best work with the Georgian hazelnut. As a result, we greatly reduced food waste and achieved a consistently high quality of finished products."
BSI, or Biometric Signature Identification, is a unique solution developed by TOMRA Food that detects objects by their biometric characteristics. The Nimbus BSI+ is equipped with two types of scanners. The standard BSI module is ideal for the removal of foreign material. Simultaneously, the BSI+ scanner deploys a broader spectrum and detects visual irregularities, identifying not only foreign material but also product-specific defects.


OUTPUT INCREASE AND ELIMINATION OF MANUAL LABOR


GEO-US WORLD EXPORT had exports in mind from the very beginning, and knew this would necessitate achieving large outputs with consistent quality. Even so, installing an automatic sorter was a bold step in a country where manual labor is still prevalent in hazelnut processing. The company's investment in such equipment highlights its management's careful and long-term approach.

Mr. Chitanava believes that the TOMRA Food sorter played a vital role in the growing demand for its products among European consumers: "Hazelnuts are mostly sorted manually in Georgia. However, for most companies that use hazelnuts, it is obvious that such an approach cannot ensure consistent quality, especially if we take into account the increasing production output. Our partners know that we use modern high-tech TOMRA Food sorting solutions, and they fully trust the quality of our nuts."

In an unexpected twist of fate, GEO-US WORLD EXPORT began using its new TOMRA Food sorter mere months before the start of worldwide restrictions due to the COVID-19 pandemic. Proactive sorting automation has allowed the company to carry on production which would have been impossible using manual labor.

"TOMRA Food's equipment practically protected us from risks related to the new coronavirus," said Merab Chitanava. "High-quality manual hazelnut sorting requires quite a number of people, something it is impossible to imagine during a pandemic. The new sorting equipment has allowed us to avoid such problems. In general, automatic sorting has an important advantage: the possibility of on-demand operation because automatic sorters function irrespective of business hours, season, or anything else. It is of great value when you have an urgent order, for example."


NOT ONLY A SUPPLIER BUT ALSO A FULL-SCALE PARTNER


Merab Chitanava especially noted that despite being a high-tech solution, the BSI+ is easy to master and maintain. He said: "In addition to the sorter itself, we also received support from TOMRA Food's highly qualified specialists. We have already had two training sessions, and a third one is planned. We are yet to utilize the full potential of the Nimbus BSI+ sorter. As for maintenance, it is as simple as it gets: the machine is serviced by one person and needs minimum attention."

Together with TOMRA Food's specialists, GEO-US WORLD EXPORT will analyze its investment to see the economic benefit from installing the new sorter. The company's management expects it to pay back after just two seasons of active use - and expect plans for further business development to be closely tied to TOMRA Food equipment.