TOMRA 5C
The premier optical sorter for the nut industry, dried fruit and IQF
For nuts, dried fruit, IQF, and vegetables

High Yield

Easy to clean
We maximized operational efficiency, improved food safety, and increased yields with a tailor-made solution for dried fruit, nuts and IQF.
By combining the best sensors with high-resolution lasers, this data-driven machine continuously improves sorting capabilities with every batch it runs.
Engineered with the operator in mind

Combined with the easy-to-use and intuitive display, the sorter adapts to your needs while handling twice the capacity.  

Foreign materials and cross-contamination don't stand a chance

The TOMRA 5C is unrivaled in its ability to detect minor product defects and shells, other nuts, insect damages, peewee in-shell, gummies, fiber, skin marks, shrivel, butterballs, and stink bugs.  

Easy to use and maintain  

The TOMRA 5C is easy to clean and keep running in optimal condition with its sliding ejection bar and heartbeat health status display.   

Real-time decisions with actionable data  

With its best-in-class sorting and innovative data delivery, the TOMRA 5C ensures growth and improved profits well into the future by reducing your line's variables and returning more power to the processor. 
Discover what our customers have to say

Customer story
Gursoy Findik, Türkiye
Gürsoy, one of Turkey's most established hazelnut producers, is the first company in that country to harness the TOMRA 5C's sorting technologies.

customer story
The Almond Company, United States
The Almond Company is the almond handling and processing operation for Harris Family Enterprises, a group of companies dedicated to quality farming and food production. It processes more than 100 million pounds of almonds for domestic and international distribution. The company purchased a TOMRA 5C premium optical sorter which has been operating at its Madera, California facility for the past six months with excellent results.
Click on the touchpoints to learn more about the features of the TOMRA 5C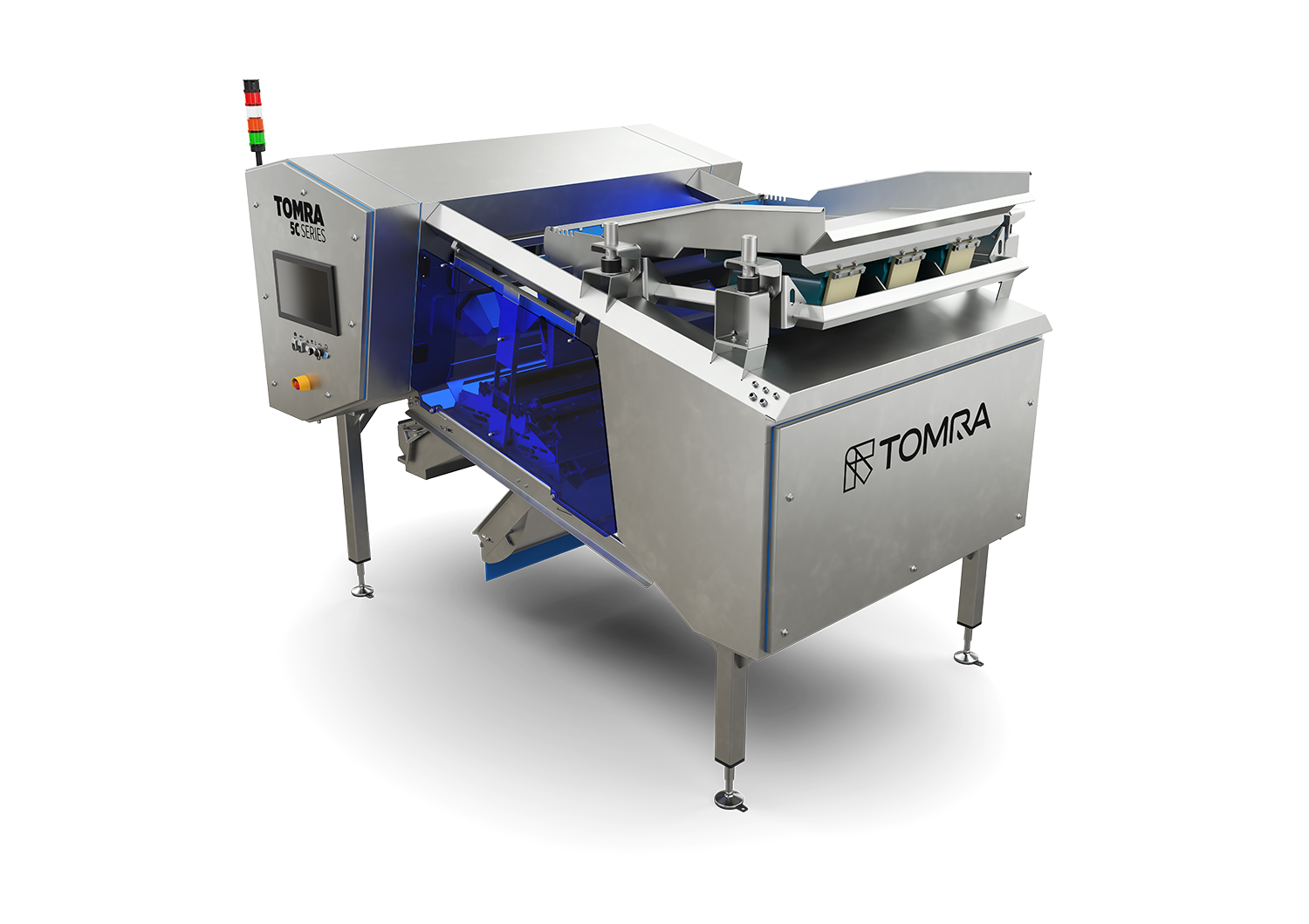 TOMRA XCD | Platform of the future
The new powerful processing platform using AI and deployed on all new TOMRA Food machines.
TOMRA Insight | Cloud based data connectivity
TOMRA Insight turns your sorters into connected devices, allowing you to gain more insight into what your sorters see and turn these insights into tangible improvements for your business.
Hygienic and open design EHEDG standards
Sanitary design with minimal and curved surfaces that meets EHEDG standards and is more accessible to clean.
Increased capacity and optimized product flow
Ability to do double the capacity of nuts sorted, with a similar footprint.
Improved laser and BSI sensors
New and next generation sensors, identifying not only foreign material but also productspecific defects.
Embedded nitrogen control system for sensor stability
Environmental management system of the optical modules to secure optimal sorting performance.
New design ejection manifold with smart ejection
The TOMRA 5C ejection system enables precise targeting of any type of defect through the smart shape and size ejection parameters.
Sliding system for optimal cleaning conditions
Provides a safe way to approach the sorting area of the machine to guarantee in all circumstances the highest food grade standards which are also beneficial to an optimal sorting performance.
TOMRA ACT | Easy to use Interface
TOMRA ACT is designed to make sorting adjustments simple and predictable for the user or operator, enabling optimized control.
Get in touch
Operational costs continue to increase, and every little saving makes a difference.
Our automation works smarter, wastes less, and optimizes your lines to ensure quality is consistent and potential recalls are thing of the past.
Speak with us to learn how you can make Every Resource Count!™

Service and support
With service centers and support located across the globe, TOMRA Food provides a comprehensive service offering to our customers, ensuring you have the proper support at the right time, empowering your business to succeed.
More about service and support