TOMRA 5X
Revolutionary X-ray sorting machine
Unparalleled visibility

Increased throughput

Advanced internal defects detection

Improved efficiencies and yield
For fruits, nuts, seeds, grains and seafood. Its advanced X-ray sensor creates images of exceptionally high contrast and resolution, inspecting materials on food lines with unprecedented clarity. And for more complex sorting tasks, this machine employs artificial intelligence.
Click the touchpoints to learn more about the TOMRA 5X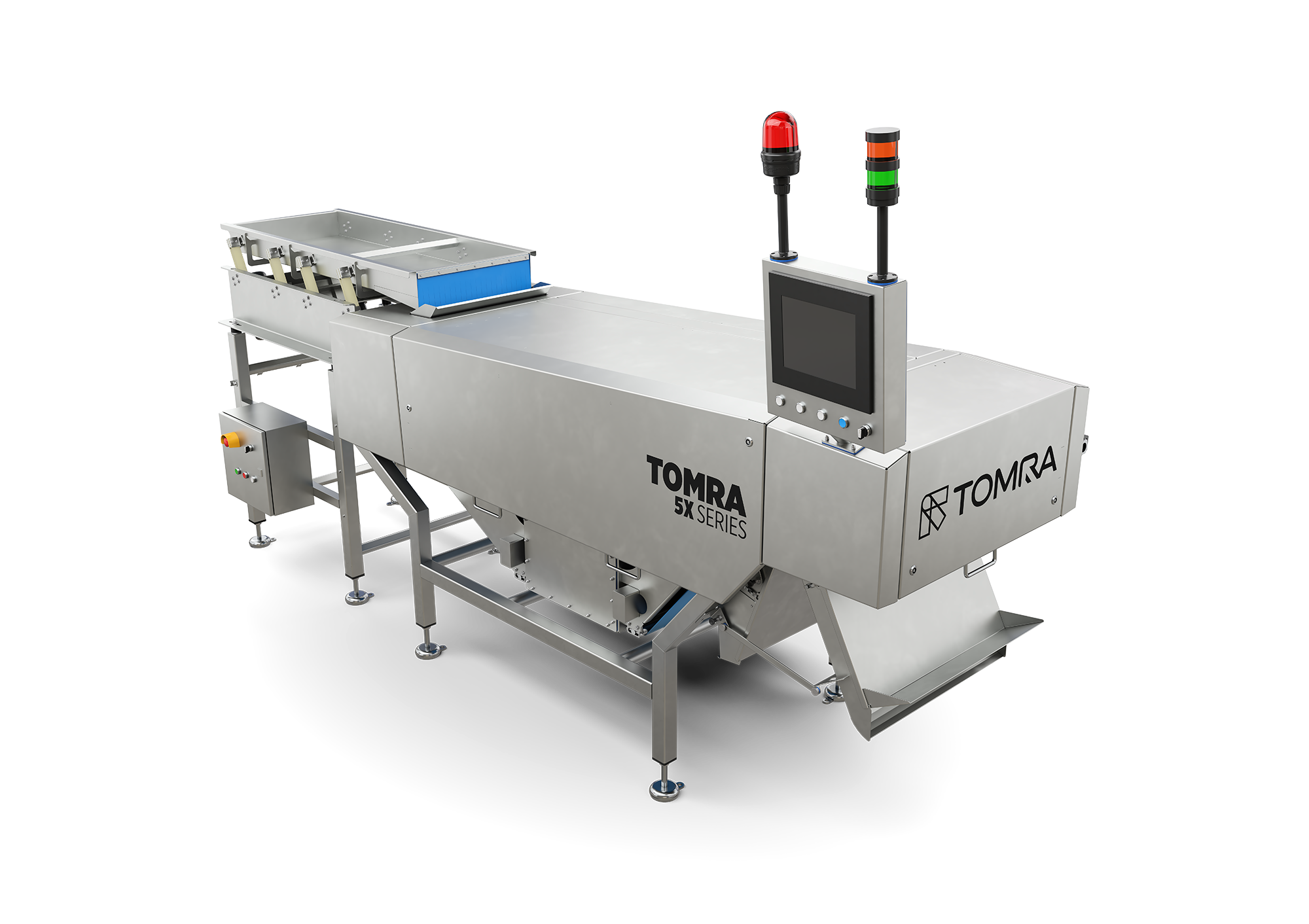 Improved accessibility and design
For optimal sanitation and maintenance.
Increased capacity and optimized product flow
Advanced X-ray
For dense object and internal defect removal.
Quick belt release
For optimal cleaning conditions.
TOMRA ACT
Easy to use interface.
AI, smart machine learning
For advanced performance and yield.
Individual air ejection
For high precision removal of defects.
Finds internal defects

By seeing the internal structure of food products, the TOMRA 5X is great for pit detection, for finding internal insect damage, finding pieces of shell in seafood or for any other challenge to sort based on internal structure.

Use of artificial intelligence

Our deep learning algorithm analyzes thousands of product images and gathers hundreds of data points. This enables the TOMRA 5X to judge precisely whether products are good or bad enhancing sorting accuracy and yield.

Foreign material detection

Detecting high-density materials, the TOMRA 5X is the best machine for removing FM such as glass, stones, dense plastics, and metals. 

Easy to use, adjust the sort in one click

The TOMRA ACT user interface, Heartbeat health status feature, and accessible design make this machine easy to use, clean, and maintain. 
Get in touch
Operational costs continue to increase, and every little saving makes a difference.
Our automation works smarter, wastes less, and optimizes your lines to ensure quality is consistent and potential recalls are a thing of the past.
Speak with us to learn how you can make Every Resource Count!™

Service and support
With service centers and support located across the globe, TOMRA Food provides a comprehensive service offering to our customers, ensuring you have the proper support at the right time, empowering your business to succeed.
More about service and support