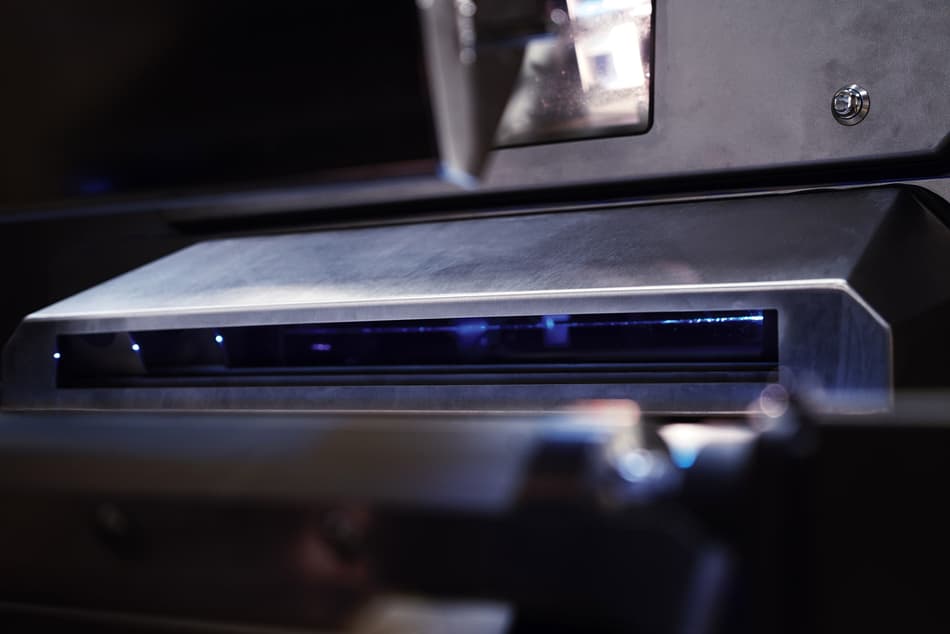 TOMRA Food technology
Our technology offers high effeciency, precision, and speed - working faster than other sorting technologies and wasting fewer resources in the process. We design future-proof solutions to grow with your business and anything your customers may need from you down the line. 
Advanced Foreign Material Detector™ (AFMD)
The AFMD technology detects and sorts product-specific features that are difficult to identify because of similar structure or color characteristics.  

Biometric Signature Identification (BSI)
BSI identifies good products and defects characteristics by applying light beyond the visible spectrum into the near-infrared region. This tech has been awarded several times and produced new sorting opportunities for Nuts, Dried Fruit, and other food applications. TOMRA BSI technology makes it possible to identify specific chemical and molecular differences on the surface and within the objects inspected.  

Camera 
Our cameras recognize materials based on color, biological characteristics, and shape (including length, width, diameter, area). The capabilities go beyond the visible spectrum and include infrared, UV, and different spectra imaging. TOMRA has developed high-resolution industrial cameras for the applicable range using advanced focusing lenses ideal for optical food sorting.  

Detox™
This technology identifies aflatoxin in Nut related products, including Peanuts, Almonds, Hazelnuts, and Dried Fruits such as Figs. The Detox™ laser sorter uses a specialized optical configuration to capture extremely low-intensity light reflected by the fungus, enabling aflatoxin contamination to be detected and removed.  

Fluo™  
Fluo™ technology sorts out foods containing varying chlorophyll/solanine levels from the defects and foreign materials that do not contain chlorophyll/solanine.  

FreshTracker™
Our innovative quality tracking system measures all elements of the production system, allowing us to trace the origins and characteristics of individual products from harvesting, processing, and packaging through the point-of-sale. With the ability to compare and analyze yields, Freshtracker™ ensures a high-quality end product and efficient production management. 

Interactance spectroscopy
Near-InfraRed (NIR) light penetrates far into meat and has become the preferred method for accurate laboratory analysis of the meat's fat content.  

Laser
TOMRA's laser machines sort based on color, structure, and biological characteristics. Laser scanning detects contaminants even when the good products and defects are the same color. 

LUCAi™
This unique and unprecedented AI offering encompasses a detailed library with hundreds of thousands of hand-labeled reference images to provide training information for our algorithms. 

Pulsed LED
Identifies subtle color differences by combining several distinct pulses in the RGB, IR, and NIR spectrums. The benefits are numerous and calibration-free equipment, increased durability, extended lifetime, high resolution of materials, and less heating needed all maximize the productivity in your line.  
Shortwave Infrared (SWIR)  
SWIR technology is applied to Fruit and Vegetables and creates a contrast between water-based products and other materials.
X-ray
This technology detects based on product density, regardless of the size, moisture, or contamination level.This technology detects based on product density, regardless of the size, moisture, or contamination level.
Integrated solutions
We work closely and in partnership with you, our customers, to understand your business and develop technology for your needs.
We believe that reducing waste and costs, improving efficiencies, and eliminating daily operational concerns is key to the future of the food fruit industry.

Our sorting and grading solutions are carefully designed to focus on product preservation and staying ahead of ever-changing market demands. Our grading options are modular and scalable - seamlessly integrating with our other solutions.

Infeed
Our infeed front-of-line loading systems include automated tipping and dumping solutions that optimize the capacity of the processing line while ensuring gentle handling of Fruits. 

Filling and Packing 
Our Filling and Packing solutions easily integrate with other TOMRA solutions and accommodate versatile packaging types. Multiple filling and packing machines can be integrated into a single packing line with each machine designed with attention to care and preservation of each piece of food. 

Supporting Equipment
Our supporting equipment sets the standard for food processing - easy cleaning, simple maintenance, and delicate handling. These supportive solutions are compatible with our wider family of hi-tech equipment or can efficiently function as stand-alone machines. 
Get in touch
Operational costs continue to increase, and every little saving makes a difference.
Our automation works smarter, wastes less, and optimizes your lines to safeguard food safety and ensure consistent product quality.

Speak with us to learn how you can make Every Resource Count™!

Please fill in the form below and we will get back to you as soon as possible.