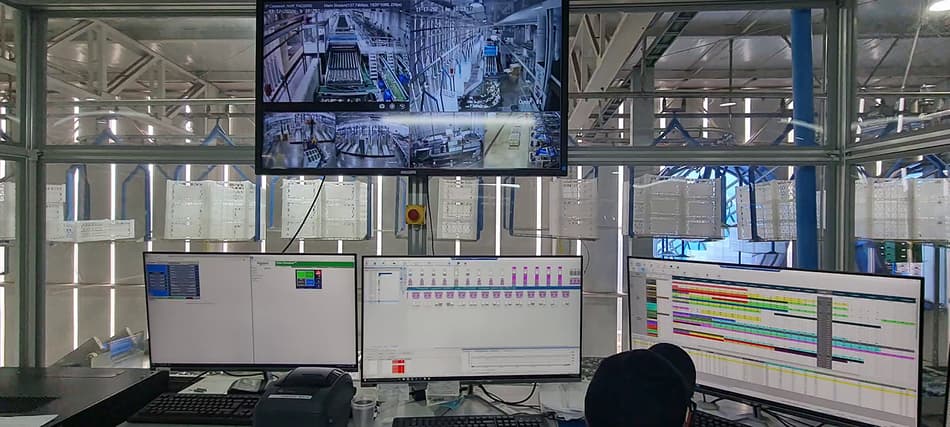 Line control and product tracking systems
Enhancing efficiency and providing traceability
Useable line data leads to better line control and decision-making. This leads, in turn, to greater efficiency and profitability. And this has become achievable thanks to the digital transformation of post-harvesting solutions.

SmartLine
Smartline is a supervisory control and data acquisition (SCADA) product for precise line control and turnkey project delivery and support. Built on the industry-leading Wonderware® software by Aveva, Smartline incorporates situational awareness concepts to provide users with information about key processes. This data is highly contextualized and easily interpreted, making it a useable way of unlocking greater line efficiencies. 
Adaptive Rate Controller
The Adaptive Rate Controller is designed for large fruit. By counting the fruit on a roller elevator and autonomously adjusting infeed speed, it optimizes sorter input. This is made possible by an in-feed mounted camera and pre-trained AI models.

Traceability
This quality tracking system measures all elements of production, tracing the origins and characteristics of individual products from harvesting to processing, packaging, and point-of-sale. It's possible to track a product problem to the specific time, field, row, picker, and bin, to speed up resolution and avert the need for a total product recall. And even when things are going well, there's often room for improvement – which is why FreshTracker generates batch reports and line performance information.
Get in touch
Operational costs continue to increase, and every little saving makes a difference.
Our automation works smarter, wastes less, and optimizes your lines to ensure quality is consistent and potential recalls are thing of the past.
Speak with us to learn how you can make Every Resource Count!™

Service and support
With service centers and support located across the globe, TOMRA Food provides a comprehensive service offering to our customers, ensuring you have the proper support at the right time, empowering your business to succeed.
More about service and support