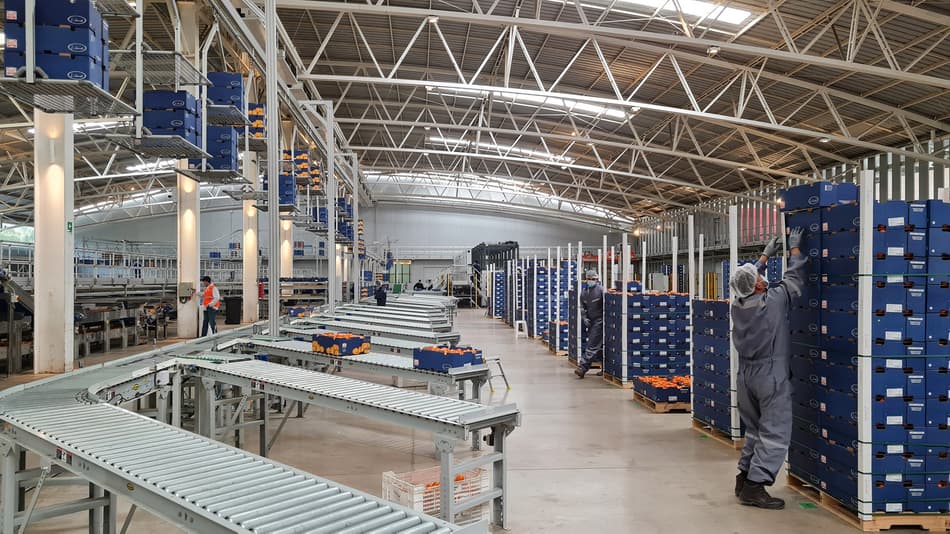 Manual and semi-automatic packing products
Make manual packing easier and more efficient with our industry-standard products and accessories.
For manual and semi-automatic packing, our products offer the full solution: rotary packing tables, and tray, box, and bin fillers.
Our rotary tables are equipped with sensors to detect how full the table is, eliminating the overfilling which damages produce. Outlet displays show pack and grade information to workers at the station. 

Our tray filler moves fruit efficiently and gently from a cross-conveyor into trays. Height adjustable, the filler can accommodate different tray sizes, small boxes, or cartons. 

This accurate, high-volume filler accommodates a variety of box sizes and weights.

Another accurate, high-volume box filler for a variety of box sizes and weights – but this one is semi-automatic and can be integrated into line control and box printer options.

We offer a full range of manual and automatic units to fill bins gently and smoothly. A sensor controls the level of fruit in the bin. 

Our 3 Tier Pack Table is designed to help pack finished product into trays. The top tier is used to store packing boxes while the center belt conveys punnets from packing machines. The lower conveyor transports packed boxes to the end for pallet stacking. Available in 3.6 m (12 ft) or 4.5 m (15 ft) lengths.
Get in touch
Operational costs continue to increase, and every little saving makes a difference.
Our automation works smarter, wastes less, and optimizes your lines to ensure quality is consistent and potential recalls are thing of the past.
Speak with us to learn how you can make Every Resource Count!™

Service and support
With service centers and support located across the globe, TOMRA Food provides a comprehensive service offering to our customers, ensuring you have the proper support at the right time, empowering your business to succeed.
More about service and support