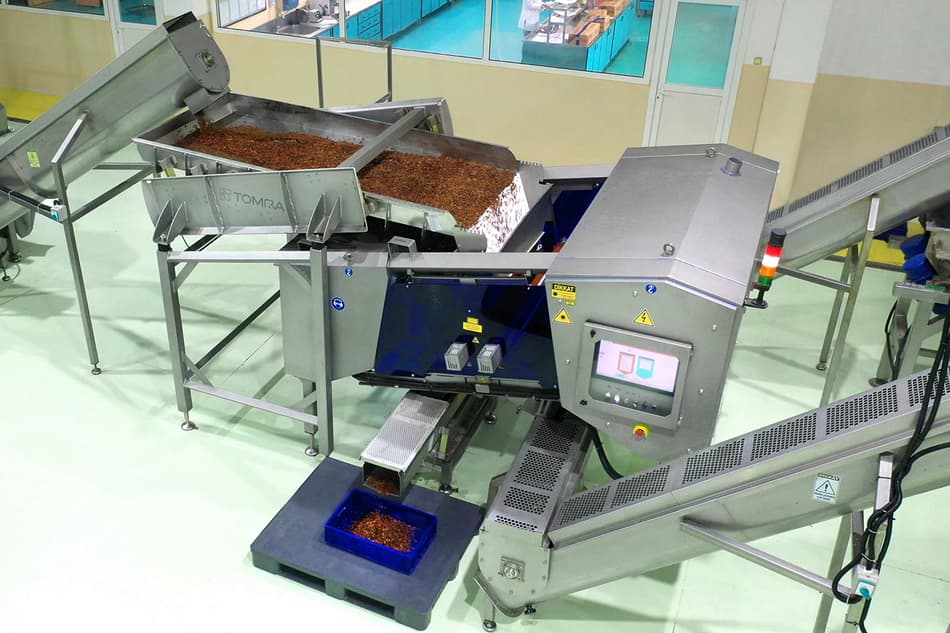 customer story
Osman Akça, Turkey
Osman Akça A.Ş., the raisin industry leader, never misses the opportunity to benefit from TOMRA Food's new cutting-edge technologies, and has now become the first company in Turkey to purchase the TOMRA 5C sorter.
Since starting in the 1970s, Osman Akça A.Ş. has continually expanded the volumes handled by its raisin processing business. Since 1996 the company has set new industry standards using the most up-to-date sorting solutions offered by TOMRA Food. Today, operating as part of the Akça Holding group of businesses, Osman Akça is among the industry's leaders, with annual dried fruit exports worth $50 million.
Osman Akça runs a raisin processing facility in Manisa Province and a dried fruit plant in Aydın Province, which processes apricots, dates, plums, and mainly figs. Fourteen TOMRA Food sorters are installed in these two facilities and play an essential role in the operations' efficiency and product quality.
The Osman Akça A.Ş. Raisin Processing Plant, in the town of Saruhanli, is built over a total area of 60,000 square meters, with 40,000 square-meters indoors. This produces 20,000 to 30,000 tons of raisins every year. The vast majority of this production, 90 percent, is exported, primarily to European Union countries, and the remaining 10 percent sold to the domestic market. Some 15 percent of the company's exported products are directly consumed, 85 percent used in patisserie and bakery applications.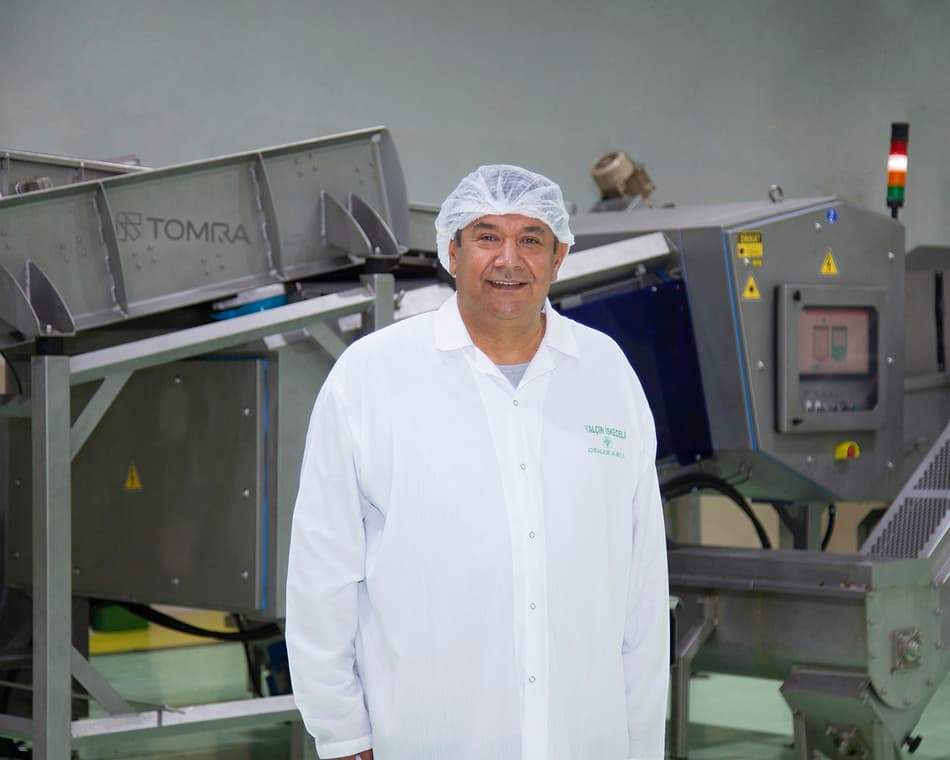 Yalçın İskeçeli, General Manager of Osman Akça A.Ş., said, "Employing state-of-the-art technologies for high-quality and high-capacity production has been crucial to Turkey's success in this industry. In fact, Turkey has passed the United States to become the largest raisin exporter globally."
Mr. İskeçeli commented: "At Osman Akça, we have fought our way to leadership by constantly attaching great importance to quality in raisin production. We have been tapping into advanced technologies provided by TOMRA Food for 25 years. Our production technology allows us to achieve superior quality output with high food safety and to grow our exports to the European market consistently."
PRODUCT QUALITY OF PARAMOUNT IMPORTANCE IN FOOD EXPORTS
Consumption of raisins is three times higher in Europe than in Turkey, and as shoppers have turned to foods that can boost the immune system during the COVID-19 pandemic, demand for raisins has increased. To supply growing export markets, Yalçın İskeçeli explained, Osman Akça must attain consistently high product standards. Mr. İskeçeli said: "Turkey has top-quality raw products and the production facilities here are well-developed, with high-end mechanical and optical sorting systems. Optical sorting machines play a significant role in enabling us to penetrate even the most challenging export markets. In the past, conventional production lines with multiple sorters had to reprocess the product three or four times to achieve the desired quality, but this no longer efficient. In Turkey and globally, it is now more important than ever to achieve efficient and consistent production, reducing labor and operational costs while maintaining product quality."
"This is why we opted for the TOMRA 5C optical sorter - it takes us to higher levels in quality and capacity. By positioning this machine at the end of the production line, we can improve our product quality by capturing the details that other laser systems overlook. We also like the fact that the TOMRA 5C is futureproofed to be compatible with possible future innovations in optical technologies and software. This will be an investment with a long-lasting payback."
TOMRA 5C IS INDUSTRY-LEADING
To ensure the most accurate foreign material removal, the TOMRA 5C combines industry-leading sensor technologies with machine learning and big data analytics. High-resolution lasers and latest-generation sensors enable the TOMRA 5C to see and analyze the tiniest defects, which other machines would miss. The TOMRA 5C is also notable for its labor-saving hygienic design: the machine's working surfaces are curved, minimal and easily accessible for easy cleaning and maintenance.
Mr. İskeçeli says that the plant in Saruhanli employs 300 people and processes 200 tons of raisins daily. He explains: "At the first stage, we use advanced mechanical pre-cleaning. This removes impurities and foreign materials and grades the raisins by size. After going through X-ray and sensor-based TOMRA sorters, products are packaged in line with customer requests. We have small packages of 25 grams to one kilogram and large packages of 10 to 15 kilograms. We send small packages to groceries and big packages to industrial clients."

"Whereas we used to take samples of a maximum size of 100 grams for quality checks, we are now able to analyze 12.5-kilogram packs. Quality improvements have been made possible by technological progress. By investing in TOMRA systems, we can achieve high final product quality with increased efficiency and capacity, and our operational facility does not need to reprocess the product."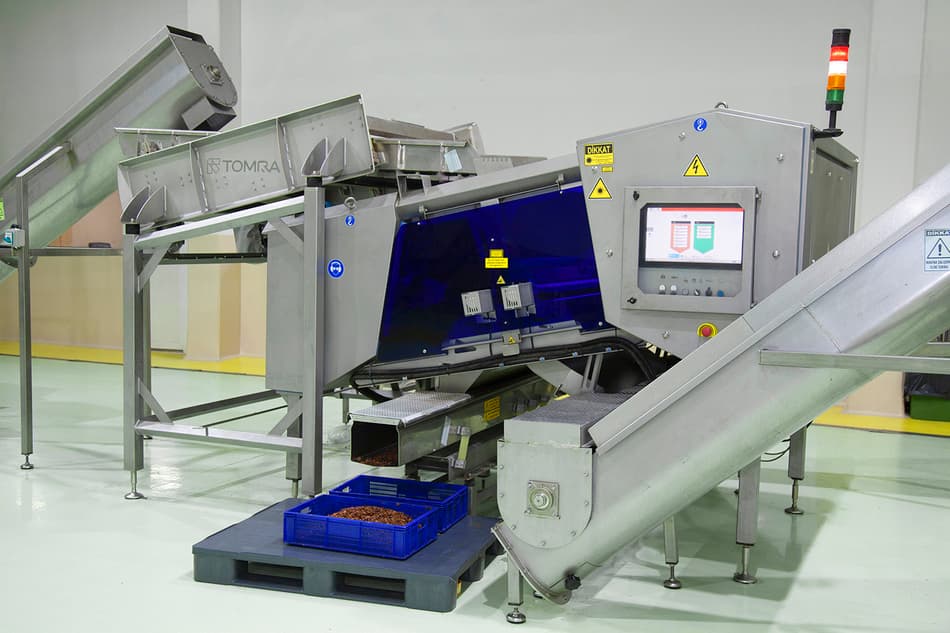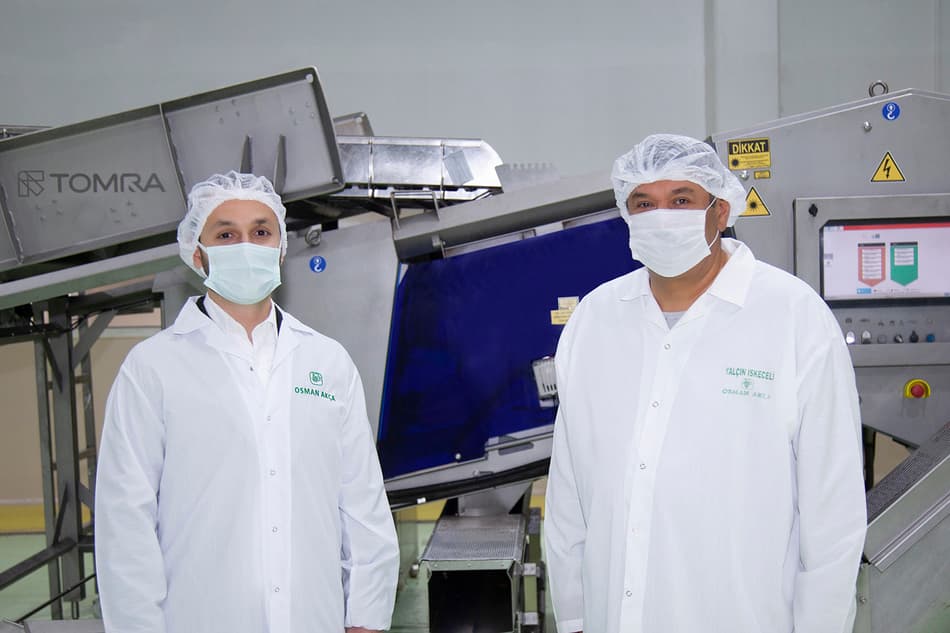 THE TOMRA 5C REDEFINES PROCESSING

Ahmet Koçyiğit, Sales Manager for TOMRA Food Turkey, said: "With the TOMRA 5C, we offer the latest technologies to make sorting more efficient and cost-effective. This sorter addresses the biggest challenges faced by the dried fruit and nut industry: labor, food safety, capacity, and product quality. The TOMRA 5C allows operators to see foreign materials and quality defects with a level of success that previously wasn't possible. This enables the processing of the highest pack-to-grade product quality in high quantities while minimizing dependency on manual labor and reducing food waste. Processors are making savings from reprocessing, handling, and labor costs."

PROMOTING ORGANIC PRODUCTION
In response to increasing demand, Osman Akça A.Ş. is setting higher volume targets for organic raisins. Production has risen from 20 to 4,500 tons per year, and demand for organic products is expected to keep on rising. This brings new challenges compared to non-organic crops because before they are processed, organic crops contain far greater amounts of stones and foreign material. But Mr. İskeçeli is confident Osman Akça has the solution: "This is another example of how cutting-edge technology is crucial in product processing, and how TOMRA can help."