Our history
TOMRA was founded on an innovation for the return of empty beverage containers in 1972. In a small shed in Asker, Norway, the brothers Petter and Tore Planke created a solution to a problem: a local grocer wanted a machine that could quickly and easily take back empty bottles and deliver a deposit refund receipt. This was the beginning of TOMRA.
TOMRA through the decades
1970s
TOMRA was founded by brothers Petter and Tore Planke from Asker in Norway, who invented the world's first automated reverse vending machine. Their handmade prototype of the first TOMRA RVM was installed in a supermarket in Oslo on January 2, 1972.
On April 1, 1972, TOMRA was officially founded by the Planke family. By the end of 1972, TOMRA had installed 29 machines in Norway. The success of those machines soon began to generate interest abroad. By 1973, TOMRA had entered into several distribution agreements for markets in Europe and the United States.
From 1972 to 1976, TOMRA's revenues grew from 700,000 NOK to 6.9 million NOK. The first major sales breakthrough happened in 1974 when the Swedish state-owned wine retailer Systembolaget ordered 100 machines, specially adapted to the conveyor equipment that was already installed in their sales outlets.
When TOMRA released the first self-programmable RVM in 1977, the Tomra SP, growth really began to take off. This product positioned TOMRA far ahead of competition and on a solid foundation as it entered the 1980s.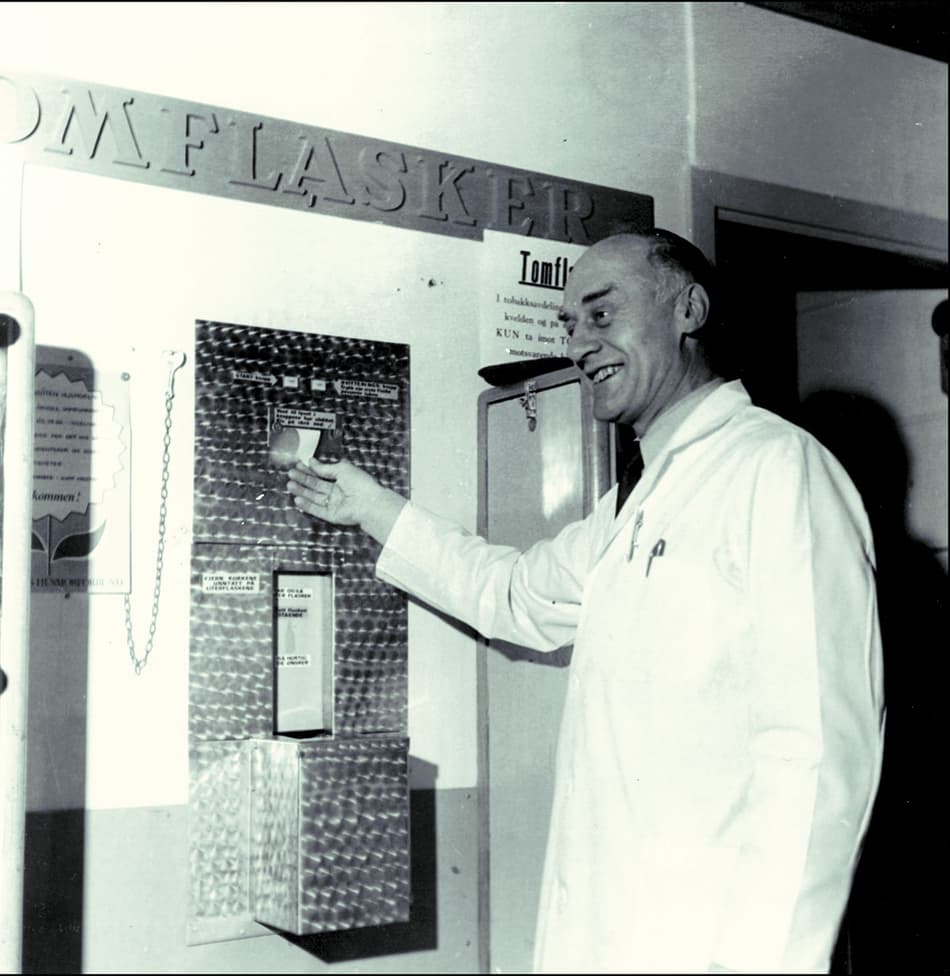 The first TOMRA RVM prototype installed in a Norwegian grocery store. 
1980s
TOMRA's internationalization process gained full speed in the beginning of the 1980s. Subsidiaries were established in the Netherlands, USA, Denmark and Germany. TOMRA was growing with an average annual growth rate of 36 percent during the first five years of the decade.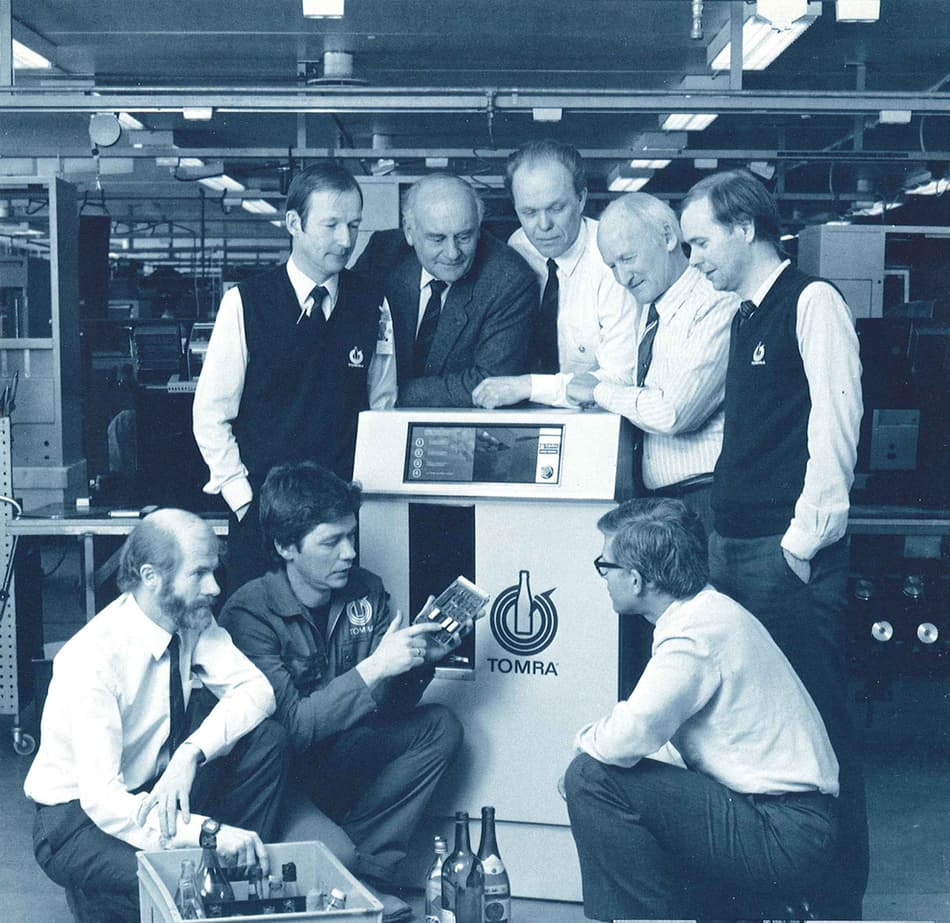 Members of TOMRA's Board in 1984 pictured together with some employees.  
After the stock listing in 1985, optimism ruled as TOMRA positioned itself for growth in the US. Macro-economic conditions wanted otherwise. The Soviet Union dumped millions of tons of aluminum on the world market in 1985, leading to a dramatic drop in the aluminum price. As the aluminum prices plummeted by over 60 percent in four months, there was little incentive left to recycle aluminum cans in non-deposit markets. The substantial financial losses suffered by TOMRA forced the company to abandon most of its US activities in 1986.
Despite losses in the US, TOMRA's financial supporters still believed in the business potential of the company. From pre-tax losses of 129.6 million NOK in 1986, TOMRA bounced back to deliver a profit of 10.3 million NOK the year after. During this period, TOMRA returned to its roots, concentrating its efforts on solidifying its strong European position and maintaining its leading edge in product development.
The last three years of the 1980s saw TOMRA introduce its next generation RVM, the Tomra 300, revenues increase with 62 percent from 1987 to 1989, and a careful reentry into the US, generating a revenue of 12.1 million NOK in 1989.
1990s
In the first half of the 1990s, TOMRA embarked on a redefinition of the company's business model through a series of strategic acquisitions. At the same time, the decade saw an increased professionalization of TOMRA, with an intensified focus on efficiency, quality assurance and monitoring customer satisfaction.
The acquisition of material handling company NEROC in 1992 marked the entry into a new era. Before this acquisition, all of TOMRA's revenues had come from sales and service of RVMs. TOMRA now begun an effort to evolve its business model into the full container recycling value chain, which includes collection, pick-up, processing, material trading, recycling and production of new containers.
During the 1990s, measures were taken to improve efficiency and reduce costs. While the most significant was the gathering of all production in the new headquarters in Norway, efforts were also begun to make the production assembly method more efficient by allowing for delivery of machine components only when an actual order was being prepared for assembly.
In the last five years of the decade, TOMRA's annual revenues increased from 501 million NOK to 2.1 billion NOK, representing an average annual increase of 46 percent. The most significant factor behind this growth was TOMRA's growing presence in the United States. By 1999, sales in the US accounted for more than half of total revenues.
On the technology side, a new milestone was reached in 1997 with the launch of the T-600. Not since the launch of the Tomra SP in 1977 had the market been introduced to a greater leap in RVM technology. Incorporating a number of innovations including a new container recognition system, horizontal container in-feed, a built-in modem and an advanced graphics display, the T-600 introduced a more versatile and user-friendly platform that could easily be configured to meet the needs of retail stores.
By the end of the decade, TOMRA had developed into a truly international corporation, with over 1,700 employees working in 34 different countries and 46 separate markets.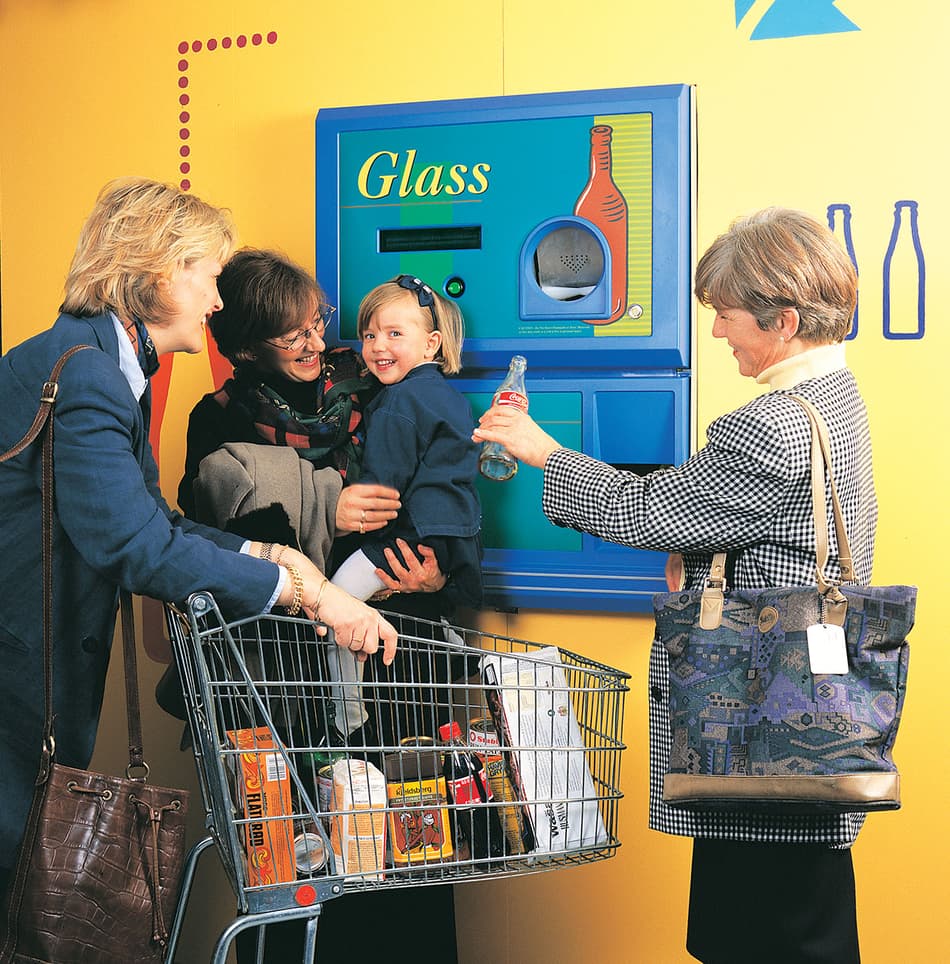 2000s
The 2000s was the decade when TOMRA ventured into existing recycling infrastructure in markets without deposit and for a broader range of materials than used beverage containers. The one largest event of the 2000s, however, was the introduction of a national deposit system in Germany in 2006.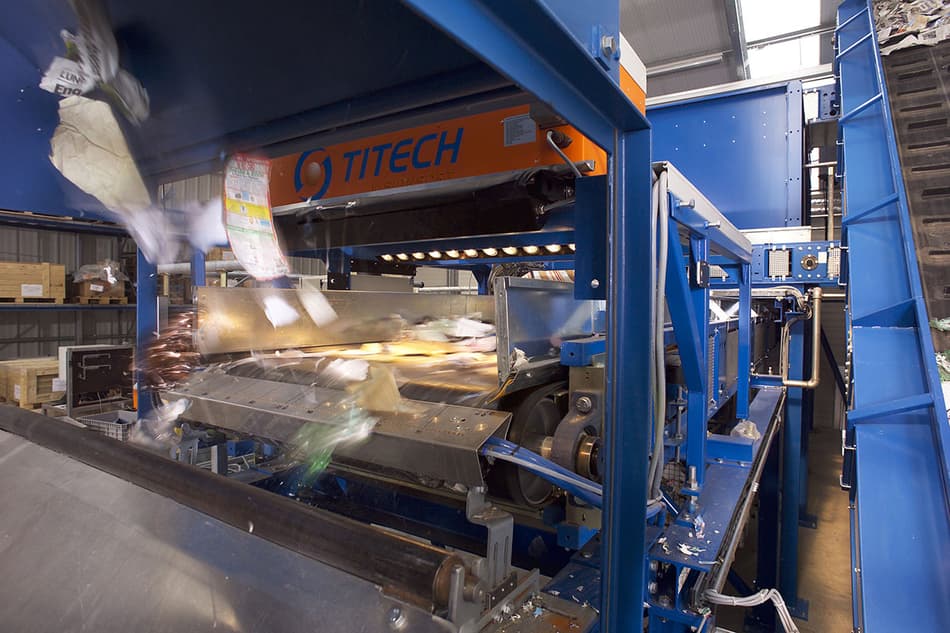 A TiTech sorter in action in 2006. 
During the first 30 years of its history, TOMRA focused on growing its reverse vending business in markets with deposit systems for beverage packaging. In 2000, the company saw that it would need to develop a more comprehensive business platform in order to meet its growth targets.
Efforts included reverse vending projects in Japan and Brazil, but the most notable developments came through a number of strategic acquisitions: TiTech in 2004, the Orwak Group in 2005, Commodas in 2006 and Ultrasort in 2008. Revenues within this new segment of Industrial Processing Technology more than doubled from 379 million NOK in 2005, to 793 million NOK in 2008.
The major event of the decade was the implementation of a deposit system for non-refillable containers in Germany. In 2006, TOMRA delivered approximately 8,800 new reverse vending systems to Germany alone. That accounted for about three times as much as total sales volume worldwide in a normal year at the time, and Germany has been a key market for TOMRA ever since.
2010s
With the acquisitions of Odenberg and BEST Sorting, TOMRA established an active presence in yet another business segment – sensor-based food sorting. Following this expansion the company launched a new vision and mission to guide its strategic development, and embarked on a rebranding process to gather all companies under the same brand – TOMRA.
Having worked on developing process analytics for the food industries with QVision, it was not a far-fetched idea for TOMRA to venture further into the food segment. In 2011 TOMRA acquired Odenberg, a company possessing unique, patented technology and leading market positions in several fast-growing segments of the food sorting and processing industry. Complementing this further with the acquisition of BEST Sorting (2012), Compac (2016) and BBC Technologies (2018), TOMRA gained a position as one of the world's leading food sorters and an expanded technology portfolio unrivalled by competitors.
TOMRA at this time had grown into a considerably larger global company than it was a decade previously. In order to galvanize the combined strength of its various subsidiaries, it was decided in 2010 that TOMRA would embark on a strategic process to gather all companies in the Group under one brand umbrella – TOMRA. As part of this strategic process, a new mission and vision was launched in 2012 and a subsequent rebranding process was concluded in 2015.
In October 2016 TOMRA acquired the New Zealand sorting machine manufacturer Compac. At the time of the acquisition TOMRA CEO Stefan Ranstrand commented: "Compac has attained a leading position within an attractive market segment that offers a strong strategic fit with the food sorting solutions provided by TOMRA. By bringing Compac's lane sorting solutions together with TOMRA's bulk sorting solutions under one roof, we will be able to offer a unique proposition to our customers for sorting fresh and processed foods."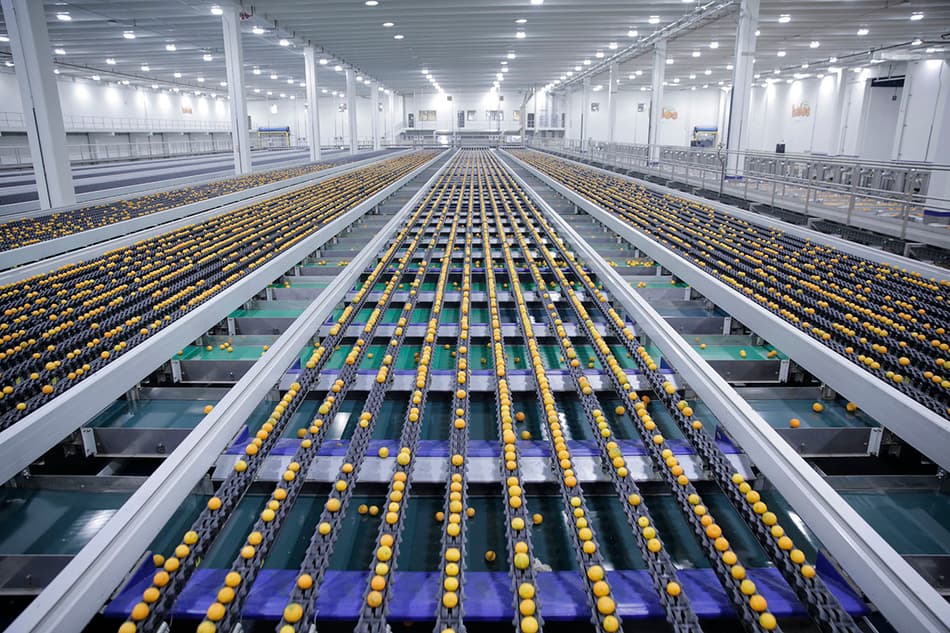 A Compac installation for sorting and grading oranges.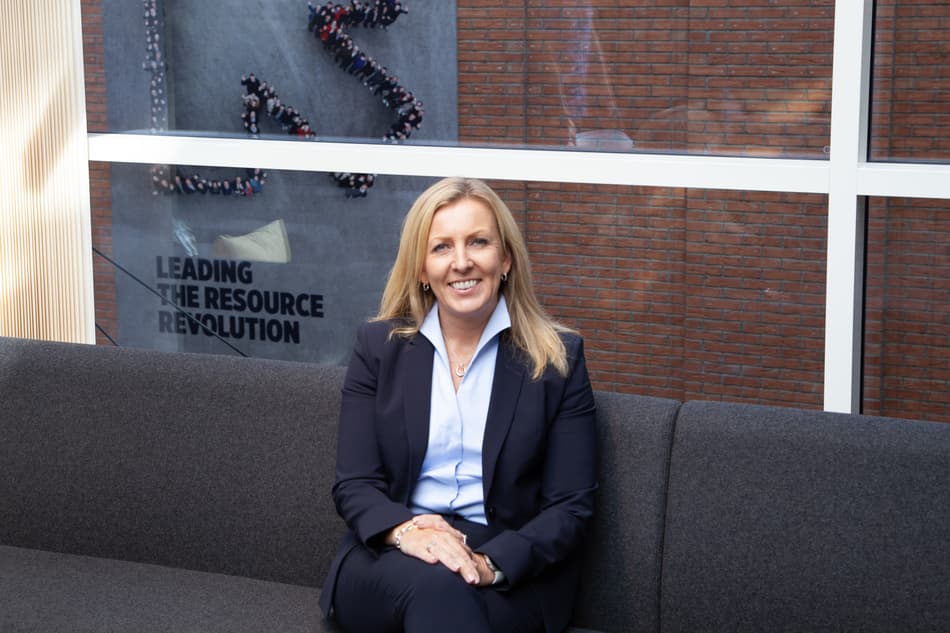 TOMRA President and CEO Tove Andersen
As with the rest of the world, the corona virus pandemic challenged many aspects of TOMRA's business operations during the first years of this decade. Fortunately, only a very small percentage of TOMRA's employees came down with the virus during 2020 and all subsequently recovered. Despite required temporary closings of container collection points in some markets and other disruptions to the business, thanks to the commitment of our people, TOMRA managed to deliver good financial results in 2020.
In 2021, after 12 years at the helm, Stefan Ranstrand decided to step down. Tove Andersen took over as TOMRA President and CEO on August 16th, 2021 to continue TOMRA's vision of leading the resource revolution.