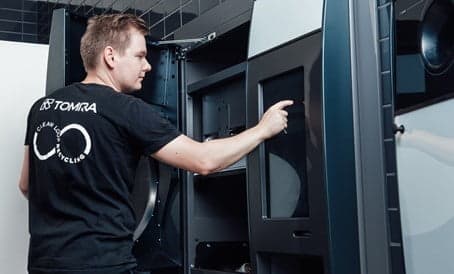 Career path
Customer Service and Service Operations
Customer centricity is a huge part of our company ethos here at TOMRA. We are always willing to go the extra mile to exceed our customer's expectations.
We seek Resource Revolutionaries with like-minded values - Passion, Responsibility, and Innovation. Empathy, curiosity, and having exceptional communication skills are part of the key criteria for a role within our Customer Service or Service Operations team.
You might be looking to grow your career as part of our Field Service Engineering team, or be looking to expand your career in Project Management or perhaps liaising with our customers over the phone is more your thing, either way we have exciting opportunities right across the board. Bring your passion for customer service, your skills and experience in Service Operations and your sense of teamwork to TOMRA and help us make our customers happy that they choose us as their trusted partner.
Types of roles we are looking for
Field Service Engineer

This is one of our most important roles at TOMRA. You turn up when our customers needs us most, and ensuring that our solutions are operating at their optimum capacity is what you love doing.

Service Optimizer

As a Service Optimizer you will do training of customer maintenance and service personnel on site as well as agents in house. You 

Customer Care Coordinator

The primary responsibilities here are providing customer support, responding to queries, scheduling visits from our Field Service team, or putting our customers in touch with the right people in our business.

Technical Trainer

The Technical Trainer ensures the development of the technical staff, field service engineers and customers. They cooperate in the design of technical training courses as well.