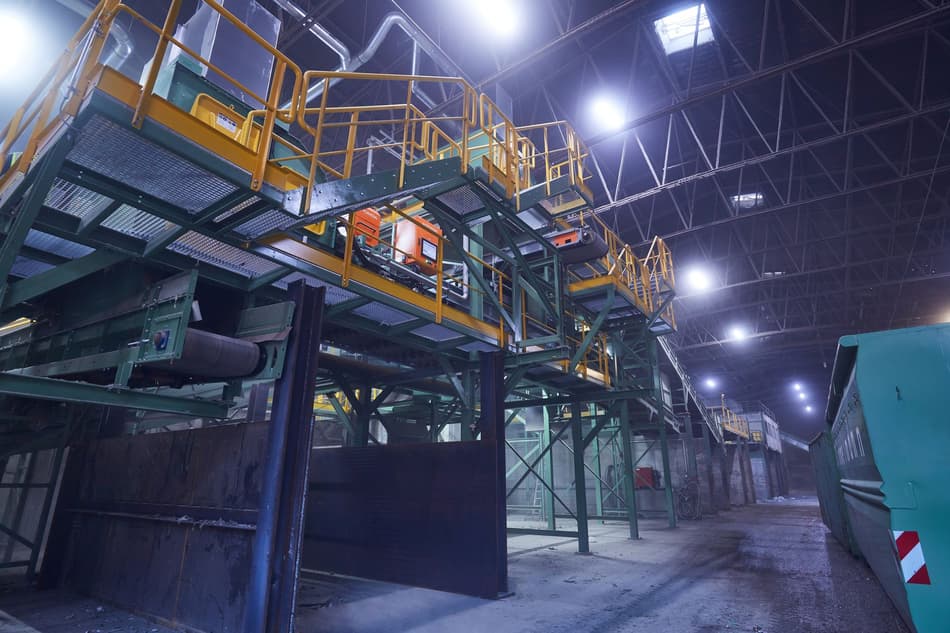 Technology alone is not enough to achieve a circular economy
Climate change, environmental pollution, resource scarcity, global population growth: these are the defining issues of the 21st century. Approaching them by transitioning to a circular economy is one of the central challenges of our time. TOMRA has understood that technology alone is not enough to create a closed-loop circular economy: public policy, consumer engagement and collaboration across the value chain are necessary too.
Technology alone is not enough to achieve a circular economy
Climate change, environmental pollution, resource scarcity, global population growth: these are the defining issues of the 21st century. Approaching them by transitioning to a circular economy is one of the central challenges of our time. TOMRA, a global leader in sensor-based technologies with more than 50 years' experience in diverse sectors such as the Food, Recycling and Mining industries, has understood that technology alone is not enough to create a closed-loop circular economy: public policy, consumer engagement and collaboration across the value chain are necessary too. Making the shift from linear to circular to build thriving economies requires radically lessening the environmental impact of extracting raw materials, reducing the use of primary resources, designing waste-free products, harnessing materials to keep them in use and implementing technologies to ensure the system is regenerative.
A holistic approach to achieving a circular economy: ReSociety
TOMRA is excellently positioned to contribute to the transition to a circular economy by collaborating with key players across the value chain to develop new methods, processes, technologies and business models. To this end, it has created ReSociety, a global collaborative initiative to re-think, re-act and re-start our world for a more sustainable future. It is a place for industry, policymakers, companies and consumers to share ideas, increase awareness, collaborate with solution enablers and drive impactful change. It is also a hub in which TOMRA proactively shares its vast research and multi-national studies on holistic waste management systems, which have been indispensable in developing the circular value chains.
Our commitment to the circular economy is unequivocal. Until recently, it was unheard of having players from the entire value chain at one table. From chemical companies to converters, retailers and brand owners, waste management companies and recyclers – there's true dedication in finding solutions. We take pride in doing our part: sharing our know-how, developing new solutions and striving to make our planet more sustainable every day. We have started with the recycling sector, and in particular in addressing the plastics waste issue, where the collaboration with the different stakeholders is proving very fruitful. However, if we want to leave a better world to future generations, we can't stop at recycling; all sectors need to do their part. That is why at TOMRA we aim to build on the experience we developed in recycling and collaborate with the mining industry to reduce the environmental impact of its operations. This means finding green mining solutions that use less energy and water to recover resources – with a consequent reduction in CO2 emissions – and ways to turn waste into value. With the recycling sector, we are working on reducing the mountains of plastic waste; we want to do the same in mining and address the dumps and tailings building up in mines.

Volker Rehrmann
TOMRA Executive Vice President and head of the Recycling/Mining
Advanced mining technology with a small environmental footprint
As the world addresses the environmental challenges of our time, the mining industry have an important contribution to make. Mining companies need to find ways to maximize the efficiency of their operations to cut back on the use of water and other resources, while reducing waste and the total impact on the environment as much as possible. Amongst other challenges, they need to effectively address the storage and handling of tailings which pose a potential physical and chemical environmental risk.
TOMRA's advanced sensor-based sorting technologies can not only significantly reduce the environmental impact of mining operations and, at completion, fully rehabilitate the site. They also enable a much more efficient use of resources. These solutions bring the dual benefits of greater sustainability and better profitability for the mining company.
TOMRA's sensor-based sorting technology has been shown to significantly reduce the amount of energy and water used compared to traditional methods like DMS (Dense Media Separation), while maximizing the efficiency and recovery of valuable ores. An extensive study conducted by Alchemy Process Plants (AlcPro) comparing these processing methods has concluded that TOMRA's solution also brings multiple cost benefits.
Erik Bruggink explains: "although capital costs of the separation circuits are similar, with DMS the additional cost of handling the resultant water from the circuit needs to be taken into consideration together with the associated water use licencing and tailings facilities. In addition, TOMRA's sensor-based sorting technology requires no reagents, and maintenance costs are limited to the sorting unit and the associated conveyors, screens and chutes.
Water consumption is a key consideration when assessing the environmental impact of a mine, as it can severely affect local supply. Water management strategies are key to reducing the mine's usage and ensure future water security for the communities in the mine's surrounding areas. The Water Research Commission in South Africa has commissioned a project to compile a compendium of best practices and technological innovations in the mining industry with regards to Water Conservation and Water Demand Management. In her study, Youlita Vemblanathan identified TOMRA's X-Ray Transmission (XRT) sorting technology as a solution that would lead to substantial improvements in water use efficiency.
By reducing the mine's water usage and fine-grained wastes, TOMRA's sensor-based sorting technologies also contribute to improving the issue of wet tailings management and, with that, mitigate the risks associated with tailings dams.

José Guilherme Valadares
Project coordinator of Exploration and Mineral Projects at Vale
Vale is now investigating the implementation of sensor-based sorting in several mines and processes in Brazil.
Sustainability with profitability: turning waste into value
TOMRA's sensor-based sorting technology can contribute to circular economy practices at the mine and processing plant, turning marginal waste into value with a positive impact on both the sustainability and profitability of the operation. This is the case at Wolfram's tungsten mine in Mittersill, Austria, where TOMRA has installed two COM Tertiary XRT sorters.
The sorting system in the scheelite processing in Mittersill sorts out waste material with a size range of 16-60 mm. This eliminates the grinding and flotation that would otherwise be required for this material. This results in the following savings for the coarse waste material compared to grinding and flotation: 75% lower power consumption and no water and no flotation reagents are required. Another resource conservation: the separated waste is a saleable product to the local construction industry. The sewage ponds are relieved and the impact on nature through local gravel pits is reduced. The sorting system thus not only reduces the footprint of the mine but also of the surrounding gravel pits.

Alexander Mosser
Manager Ore Dressing Plant
Sustainability as a facilitator and opportunity creator
The proven environmental benefits of TOMRA's sensor-based sorting solutions bring mining operations additional advantages. They can facilitate obtaining the licenses needed to start a mining project by proving the efficient use of water and energy, the significantly reduced amount of waste materials, chemicals/reagents, and lower environmental risks such as tailings dam collapse.
Rare earths mining company Cheetah Resources has obtained a loan from the Canadian Federal Government to purchase a TOMRA sorter for its Nechalacho Demonstration Project in Yellowknife on the strength of the sustainable performance of its XRT technology. The sorting solution will significantly reduce the amount of water and fuel used, and eliminate chemicals and tailings from the mining process. Leftover waste rock can be stockpiled for future use or used on infrastructural projects, such as road construction. The aim of the project is to create a low-impact facility for the production of rare earth minerals used in green technologies, that will generate employment and economic benefits in the region.
"We anticipate that with this project we will demonstrate the economic feasibility as well as the technical and environmental advantages of sensor-based sorting of rare earth to produce a value-added mixed rare earth concentrate in the Northwest Territories," said David Connelly, vice president of corporate affairs and strategy at Cheetah Resources.
The path to a more sustainable future starts today
Overcoming environmental pollution by enabling the transition to a circular economy is one of the central challenges of the 21st century. Mining has a key role to play as the supplier of the raw materials, but a holistic approach is necessary. Beyond efficient operation and waste management in extracting the primary resources, it is necessary to curtail excessive consumption and ensure products are designed to be reused, and once at the end of life, easily recycled. Such a holistic approach also includes raising global awareness within the industries and with the consumers.
The raw materials supplied by mining are vital for our modern way of living and are critical for the energy transition technologies. With mining as the entry point for these necessary materials, the circle will never be closed completely. However, this should be seen as an opportunity for the mining industry to re-think the way it fulfills this essential role with minimal impact on the environment, and for sectors downstream to shift focus from the core business to the chain around it, without losing sight of profitability. Re-using can be prioritized by the use of certain metals that are infinitely recyclable and whose inherent durability and anti-corrosive properties contribute to the longevity of the products they are used in.

Mathilde Robben
Key Account Manager at TOMRA Sorting Mining
As a global frontrunner in empowering the circularity of resources, TOMRA has committed to taking post-consumer plastic packaging waste management to a new level worldwide. It has pledged to enable 40% of all post-consumer plastic packaging produced globally each year to be collected for recycling by 2030. With a similar holistic approach, establishing collaboration and partnerships across the value chain, equally ambitious goals can be achieved in addressing the environmental impact of the mining sector.
There are economically viable solutions available today that can accelerate the path towards a truly green mining industry. The perfect time to start is now – with the technologies, proven strategies, and collaborations between all stakeholders to make our future more sustainable.