TOMRA acquires 14 percent ownership stake in product traceability company Kezzler
TOMRA has made a strategic investment to acquire a 14 percent ownership stake in product serialization and traceability company Kezzler. The investment has been made through a combination of participation in the company's rights issue and buying secondary shares.
The strategic investment will support TOMRA in achieving its vision of leading the resource revolution and delivering its growth strategy of doubling its revenues by 2027. TOMRA regards traceability and transparency to be crucial elements of circular business models and the food value chain. The investment in Kezzler enables TOMRA to explore and further develop opportunities in a strategic digital space.
Kezzler, which was founded 20 years ago in Norway, is headquartered in Oslo with operational entities in key geographies. The software-as-a-service (SaaS) provider has developed a platform to enable serialization and traceability of products through their life cycles.
The solution platform is scalable, flexible and purpose-built to meet traceability challenges of large, complex organizations across various industries. TOMRA and Kezzler have already collaborated in several strategic verticals and see the potential for significant mutual value creation by working in closer collaboration going forward.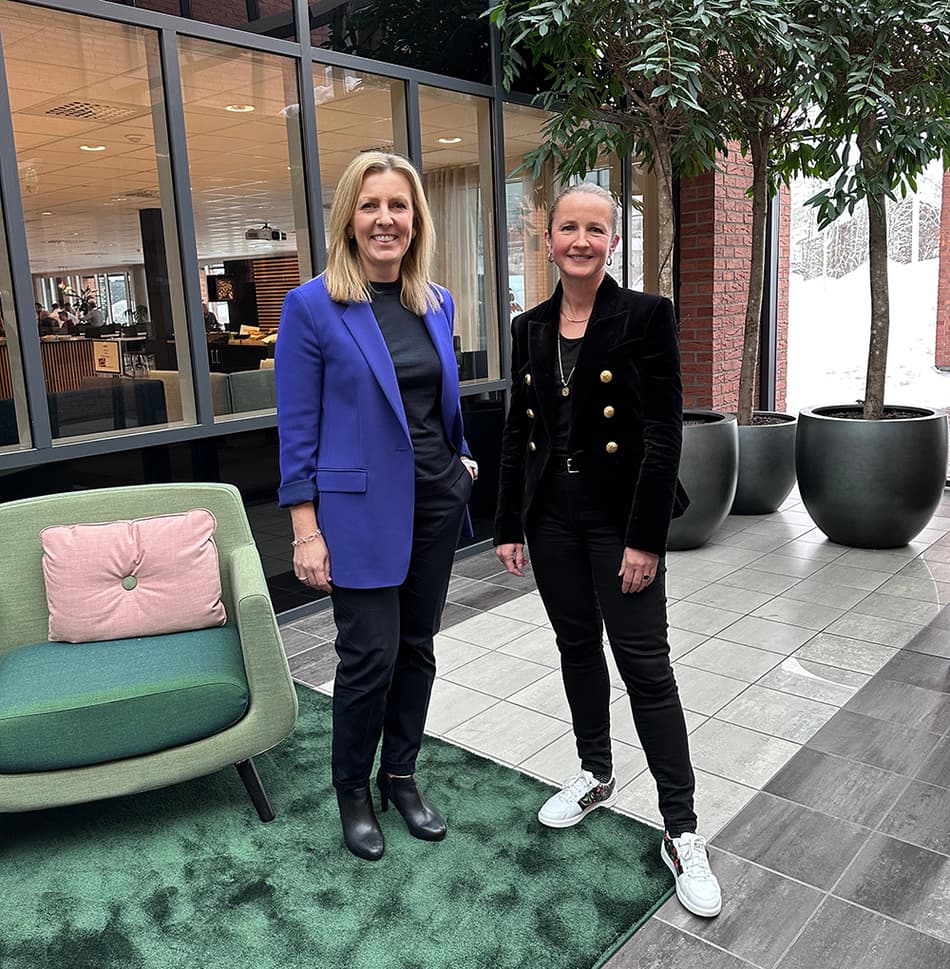 TOMRA CEO Tove Andersen (left) and Kezzler CEO Christine Akselsen.
Commenting on the transaction, TOMRA CEO and president, Tove Andersen, said, "Information sharing and transparency is one of the major enablers to achieving a sustainable circular economy and food system. Through this investment, TOMRA will take a position with an important technology that can accelerate the required transition to circularity and resource optimization. I have been impressed with what Kezzler has achieved so far and see a strong cultural and business fit between the two organizations."
TOMRA Executive Vice President and head of group strategy, Lars Enge, added, "Product serialization, traceability and transparency are driven both by regulation as well as commercial aspects of the value chain. This includes governments implementing legislation to protect the environment, consumer requirements for sustainable and connected products, as well as brands seeking to improve their supply chain and meet requirements from their stakeholders. Considering this background, this represents a strategic investment for TOMRA."
Kezzler CEO, Christine C. Akselsen, said, "We are thrilled to welcome TOMRA as a shareholder in Kezzler and see this as a massive acknowledgment of our technological capabilities and our market position. Both players are on a mission to build more sustainable value chains and are passionate about the joint opportunities in a world where consumers, legislators and businesses are moving toward more sustainable and circular consumption."
Kezzler chairman, Erik Langaker, added, "Kezzler was a first mover in developing reliable and extremely cost-efficient digital repository systems for global providers of consumer goods. Already working with some of the largest brand names in the world, we very much welcome TOMRA as our largest shareholder. I am confident that we together can continue to scale our mutual solutions with the strong industrial support that TOMRA can facilitate."