TOMRA and Aarhus City enter collaboration to create innovative reuse system
TOMRA and Aarhus Municipality have entered into a collaboration for the establishment of a deposit system for takeaway packaging in the city center of Aarhus. This means the people of Aarhus can soon enjoy a coffee in a reusable cup that is good for the city and for the environment.
TOMRA's reuse system enables the shift from single use packaging to reusable packaging, by providing an infrastructure that entire cities can use. TOMRA has signed a collaboration agreement with Aarhus Municipality for a three-year trial, which initially focuses on take away cups with a deposit. The plan is to expand the system to also cover all types of takeaway packaging ensuring a holistic, convenient, and sustainable system.
"We are excited to be able to develop and test a deposit system to enable the shift from single use packaging to reusable packaging and are very happy to begin our first pilot in Aarhus. It is our aim to create a system which makes it as easy as possible for people to reuse their packaging and can also meet the wishes and needs of the local business community," says Geir Sæther, SVP Circular Economy TOMRA.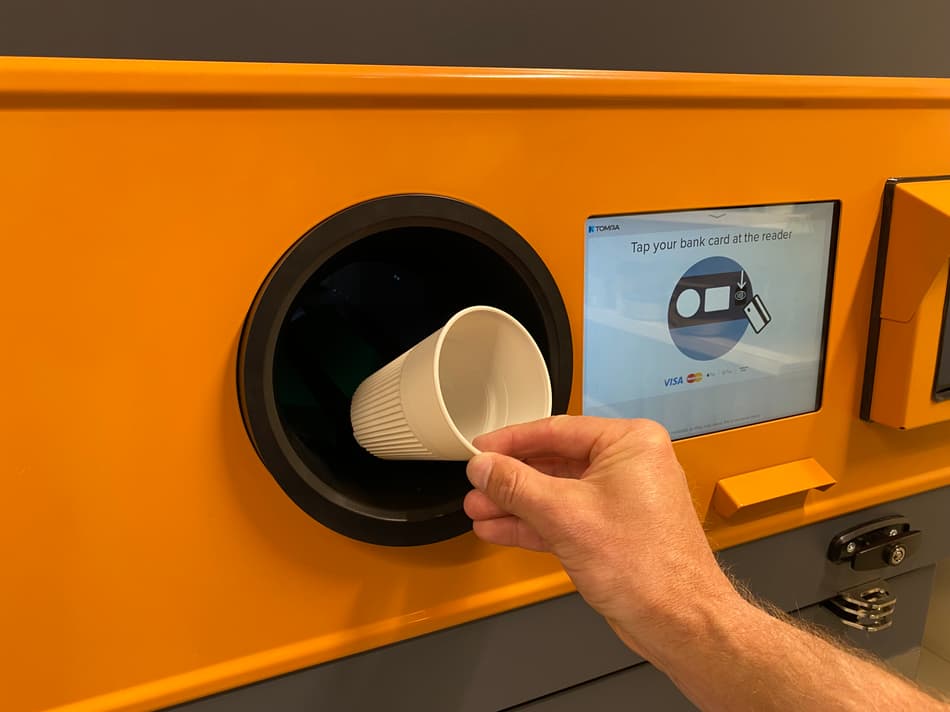 Specially designed TOMRA RVM to be used in the Aarhus pilot.
In the search for ever more convenience, we have created waste mountains. In Europe alone an estimated 60-70 billion single use takeaway containers are used per year and most of the packaging that gets collected today is not recycled, so there is much to do to enable a world without waste. A disposable cup is used for an average of 15 minutes before it ends up as waste. If we reuse the cup instead of throwing it away, we save both the earth's scarce resources and reduce waste.
"Aarhus must dare to be frontrunners and test new green solutions. We are happy to have found a business partner who shares our ambitions and visions, and who wants to invest in a system that can potentially reduce our consumption of disposable packaging significantly," says Nicolaj Bang, Alderman for Technical Services and Environment, Aarhus Municipality.
TOMRA's vison is to lead the resource revolution and double our revenues in the next five years, therefore addressing the growing need for systems that ensure packaging can be reused is aligned with both our vision and growth ambitions.
For more information tune in to TOMRA's webcast: Reuse it or lose it: how reuse can ensure true circularity for valuable resources on Wednesday, June 14th 2023 - 10:00 AM CEST.