TOMRA named Norway's Most Innovative Business 2022-23 by InnoMag
Today, TOMRA is pleased to announce it has received the award for Norway's Most Innovative Business by InnoMag, Norway's leading innovation magazine, in collaboration with Computerworld.
TOMRA is always striving to innovate on its core business technology, products and services. Recently, TOMRA's expertise in sustainability and the circular economy has seen the establishment of its new ventures outside of its core businesses, including TOMRA Feedstock, TOMRA Reuse and TOMRA Textiles, which were named as major contributors to TOMRA winning this year's top ranking on the list. TOMRA Reuse, for example, recently launched a trial in Aarhus, Denmark, where they are testing reverse vending technology for reusable takeaway containers and disposable cups. TOMRA Feedstock just broke ground on Norway's first plant dedicated to plastic packaging sorting, where plastics in Norway will be sorted into different types and processed to be recycled into new materials and packaging.
We are thrilled to be named as the most innovative company and are proud to see our new ventures being recognized for their innovation. TOMRA was founded on the value of innovation over 50 years ago and this continues to be a focus. Innovation happens on every level across the company, from continuously improving our core solutions for our customers, to developing new ventures that take us into new business areas.

Tove Andersen
TOMRA President and CEO
TOMRA, which is perhaps best known in Norway for its reverse vending machines for collecting drink containers for recycling, has been innovating for over 50 years. Earlier this year, TOMRA previewed concepts for the next generation of reverse vending solutions, seeking to future-proof reverse vending and redefine the recycling experience – for both retailers and end users.
Tove Andersen continues, "Last year TOMRA was ranked in 10th place in the awards together with 25 world-class companies actively working with innovation, and we are excited to have been given first place this year! We believe that businesses have the power and obligation to build a more sustainable society, and we're committed to playing an active role in that change. We want to use our technological expertise in new innovative solutions to help address sustainability challenges both for our customers and society as a whole."
In receiving this award, TOMRA is placed among past winners and Norwegian powerhouses, such as Posten and Aker Biomarine, to name a few. To choose the winner, InnoMag works with independent experts, both Norwegian and international, and they encourage readers to nominate candidates throughout winter and spring. The jury then makes the final decision.
This year's jury is led by InnoMag's editor, Truls Berg, and includes Ingvild Myhre, Head of the National Innovation Council; climate psychologist Ragnhild Nilsen; NHH innovation professor Tor W. Andreassen; Standard Norway's director for energy, sustainability and technology, Åse Lunde; former finance minister Jan Tore Sanner; NTNU's professor at the Department of Industrial Economics and Management, Arne Krokan; Computerworld's editor Anders Løvøy; and Sweden's global innovation professor and former Brain of the Year, Leif Edvinsson.
The award was presented by Climate and Environment Minister Espen Barth Eide at the Innovation Day 2023 Dialogue Conference at EpiCenter in Oslo. This is the third time TOMRA has ranked in the awards, including last year when it placed in 10th place in the list of the top 25 companies.
"We believe that this is by far Norway's most comprehensive overview of which companies are actually innovating, as opposed to those who are content only to talk about innovation. We emphasize that the list only deals with Norwegian businesses, but what everyone on the list has in common is that they are world-class when it comes to working actively with innovation," says jury leader Truls Berg, InnoMag's responsible editor in a comment.
"Let me also take the opportunity to congratulate TOMRA on the victory and CEO Tove Andersen and her team on this year's impressive 1st place and the other 24 on their impressive efforts," he concludes.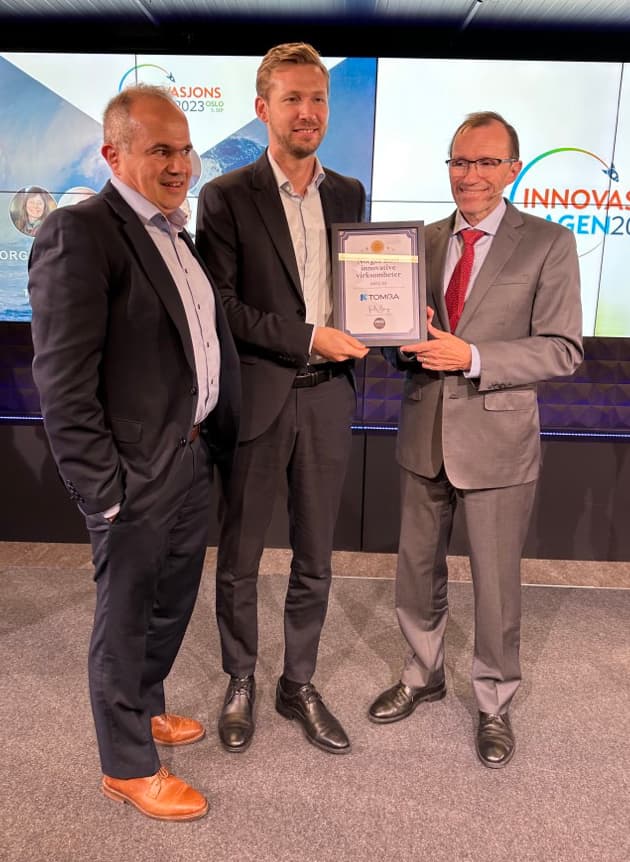 Norwegian Climate and Environment Minister Espen Barth Eide (right) presenting Norway's Most Innovative Business 2022-23 award to TOMRA representatives Lars Enge and Mikaël Fontaine.