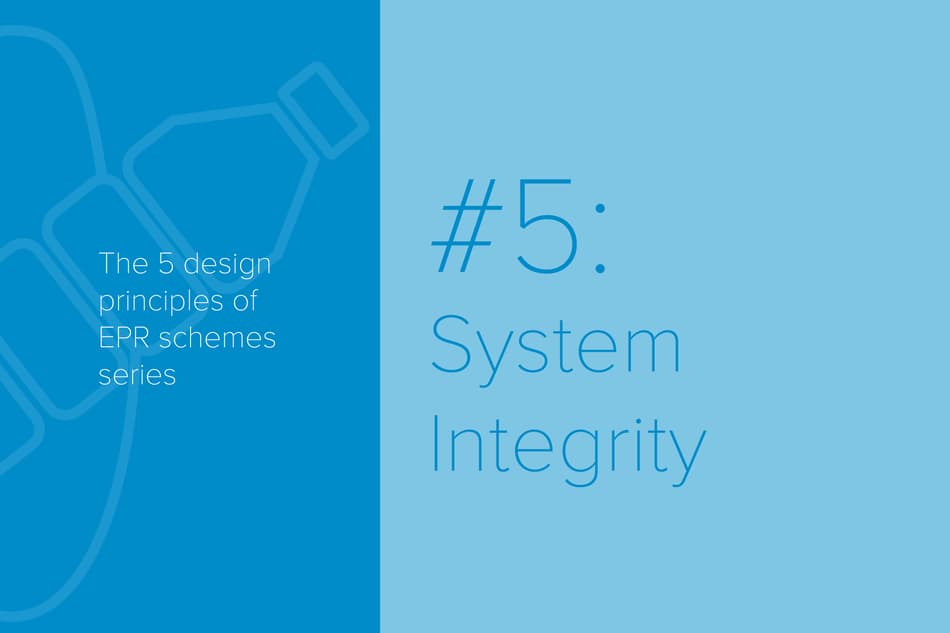 How system integrity helps achieve higher packaging recycling rates
As one of the five fundamental principles in designing high-performing EPR schemes, system integrity is critical to a trusted, reliable, and effective system. Learn more about the final design principle in this series. 
Building a governance structure based on transparency and compliance to support the achievement of targets is vital in moving toward packaging circularity. Robust systems balance government oversight with industry-driven management and require standardized reporting, monitoring, and controls.
Who's in control?
Government participation is inevitable for a fair and well-functioning system. At the same time, the companies that place packaging on the market (known as producers) should also be allowed a certain degree of flexibility. Striking a balance between industry-led organization and government oversight requires clear framework conditions and defined targets.
Part of the role of a governmental supervisory agency is to oversee regulatory compliance and ensure that obligated parties meet performance standards. The appointed government agency must always remain neutral to avoid the risk of conflicts of interest. Usually, the corresponding department or ministry (e.g., environment ministry) is responsible for agency supervision. Depending on the setup, the supervisory agency can be financed directly by the producer responsibility organizations (PROs) or the federal budget.
Generally, all producers are obligated to meet the requirements of an EPR scheme, however, a select few may be exempt from the obligations of reporting and providing detailed evidence. These exemptions are typically meant to alleviate the regulatory burden on small businesses. Called 'de minimis' exemptions, they are based on a threshold of annual revenue and/or the amount of packaging placed on the market.
Legislation is required to set the rules necessary to monitor and control the fulfillment of the targets. TOMRA's white paper
EPR Unpacked – A Policy Framework for a Circular Economy
addresses the essential authorization and accreditation procedures that policymakers should include when drafting or developing EPR schemes for consumer packaging.
Transparency and ongoing communication
Deciding which system data should be made public, reported, or considered business-sensitive is essential for defining transparency requirements. The primary need for data transparency regarding the obligated parties is to identify the producers, their performance, and whether their legal requirements under the EPR scheme are being fulfilled.
Annual reports from the PRO include information on system performance and provide transparency to the public and accountability for the obligated parties who finance the system. Legislation can also mandate some specific forms of communication, for instance, education and outreach programs to inform the public on the correct use of their waste and recycling bins. Marketing initiatives can be very effective at increasing participation rates and should also be organized and financed by the PRO. Consumer information on other waste and recycling topics such as reusable packaging, littering, and the impact of waste on the environment can also be part of the PRO's communication obligations.
Once an EPR scheme has been implemented, multi-stakeholder dialogues continue to play an important role in overall success and performance. PROs take up a very central role in engaging stakeholders throughout the value chain, including the public and local governments. They maintain a business relationship with the obligated parties, potentially coordinating several waste management services, and communicate with public authorities and residents. Dialogue among packaging manufacturers, suppliers, brand owners, sorting specialists, and recycling operators is vital for packaging recyclability and, ultimately, the circularity of packaging.
System integrity is only one of the five design principles of high-performing EPR schemes for consumer packaging. The others include circularity, performance, convenience, and producer responsibility – would you like to know more?
Download White Paper